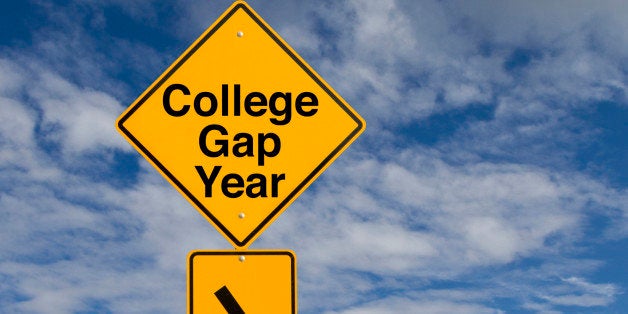 I did not mean to take a gap year after college. As I counted down to graduation in December 2014 I realized that the job market for non-teaching track Spanish majors in North Carolina was incredibly small, and I graduated with only temporary part-time employment prospects. So on January 5th, 2015, mere weeks after graduation, when my then-boyfriend -- now husband -- told me how unhappy he was after his first semester in grad school, I said we should move to New York City. Thus my unexpected gap year began.
The month after graduation was the perfect time to move across the country. As I reasoned to myself, I wanted to move to New York for grad school, so why not go ahead and move now? Changing locations really assisted me with the post-college transition because it helped me forget about the routine of classes and envision what I want my adult life to look like. For the first time in my life I had a blank slate that I could fill up however I chose.
The biggest unexpected benefit from my gap year is that it gave me the time to figure out what I did not want my career to be. During college, I had my whole life planed out. I would graduate and then go to law school. It was a very linear and traditional plan. My gap year helped me understand that my ultimate fulfilling career will probably not be so black and white.
I learned this lesson over time. I signed up to take the LSAT and each day when I sat down to study for this exam to get into law school I would procrastinate. I am not normally a procrastinator but no matter how much I dreamed about law school, every day I procrastinated studying for the LSAT. One day I saw this unattributed quote on Pinterest that said, "What you do when you are procrastinating is what you should really be doing." I should have been writing.
In this way, I finally figured out what I want to do as a young professional. After I decided not to go to law school and to fully embrace the concept of a gap year I began to learn new skills. I had always wanted to learn Portuguese, and I even took a stab at coding. I realized that it is okay to have multiple interests (Latin America, economics, writing, coding, etc.) and that I can incorporate these many passions into my life.
That is how I found finance. In the finance industry I can research, I can write, I can work with clients, I can code, I can forecast future bonds in Brazil. All of my multiple interests can be centered around finance. I never would have figured this out if I did not take the time to explore all the job market in New York City has to offer.
I finally took the time to write during my gap year, which has been the most fulfilling part of it all. A lot of people do not view writing as a practical profession, especially since the job can come with an unsteady or non-existent salary, but I owed it to myself to fulfill my dream of writing my first book. In fact, I wrote two during my gap year. During the last summer of college I started the first draft of my first book but I never had time to finish it during the semester. My gap year gave me the chance to take an idea I felt passionate about and make it reality.
Book number two manifested itself almost as unexpectedly as my gap year did. It all started when I happened upon a poetry slam night while on vacation in Puerto Rico. I realized that I wanted to write poetry because of it. I never would have if I did not give new opportunities a chance. I'm so glad I did.
Graduating from high school and taking the next big step toward college can be daunting, so a growing number of students are choosing to take a gap year to focus on personal growth. Whether you spend a year traveling, volunteering or working, we'd love to share your story. If you'd like to contribute a text or video piece, please email gapyear@huffingtonpost.com and tell us all about your experience.
Calling all HuffPost superfans!
Sign up for membership to become a founding member and help shape HuffPost's next chapter