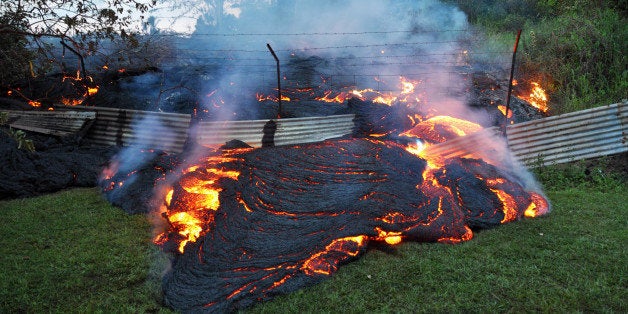 I just spent 10 days vacationing in a community whose existence is threatened by a slow-moving wave of hot molten rock, and ever since I got home, I haven't been able to stop thinking about tiny Pahoa.
There's more to this town than you might think.
For our first trip to Hawaii, my husband and I chose the big island because we wanted to live like locals instead of tourists. We rented a house, visited farmers markets, ate in offbeat restaurants, swam in a secluded hot pond and walked on a black sand beach. Along with our eight-year-old daughter, we nibbled raw sugar cane, drank fresh pineapple juice and hacked our way into any coconuts that landed on our front deck.
We stayed in nearby Kea'au and visited Hilo, but Pahoa turned out to be our favorite spot. Home to about 900 people, this normally quiet community lies in the eastern rift zone of Kilauea, a feisty volcano that has been erupting since 1983. Last summer, lava from the most recent eruption headed in the direction of Pahoa, threatening to cover the town and cut off access to Highway 130, the only major connection to the rest of the Puna district.
The volcano is not the reason we went to Pahoa, though many people do go there to see the lava flow. Before we left for vacation, news about the advancing molten rock gave me heart palpitations. I watched the news and read stories online with a sense of dread, trying to figure out if this would be a safe place for my family. Footage of a house burning down and reports of store owners closing up shop made me rethink our plans, since our rental was just a few miles from the flow front.
But Pahoa is not what you see on TV. No one is panicking. Lava isn't even the talk of the town. It's just another thing, like traffic or the weather.
One morning, I sat with my family at Tin Shack Bakery, a small organic café and gathering place in the heart of town. On that day, the buzz was not about the lava or the voluntary evacuation. It was about the new table and chairs the owner had set out the night before. "Before you know it," one local said, "they'll have waitresses on roller skates!"
One woman at the café mentioned the recent shutdown of Malama Market, the local grocery store, only because her friends asked why she was buying three loaves of sourdough bread at the bakery instead of her usual one. "Just in case," she said.
The media has mischaracterized the situation in Pahoa. That house that burned? Turns out it had been vacant for months. The family living there had already moved on with plans to build a new home in Kalapana.
Newsweek reportedthat lava had already closed the main road, and traffic from Pahoa to Hilo was backed up for hours. Not true. The road isn't closed or clogged by volcano watchers. It's under construction. Crews have been adding extra lanes so residents can get to work on time. Our trips to Hilo took 30 minutes instead of the usual 20. It seems Newsweek wrote a story that fit the narrative of a town endangered by lava, but the reality is completely different -- which the reporter might've learned had she actually visited the area.
On the day my family flew from Los Angeles to Kona, Hawaii, the lava stalled about three-quarters of a mile from the highway. The very next day, it picked up again. But movement has been slow, with advancement measured in yards.
Along with dozens of other visitors and residents, we walked to the end of Apa'a Drive, to view the cooled lava from the town's transfer station. My daughter and I posed for photos and gazed at the coins, fruits and flowers left on the rock as makana, or gifts, for Pele, the mythical Hawaiian goddess of volcanoes. We left the only thing we had in our pockets: a piece of spearmint chewing gum.
Later, the three of us sat about a mile away on the front patio of Kaleo's restaurant on Pahoa Village Road, where we ate coconut shrimp, watched traffic grind to a halt for a puppy loose in the street and said hello to a man riding a bicycle with a rooster in his basket.
Malama Market is closed, but most shops are open. The post office is going strong in little Pahoa, as are coffee shops, restaurants, clothing stores, a nature foods store and at least one gas station.

Here's what the media hasn't told you: Pahoa is a portrait of resilience. When lava advanced toward the highway, the town built a 10-mile bypass road. When it moved toward schools, Pahoa relocated students to neighboring communities. Utility poles are in the path of the flow. So what did Pahoa do? Lift them up onto rock platforms, of course.
We were in town only 10 days, but that was long enough to see that this village is not easily broken. The next time I visit Hawaii, Pahoa might not be where I left it. It could be empty, or it could be covered in hard black rock. It hardly matters, really, because Pahoa is not just a place.
Pahoa is the decision to live not in resistance to nature, but in flux with it. It is making sure your neighbor, or even your neighbor's dog, is all right. It is having a back-up plan, an extra loaf of bread and a gas can ready to go. It is the awareness that our world is constantly changing, whether we want it to or not.
Popular in the Community