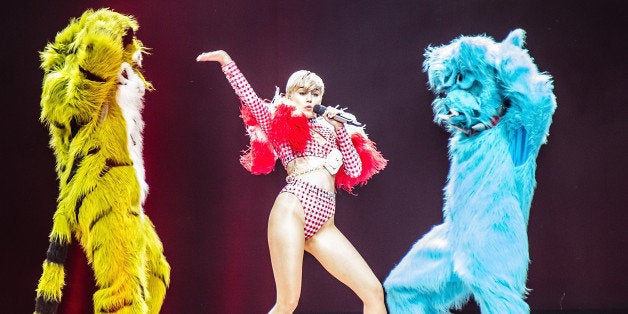 Last week, I saw Miley Cyrus in concert at the Verizon Center in D.C. and what a crash course in modern culture it was. Wake up, Marion Winik, it is 2014 and we are going all in!
Having begun my own concert-going career in the 1970s, when a show consisted of a bunch of guys in blue jeans and t-shirts playing guitars under flashing purple lights, and not having kept up closely with the pop extravaganza developments of Gaga & Co., I spent much of the evening with my jaw literally hanging open. Though I doubt I can come up with any better phrase than did Washington Post music critic Chris Richards -- "Twerk du Soleil" -- let me tell you about my night with the lovely and talented badass, Ms. Destiny Hope Cyrus, aka Miley. (Billy Ray, what were you thinking?)
My friend Amy and I journeyed to D.C. with our daughters Jane and Lily, who had secured the tickets the day they went on sale -- very nice first-mezzanine seats for 150 bucks a pop. The girls prepared by decorating shorts and t-shirts with day-glo slogans like "LOVE MONEY PARTY" and "BANGERZ." I prepared by studying lists of recommended Washington restaurants and found a vegetarian ramen served across the street at a place called Daikawa that is one of 40 things you should eat before you die. For me, it's always about the food.
Perhaps you are wondering, as I did, what BANGERZ means. I thought perhaps it referred to the British word for hotdogs, and she did fly around the arena on a giant weiner at the end of the show, so maybe I'm not totally wrong. According to Urban Dictionary, it means those who "radiate unbelievable swag." Miley all the way!
Flooding into the venue were armies of teenage girls. These girls were clad almost to a one in midriff shirts, usually in combination with leggings, stretchy shorts or a skirt. They looked as if they were going to work out, and in fact they were; Miley would soon threaten mayhem if she saw anyone sitting down. Almost all were too young to buy the beer they were selling in the arena (the artist herself is 21) and I saw and smelled little evidence of drug use, which was another contrast to the addled concert audiences of yesteryear. In a tribute to our past, Amy and I pre-gamed with a slim, frosted bottle of Skinny Girl Margaritas.
The arena was decked out as if for a birthday party, with rafts of pastel balloons, and the opening act began on the dot of 7 p.m. -- it was those two cute girls from art school in Sweden, Icona Pop, dressed like Cherokee strippers. You know the ones -- they drove their car into a bridge and I don't care! I love it! I don't care! I love it! Can you imagine how easy it is to get a roomful of teenage girls chanting this? The ladies had learned a few other key English expressions: "How many of you are here with your best friend?" "How many of you like to effin' do whatever you effin' want?"
In the interval after the opening act, I noticed the girl behind me studying her social studies notes about the Roaring '20s. It was a Thursday night, after all.
At last the lights dimmed, the audience whipped out their phones to start the filming (Jane has several dozen videos of the concert) and a two-story-high image of Miley Cyrus's beautiful '40s-movie-star face appeared on the screen in front of the room, eyes rolling and mouth opening and closing mechanically. She stuck out her tongue, as she so loves to do, and from the image of her tongue on the screen a three-dimensional, Pepto Bismol pink, inflatable tongue slide emerged, and Miley Cyrus herself shot down it to take the stage.
This is when I realized that Miley Cyrus is a conceptual artist, for Pete's sake, an impression that was not dispelled by her outfit -- a red-and-white gingham checked onesie, like a country-western ice-skating costume -- nor by the giant garish dancing stuffed animals who joined her onstage. Immediately, all her faux masturbating and butt-twitching was revealed as less about sex or the male gaze (the only males gazing were dads, gay couples and a few whipped boyfriends) than about rebellious girl power. I know she is supposed to be distancing herself from Hannah Montana but the po-mo pop star theme has just evolved, now including many hilarious levels of self-mockery. Basically, her whole fan base grew up on the show and is feeling just like she is now, crazy, feisty, feasting on shock value, ready to go all in!
In her slight country twang, almost every sentence including both the F word and "you guys," she told us she had been having a really bad week. Of course, we'd all heard her beloved dog, Floyd, was eaten by a freak Hollywood coyote, that she had cried all the way through her subsequent show at Barclay's Center, and that she'd had to cancel her Charlotte, NC show two days earlier for the flu. She was putting sadness and sickness behind her now, though, because she could tell that this D.C. crowd was ready to effing party and she felt that way too, so get up and don't sit down because we are goin' all in!
Each song had its own amazing video, starting with an eye-popper by Ren and Stimpy animator John Kricfalusi. Overall, the videos were so great and trippy I could have watched them by themselves, but wild props kept distracting my attention -- a 20-foot high fluffy orange Snuffleupagus-looking thing operated by two puppeteers; a gold-plated low-rider car on which she rode in her sequinned marijuana-leaf maillot; a gigantic Egyptian-style monolith of her dead dog with scary glowing eyes; and a super-cheesy dancing Mt. Rushmore and Lady Liberty. Another time she used audience-supplied props, having everyone turn on their iPhone flashlights for synchronized swaying. (My friend Amy squinted at her phone in perplexity until daughter Lily showed her how to turn on the flashlight.) The effect was very beautiful -- better and safer than the days of wine and matches.
On her trancey ballad, "Adore You," a Kiss-Cam roved the audience to put images of couples kissing -- "with lots of tongue!" Miley ordered -- on the big screen. They had to look pretty hard; this wasn't really a date-night crowd. Each couple featured got a roar of approval but the loudest cheers were for the two-guy pairings, which moved me. The girls love their gay boys, as well they should.
In a set performed in a backwards-facing glitter baseball cap on a pop-up stage at the rear of the arena (by the way, there was indeed a live band of guys in jeans and t-shirts), Miley continued to show off her big voice, good taste in music and ability to curse. The set included Bob Dylan's "You're Gonna Make Me Lonesome When You Go," Coldplay's "The Scientist" and Dolly Parton's "Jolene," the last of which was filled with some raunchy new invective for that effing slut Jolene. (Remember, Dolly played her aunt on the show.) During this set, Miley ordered the audience to stop taking selfies so she could take a selfie -- she didn't want it to look like her whole audience was just sitting there taking selfies, she explained.
Jane's review of the evening was delivered as soon as the lights came up. "This was the best night of my life," she proclaimed. I love that my daughter loves Miley so much (though truth be told, she loves Taylor even more) because to me, Miley is not really about sex or drugs; she is no Britney Spears and no Little Wayne. She is about in-your-face, devil-may-care good humor and fun, about being in charge of your own image, about being able to laugh at yourself, about having a body like an Olympic athlete and dancing for hours on end. She is wonderful combination of artifice, camp and naturalness. When she missed a line of "Wrecking Ball" during her encore set, she said "Sorry guys, I spaced out thinking about what I'm gonna eat after the show. I'm so hungry!"
By then it was 11; the kids were home in bed by midnight. I just hope that sweet girl behind me did well on her Roaring '20s test.
Calling all HuffPost superfans!
Sign up for membership to become a founding member and help shape HuffPost's next chapter