My Dad always seemed present.
He was certainly consistent and predictable. He had his routine every morning before work and every evening when he came home. In the morning, he stretched, walked, read the paper, put on his "work clothes," kissed my brother and I goodbye while we were eating our breakfast before school and went to work. In the evening he returned (at 6:15 p.m.), took of his "work clothes," went through the mail, turned on the stereo to James Taylor, John Denver or Carly Simon, and put on the Dodgers, Lakers or Rams games in the evening.
My Dad was quiet and didn't yell much. He wasn't opinionated and he didn't speak badly about other people. In fact, he usually helped to explain reasons for other's behaviors, often giving them the benefit of the doubt. I always knew what was important to him -- not spending money we didn't have, not worrying about what other people think and being honest. I don't think he ever talked about working hard, but it was obvious, as he did day in and day out.
My Dad's father emigrated from Poland. I knew him, but not well. I assumed he taught my dad how to be a father. He really didn't. He didn't seem to talk that much, worked a lot and was often in financial trouble that caused his family unwelcome moves, humiliation and hardships. I would never have known this if my mom didn't tell us or encourage my dad to tell us about his past.
When I got married, I gave my Dad a card telling him that I hoped to be the father that he was to me. He told me that I would be a much better father than he was. I really didn't understand what he meant. How was that possible? In my mind, he was always there, provided for us, and was (and is) someone I know I can always count on. I had really had no idea about being a father at that time in my life. He seemed to make it look so easy.
It is almost 16 years since I gave him that card. With three kids of my own, I have more respect for him now than I had then. Before, I only knew what I saw (and felt). Now, I know what it is like to be backstage. I had no idea there were so many moving parts to this production.
We want our kids to learn to work hard and persevere. It seems our more recent generations don't have "grit" like the previous ones. How do we make sure our kids learn to pick themselves up, dust themselves off and keep at it?
We want our kids to be kids as long as possible and stay safe. They are often exposed to and bombarded by images and messages that are beyond their years. Sex, violence, drugs and alcohol are on television, in movies, on the Internet and at school. We can't protect them from it, so have to help them understand it all and learn to make good decisions.
And then there is kindness, compassion and doing the right thing. As far as I am concerned, there is nothing more important. I feel it is my role to teach my children to take other's points of view, try walking in their shoes and give them the benefit of the doubt. I feel we need to teach our children to give to others and "give back." I want my children to trust their instincts about what is the "right" thing to do -- even when nobody else is doing it.
There are many more parts of this fatherhood thing, like figuring out how much technology to encourage and allow; what opportunities to provide in enrichment areas such as sports, music, art, etc.; how "hard" or "soft" to be on your kids when they make a mistake; and the list goes on.
When I think about my Dad, I always go back to the same things. He was kind, consistent and predictable. When I think about some of the more difficult times growing up (even through my 30's), I think about the importance of knowing he was there.
So as I continue on this journey called fatherhood and second-guess myself about what I am doing or not doing, I will do my best to fall back on what my Dad taught me -- to be kind, consistent and predictable. I can count on it with him and I hope my kids can count on it with me.
And Dad, I am still striving to be the father that you are to me.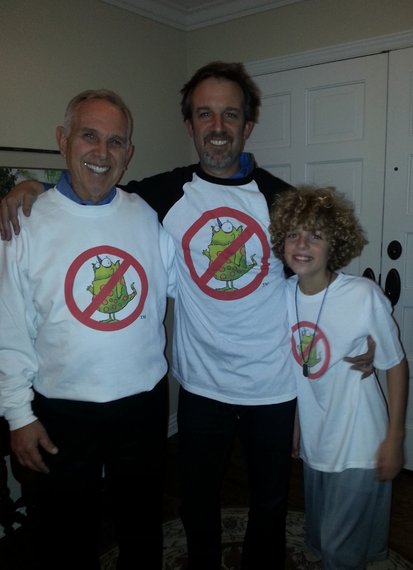 This post originally appeared on PsychologyToday.com