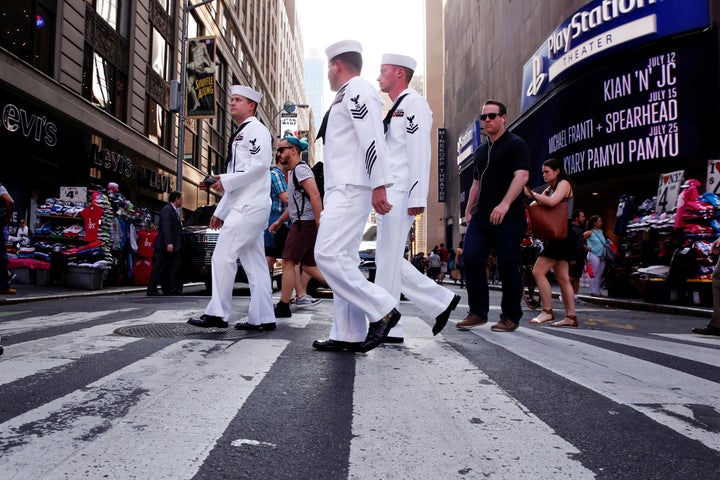 "I'm his cousin," I lied to the navy officer inspecting my I.D.
I smirked at my date, James, who was doing a much better job at keeping a straight face. Around us, sailors and marines sat languidly on chairs and railings, and a few servicemen paced with machine guns. Cavernous, gray, and filled with crew, the inside of the U.S.S. Bataan looked like the backstage to the show on the upper deck.
The officer wrote down my details and scanned James's I.D. before returning my card, and James and I disembarked the aircraft carrier with our tails between our legs. Walking down the ramp, James, by military requirement, had to salute the American flag. I too saluted, and we ran off into Manhattan laughing.
It was Fleet Week in New York, a week that for many conjures images of Carrie Bradshaw and Samantha Jones of "Sex and the City" sipping cosmos and dancing with hunky sailors. The image isn't far removed from the reality, either; at the end of every May, as the last cherry blossoms blow from the trees, thousands upon thousands of sailors, marines, and coast guards blow into New York looking for a helluva good time in a helluva town.
While supposedly an occasion to honor the U.S. Armed Forces and Memorial Day, to many, what this really means is a week-long challenge to land your own young, fit, All-American man, who, by next week, will be out of your life forever. In other words, the streets are suddenly filled with walking one-night-stands—and they're all wearing cute, butt-lifting uniforms.
I had already spent the week trying to pick up a sailor, though I didn't know how, aside from smiling at the uniformed men swigging Budweisers and smoking cigarettes outside Midtown bars. When James messaged me through a dating app, complete with a profile picture in his sailor whites, I jumped at the chance.
While many fantasize about sailors, they are practically worshipped by gay men. They're downright part of gay history, too; for generations we've obsessed over them, envisioning the navy as a boatload of hypersexual men in uniform. We fantasized about the young men exploring their sexuality at sea, having ephemeral relationships in a blissfully naïve period of their lives, and then docking in civilians' towns and having fun with us, too. And then the Village People started singing about it.
When James messaged me claiming to be the only gay sailor who had docked for Fleet Week, I was incredulous. He complained that none of his fellow servicemen would go out to a gay bar with him. It was the only thing he wanted to do in New York.
"You can't find anyone who wants to go to a gay bar with you on Fleet Week?" I told him. "I sure as hell would."
That night I met him outside Junior's Cheesecake in the Theater District. He was tall, matching my height, with a handsome, dark-featured face. It may have been the uniform—the hat, the bell-bottoms, the navy necktie—but James looked like his mom had recently told him what a handsome boy he was. His face was fresh, his smile as bright as his clothes.
Upon greeting him, I already had to suppress my inner teenage girl: oh my God, you're actually a sailor, do I salute you, can I wear your hat? Shortly afterward, he addressed me as a "civilian," and I couldn't help but laugh.
I felt the envy of every New Yorker. I had never received so much attention on the street. People smiled and pointed to us. Some took photos, with or without permission. Others approached and thanked James for his service, to which he would always reply: "Thank you for your support, Sir/Ma'am."
We had the ultimate first date: dinner, drinks, a Broadway show. Afterward, we walked through Times Square, still holding our playbills. I loved watching James react to the spectacle, the way he pointed at the flashing billboards and glittering lights, watching his face light up like a child's. He had an energy and excitement for New York, one I had almost forgotten.
Before the Coca-Cola sign, we had our first kiss, recreating the famous "V-J Day in Times Square" photo of a sailor kissing a nurse to celebrate the end of World War II. Only a few people gawked, and I'm pretty sure we didn't end up in Time. That evening, as I walked him home, we bumped into Andrew Rannells, and James had his first New York celebrity encounter.
Yet we still hadn't been to a gay bar. Several restrictions are in place for sailors during Fleet Week, mostly owing to their bad behavior during previous Fleet Weeks, where sailors did indeed stay out all night and missed important duties. They have a curfew, usually between midnight at two A.M., and after dinner and the show, James and I ran out of time.
He also had to meet up with other sailors to return to the ship. Sailors are forbidden to walk the streets alone, and they must travel either in groups or with "pre-existing friends or family," who have to check them out onboard.
I of course wasn't James's pre-existing friend or family. But I also believed it my duty to show James a good time, and he had only one night left.
The following afternoon I checked James out of the ship, like he was a library book or a rental car. We had our whole cousin backstory planned, though we didn't need it.
We walked through Hell's Kitchen, passing Italian restaurants with homey smells of garlic and chicken, and I told James rich stories about the history of the neighborhood, from gang epicenter to trendy restaurant hub. Summer was just around the corner, the evenings were balmy after a lingering winter chill, and everyone was excited to wear summer dresses and dine alfresco.
That night, we didn't dawdle with dinners or shows. We headed straight to a gay bar. I took him to one on 10th Avenue with outdoor seating, to enjoy the sun. I offered to buy James a drink, though I didn't have to; nearly everything he drank was on the house. If the drink wasn't free, there were more than enough patrons willing to buy it for him, but I always intervened—find your own sailor, I said with my glare.
Sipping Coronas, I asked James why he had joined the navy. He told me he had enlisted for the free college after service, in addition to the easy ticket out of his hometown of Williamsport, Pennsylvania. He lived in an enormous farmhouse with eight brothers and sisters, five more cousins, and countless horses, chickens, and cows. I asked if the navy was worth it; he was ambivalent, but also said it wasn't terrible. On the ship, he worked in the electrical division, something he enjoyed. He certainly didn't like the food, however. He referred to one meal as "the hamster"—breaded, yet seemingly furry, chicken.
Two men approached us and introduced themselves. One was an ex-army officer, who served during "Don't Ask Don't Tell." He told us stories of his military holidays, where his battalion visited strip clubs in New Orleans and he had to feign arousal to protect his sexual identity.
"Most people on my ship know I'm gay," James said. "But it doesn't really come up. Once, one of the marines was walking around in these tight little shorts. And all the other sailors said he had a nice ass. When he asked me if he had a nice ass, all I could say was, 'You look good, okay?' Everyone laughed."
"You guys are so cute," the ex-officer coddled, before turning to me. "Hurry up and take him home. You don't have much time!" James and I giggled. We hadn't discussed sex; truthfully I was more excited to show him New York than my bedroom.
"We have all night," I said. "He's never been to New York. We have priorities."
I may have been swept up in the romance, but the more time I spent with James, the less I wanted to take him home. I couldn't remember the last time I had experienced something so sweet. It almost felt too saccharine, too old-fashioned. I didn't feel entitled to it. As gay men—and as sailor and civilian—aren't we supposed to just jump into bed together?
This has been the trend since World War I, when sailors docked in New York and used the local "fairies" to get their rocks off. In 1917, an investigator for the city's anti-prostitution campaign reported that sailors were so "sex mad" they were perfectly happy resorting to men for sex. They were never considered gay, either, as long as they didn't act gay.
Two years later, a similar situation occurred in Newport, Rhode Island, where a sex scandal between sailors and civilians led to the dismissal of seventeen sailors. Today, it draws parallels with the Salem witch trials—moral hysteria that results in finger-pointing and banishment.
In the 1920s, there was somewhat of a gay brothel for sailors right in Times Square. In 1927, an owner of a Times Square newsstand reported that "whenever the fleet comes into town, every sailor who wants his d—— licked comes to the Times Square Building" on 42nd and Broadway.
The craze continued throughout the twentieth century, and sailors flooded gay art and pornography. We entertained the fantasy without thinking about what it really represented: shamed, transactional, and loveless sex.
And what effect did the objectification have on gay civilians, chasing sailors seemingly because they were the only option? Tennessee Williams was beaten to near-death by two sailors he had picked up in Times Square. After Hart Crane fell in love with a Danish sailor he spent the rest of his life pursuing them, allegedly sleeping with thirty in France. Themes of sailors and torturous love permeates his poetry, alongside imagery of the cruel and mercurial sea. Then, aboard the Orizaba, Crane tried to seduce a sailor who beat him mercilessly for it. The following day, he jumped from the ship to his death.
It just wasn't our story, and I was proud of that. To me, the sailor was a romantic fantasy, one removed from the conflict that too often defines gay love stories: they can't accept their love or society can't accept their love. It no longer applied to us. The only real conflict we faced was a midnight curfew.
We ended up visiting four more bars that night. We held hands on the street, proudly loitered around gay bars, and joked with barflies wearing costume sailor hats. We swilled liquor with sailors and danced with civilians, before I dropped him back to the ship by midnight—though not before stumbling down a street where we could make out without his crew seeing. You know, since we were cousins.
REAL LIFE. REAL NEWS. REAL VOICES.
Help us tell more of the stories that matter from voices that too often remain unheard.