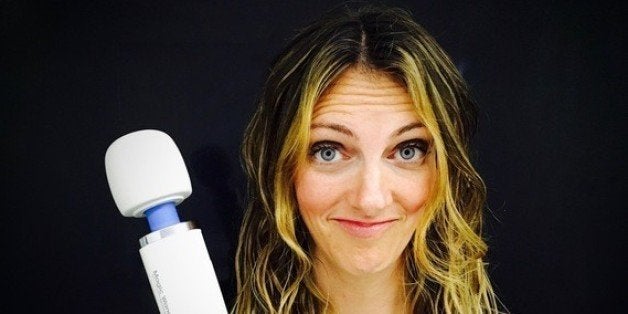 I'd love to be able to share what I learned from my summer of masturbation. The problem is that I didn't learn a damn thing because that summer never happened. Yes, it's true that after attending a workshop last summer with Betty Dodson, the godmother of masturbation, I had grand plans for a summer full of exploring new ways of ravaging myself sexually. Like most women, I had learned to masturbate a certain way when I was younger, and I felt like I owed it to my adult self to experiment with new ways of bringing myself to orgasm so I could then incorporate what I learned from those experiences into my partnered sex life.
But as each summer day passed by, the to-do list that is my life took priority over my masturbatory dreams, and before I knew it, it was Halloween and then Thanksgiving and then Christmas. My sex life with myself was what it had always been -- a routine act undertaken when I felt the urge for a little tension release. It worked. But it was uninteresting.
Then just before New Year's Eve, a girlfriend wrote and asked me if I'd like to join a little group she was putting together to try and have an orgasm a day in the new year. "Yes," I cried! What a perfect way to revive my master plan for self-pleasure! I had accumulated a mass of new sex toys thanks to winning a raffle at a sex therapist conference, and what better excuse to start putting them to use than by trying to have an orgasm a day.
Turns out, the support of other women was just what I needed to get back on track with my goal. As we traded stories of our successes and failures, I was inspired to try new things and felt accountable to keep the momentum going. Though we all learned pretty quickly that an orgasm a day was a tad too ambitious, we've all seen significant increases compared to last year and have been enjoying ourselves immensely. So while my 2015 "summer of masturbation" never materialized, I do have some early takeaways from my 2016 "year of orgasms."
Here's what I've learned thus far:
1. Practice makes perfect. It's always bothered me that I had only been able to masturbate in a certain position (lying on my stomach). After all, it seemed like it was so easy for my husband to masturbate anywhere in any position. Oh the envy I had that he could masturbate standing up in a shower! So I decided to see if I could learn to masturbate on my back or in a bath, because hey, a gal needs options. At first, it seemed like I'd never be able to do it. I'd try and eventually get frustrated and rely on my old standby position. But then one day... it happened. I had an orgasm while lying on my back in bed! Then a few tries with some bath tub jets proved the efficacy of the practice-makes-perfect method. Still haven't quite nailed the standing up orgasm, but I'm working on it.
2. Toys are fun. I've always been more of a manual gal. Vibrators never seemed to do much for me. Then thanks to Betty, I found the Magic Wand (pictured above). It's for external use, looks intimidating and is so powerful that some women find they can't use it directly on their clitoris... but let's just say I now want to buy one of these devices for every woman in the world. Seriously, it's that good.
3. Masturbation enhances sex. Let's not beat around the bush (pun intended). Most women need clitoral stimulation to orgasm. Yes, I know the women in porn seem to be orgasming all over the place from penetration, and I personally enjoy penetration very much when I'm highly aroused... but I enjoy it even more when clitoral stimulation is added to the mix. And what better way to add clitoral stimulation than through masturbating while simultaneously having sex with your partner. My current favorite positions are me on my stomach with him behind (there is a reason my old standby is my old standby) and a slight variation on missionary with either manual or toy-based stimulation of my clitoris while he is thrusting.
Whew. In retrospect, that was a pretty incredible start to the year. Suddenly I am really looking forward to spring... and summer... oh, and fall too.
Calling all HuffPost superfans!
Sign up for membership to become a founding member and help shape HuffPost's next chapter