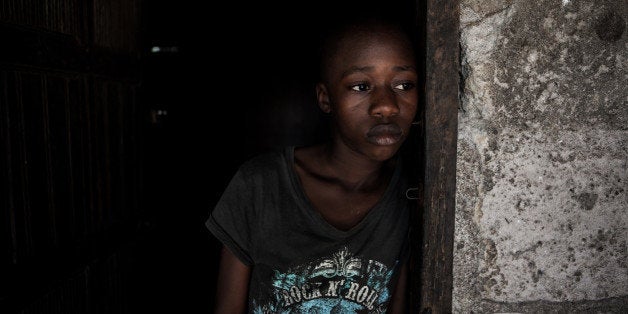 This post is part of the Relay for Kids in partnership with SOS Children's Villages. Each time you share this post, Johnson & Johnson will donate $1 (per action) to support children worldwide affected by crisis. Scroll to the bottom to find out more.
I grew up in Liberia not knowing who my parents were, and I learned at an early age that I was on my own in the world. By the age of just 10, I had already lived in 2 orphanages and was being moved to live with a family in an SOS Children's Village in Monrovia. These early experiences as a young boy in an orphanage, and then the love and safety I felt with my new SOS family, were my driving force in becoming an advocate for children. I experienced firsthand that with the love and support of family, children can overcome even the most challenging circumstances and thrive.
When the civil war in Liberia began to tear through my country, I was just a teenager living with my SOS family. As a young male, I was at heightened risk for attack or recruitment into the fighting forces. Everyone in my city lived in fear, uncertain of what the next day would bring. But I believe the tight-knit bond I had with my SOS mother and siblings and the security that my family provided are what helped me to survive.
In 1990, when our village was taken over by rebel forces, I witnessed unimaginable violence and death -- experiences no child should ever go through. My family was displaced, and my siblings and I were traumatized; but we stayed together, and the love and protection of my SOS mother -- even during the most difficult of times -- helped carry us through.
Now, as the director of the SOS Monrovia village where I once lived as a boy, I am responsible for keeping the children and families in our village safe from the current threat of Ebola. Throughout my country, we have seen the devastating effect this disease has had on children, families and the fabric of communities.
At the height of the outbreak, for children, the situation was a confusing one. Many of them asked me why they couldn't go to school or play with their friends. Across West Africa, children lost their parents, family members and caregivers due to Ebola. For a time, we allowed fear to creep in, putting many children at risk of abandonment and stigmatization in their communities.
Much like my experience during the civil war, these children -- and I believe all children in crisis-affected countries around the world -- need the love, support and protection provided by a strong family. As we work in Liberia to achieve zero new Ebola cases, we must also prioritize ensuring that all affected children regain the stability of a family environment, and receive the psychosocial support they need to overcome this traumatic experience.
I've been the small boy feeling he must face the world on his own, and the teenager in a war-torn country fearing for his life and the lives of his family members. For as long as these situations persist in the world, I speak from experience and believe there will always be love and families that can help these children overcome trauma and reach their full potential. Everyone can do their part to make this a reality for children. This is what motivates me to advocate for children every day.
By sharing, you make a difference for kids in crisis: From March 23 until April 24, each time you 'like' or share this post via the social media icons above or comment in the section below, Johnson & Johnson will trigger a $1 donation (per social action) to SOS Children's Villages, the world's largest organization dedicated to orphaned or abandoned children, up to $30,000*. $1 provides food, shelter and medical care to a child in crisis. In addition, you can also Donate A Photo** and Johnson & Johnson will donate $1 when you upload a photo for SOS Children's Villages -- you can help raise up to $20,000 in seconds with the click of your mouse or snap of your smart phone.
Johnson & Johnson, SOS Children's Villages and The Huffington Post created the Relay for Kids to support children around the world who have been affected by poverty, conflict, disease and natural disasters. Visit www.sos-usa.org/relayforkids to learn more.
*Blogs must be shared between March 23 to April 24, via Facebook, Twitter, StumbleUpon, reddit, Tumblr and Google+ from the Huffington Post. Each share will trigger a $1 donation up to $30,000. There are no limits on how many times you can share a post.
** via the Donate A Photo app for iOS and Android. Johnson & Johnson has curated a list of trusted causes, and you can donate a photo to one cause, once a day. Each cause will appear in the app until it reaches its goal, or the donation period ends. If the goal isn't reached, the cause will still get a minimum donation.
Editor's Note: SOS Children's Villages is a partner of Johnson & Johnson, which is a sponsor of The Huffington Post's Global Motherhood section.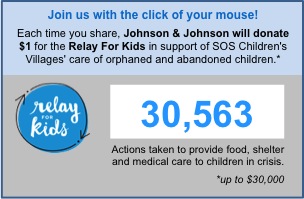 REAL LIFE. REAL NEWS. REAL VOICES.
Help us tell more of the stories that matter from voices that too often remain unheard.