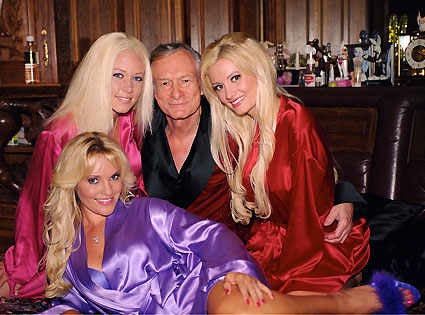 After being bombarded with Hugh Hefner's death on my newsfeed, I decided to revisit one of my favorite shows as a 16-year-old, The Girls Next Door, for a nice nostalgic venture down memory lane last Friday evening. Within ten minutes of settling into the first episode of the series, my expectations of a fond recall quickly turned into unexpected disgust. It had been about a decade since I actually watched an episode of The Girls Next Door, which wrapped production in 2010. Watching the show became increasingly unsettling as a 28-year-old grown woman living in a society where women's rights are constantly in jeopardy of being modified. These are the following observations made while watching the first five episodes of season one.
1. Kendra Wilkinson appeared to be the most genuine and the only one with a somewhat healthy sense of self-esteem.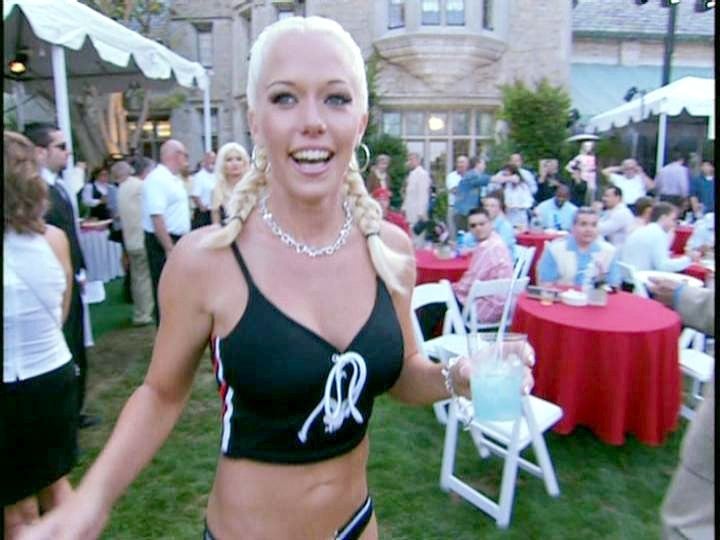 Truth be told, Kendra was my least favorite girlfriend up until I rewatched the show. Now I realize her portrayed genuineness and excitability is something that only a 20-year-old experiencing the unthinkable for the first time could express.
Exhibit A: At the time of the show's 2005 premiere, Kendra was the age of a typical college sophomore. Take a moment to recall what your typical weekend looked like at that age. Now imagine getting the opportunity to live at the Playboy Mansion surrounded by wealth, privilege and parties- then add in the experience a childhood spent in a broken home. Kendra's party girl attitude may have seemed over the top compared to the reserved behaviors of Holly and Bridget, but she was simply acting her age. In my opinion, Hefner and Kendra's interactions appeared the most authentic. I believe it was Kendra's endearing reaction to being introduced to so many new things such as her first trip to Vegas, riding on a well stocked party bus, and meeting her favorite athletes in person.
Exhibit B: While being featured in Playboy Magazine wasn't her lifelong dream, there wasn't a lack of eagerness when she exclaimed "we promise to give you our all, even if I have to starve myself for the entire week," moments after learning she would be featured. To Hefner's credit, he instantly dismisses the notion, assuring her "I don't want you to do that, I love you just the way you are."
Exhibit C: Out of all the five episodes I rewatched, my favorite Kendra's 20th birthday afternoon pool party. Surrounded by her visiting family (which included her very sassy grandmother) and Playmate friends, it was evident that was the healthiest, calmest birthday Kendra had experienced in her life as she admits "growing up, I always dreamed of having such a perfect day on my birthday."
2. Holly is the textbook example of a girlfriend trapped in an emotionally abusive relationship, but all anyone talked about was when she would become Mrs. Hefner.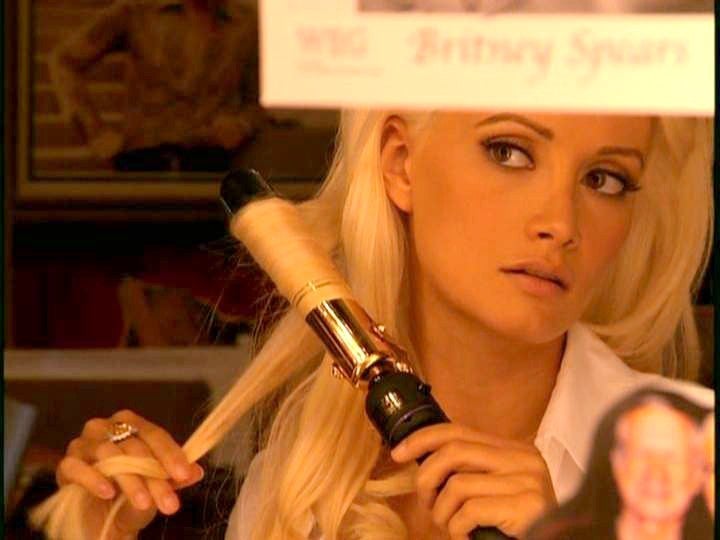 Exhibit A: "My role is to stand there, smile and look like a nice little First Lady or an astronaut's wife and not act up or doing anything stupid," Holly explaining what it was like to walk the red carpet with Hefner during a press event.
Exhibit B: Despite both Holly and Bridget holding the title of Hefner's girlfriend for multiple years, both women felt like failures for not living up to their boyfriend's editorial standard. "Hef has a very particular standard of beauty. It makes me wish that I had a smaller nose and stuff," admits Holly.
Exhibit C: Perhaps the most heartbreaking line I picked up on was Holly's reaction to Hefner letting all three of his girlfriend's test for the magazine. "I think for me personally, because all of Hef's girlfriends have been on the cover of Playboy a million times, I feel like it kinda legitimizes me, that he's finally saying he's proud of me and he can say 'look at my girlfriend'".
3. Bridget's good girl facade was used to deflect the immense insecurity and bitterness harbored towards other women.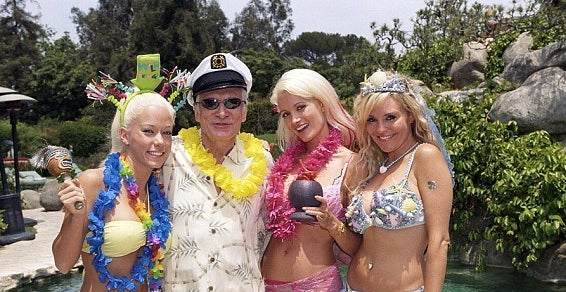 Up until Friday evening, Bridget was my favorite of the trio. Her upbeat personality, cute outfits and adorable pets (Gizmo and Winnie) made me envious of her high school aged little sister who lived at the Playboy Mansion for the summer during the first season.
Exhibit A: It wasn't until this go-around that I realized my 16-year-old self completely missed the awesome fact that Bridget had both her Bachelor and Master degrees. As a grown woman, I couldn't help but gawk as this well spoken, educated young woman (who just happens to be beautiful) broke down several times on camera while discussing her extreme sense of failure for being passed over as a Playboy model twice.
Exhibit B: "I feel intimidated, jealous and inferior of the girls who come out here to test for the magazine, then become Playmates right in front of me," the eldest girlfriend sobbed. Her skewed reflection of herself reminded me of evenings spent amongst my girlfriends, reassuring each other that we were not defined by the men who dumped us, the promotions that passed us over, or the opportunities we missed. I can't help but wonder if Bridget had someone assuring her off camera that she was more than what a photo editor thought.
Exhibit C: "I don't force the girls to drink, but I'll say 'let's have some shots' because I know they won't feel good the next morning," Bridget admitted in a sing-song voice at one point. "I giggle when they're getting trashed because it shows they clearly don't want it bad enough, and because I'm jealous."
4. The show glamorized Hefner's moods and controlling behaviors.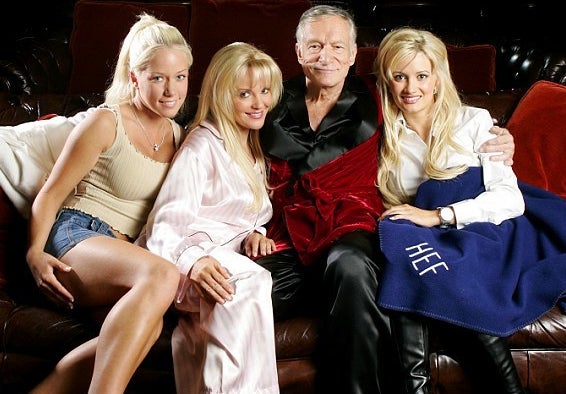 Back in 2005 as 16-year-old catholic schoolgirl, the most scandalous part of the television series was one man simultaneously having three girlfriends. What should have startled me was the red flags of emotional abuse being waved in each episode. The lack of a handprint across their faces or bruises hidden under their dresses signified a seemingly non-toxic relationship that served as the envy of many, including my teenage self.
Exhibit A: In the first episode, Holly's subtle scapegoat comment almost flew under my radar. "Sometimes we're stuck in a situation where Hef is like 'Where's Kendra' and I'm like 'Well I told her a million times' but Hef will get grumpy with me saying 'Why didn't you tell Kendra that we were leaving at such and such a time', "complemented by the infamous cat fight sound effect playing at the end of her dialogue.
Exhibit B: Something else I had forgotten about was the 9pm curfew that the girlfriends observed when out without Hefner, in addition to the rule of not staying overnight without him. "Are you all popping back into the Mansion by 6pm," Hefner eagerly asks when Holly checks in during a day trip to Vegas. The shock in her voice is evident as she says no, but quickly explains that Hefner "wasn't excited for us to leave for the day because he had no one to hang out with."
Exhibit C: Ironically, the most troubling behavior is featured during what is supposed to be a dream-realizing moment. "Are we in trouble, did we do something wrong," the three girlfriends ask when summoned to Hefner's bedroom. After revealing all three of his ladies were going to test for a cover of Playboy Magazine, they burst into tears- though out of relief that they were not in trouble or the fact that they get to finally be on the cover of the magazine, we will never know.
As a teenager, I frequently watched The Girls Next Door with my parents and consumed countless coverage of the show. Not once did I ever come across someone pointing out that these women were showing signs of low self-esteem rooted in their complicated romantic relationship. Grant it, my upbringing didn't involve a lot of positive empowerment as a female besides a stellar collection of Spice Girls swag. But there is an alarming truth that at 16-years-old, the only thing I questioned when watching the show was what kind of diet, exercise or liposuction did I need in order to look that good in a bikini.
If filmed in 2017, The Girls Next Door would look completely different in a number of ways due to the introduction of smartphones and constant social media. However, I can't decide if there would be more outrage and discussion about the elements of shattered self-esteem being consumed for enjoyment in today's world, or would Holly's anticipated proposal just be another trending Twitter topic.
Calling all HuffPost superfans!
Sign up for membership to become a founding member and help shape HuffPost's next chapter
This post was published on the now-closed HuffPost Contributor platform. Contributors control their own work and posted freely to our site. If you need to flag this entry as abusive,
send us an email
.