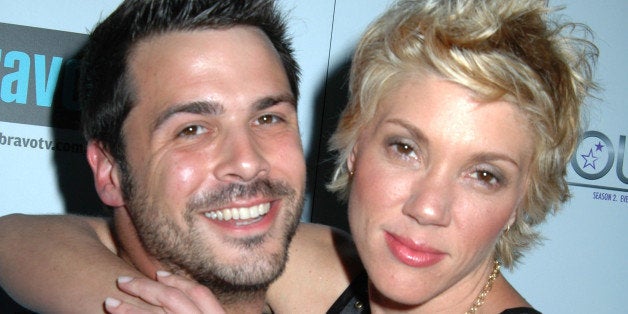 From 2006-2008, I was a central character on Bravo TV's reality show Workout. Initially, I had no intention of doing the show. At the time, I was finishing my culinary arts degree at Le Cordon Bleu. I was a trainer by accident really. I mean I loved working out and taught bootcamp classes to pay my bills and I also figured that being involved in the fitness industry could help prevent too much weight-gain as I spent my days surrounded by soufflé's and cream sauces. But the show's producers gave me a great pitch and promised to feature my cooking skills on the series. I was 26 and looking at a mountain of student loan debt. I went for it. A new adventure began.
There's been enough written about the dark side of reality television; I don't need to offer you a sob story about my time on Bravo, a network that seems notorious for the bad behavior of its stars. Truth is, I still work on television to this day and my experiences continue to get better and better. This probably has something to do with an attitude adjustment and opportunities to work on family friendly programs.
I would like to share a story that happened to me during the second season of Workout because I feel like it's a bigger conversation and a conversation that needs the attention of the LGBT community.
It began when I was having my pre-season meeting with the producers, people whom I valued as friends. They were catching up on the stuff happening in my life, mostly to see if there was anything interesting that they'd like to follow as a storyline for the show. One topic of interest was my "weight problem." This threw me for a loop because I wasn't aware that I had a weight problem until they pointed it out.
At the time I was 5'11'' and 180 pounds, a healthy weight for most men my age, but apparently this had become a problem. I requested that we didn't address this and we moved on. My request fell on dead ears as my weight was too interesting not to put out there for everyone to "weigh" in on.
Shortly into filming I found myself shirtless, running on the beach, and taking a body fat analysis test. When the episode aired the footage of all these activities were sliced in with my co-stars calling me things like "fat pig" while making really disappointed faces. I apparently didn't just let down my co-stars, I let down America. After the episode aired, I got waves of emails and social media messages from people sharing how disgusted they were by my appearance. One zealous young woman even suggested that I kill myself. Wow.
Now listen, I'm no victim. At the time this was happening I was in my last year of heavy drinking before I got sober. I was exercising a lot but I was drinking even more. I was on a show that idolized low body fat and scoffed at softness. No one made me stay, I was a willing participant.
I filed this whole experience as a very loud and very public wake up call. By the next season I was lean and toned; I even got picked to participate in Jackie Warner's first exercise DVD. It was a lot of work but I finally made it.
Now, let me explain what I had to do to get this kind of skinny. My normal exercise routine started with a six-mile run on the treadmill then weight training followed by 45 minutes in and out of the steam room. Three days a week I would meet with a personal trainer for an hour of intense weight training and plyometric exercises then finish the day with a boot camp or spin class. I would eat light meals throughout the day, mostly foods with very little flavor (fuel not fun) which was kinda cruel for a Le Cordon Bleu-trained chef to endure and down as much fat burning/muscle building supplements that I could handle. I was too scared to inject steroids so I just had to stay crazy enough to maintain this relentless routine.
I come from a very hearty stock of people. The women in my family have curves and them men are shaped more like woodsmen than runway models. To obtain the lean muscular body that so many gay men in Los Angeles desire, I have to starve, sweat and push myself into really uncomfortable territories. I trust you know where this is going; it just wasn't worth it. I was thin and I was f-ing miserable.
Once the show ended, I had the distance and clarity to ask myself, "So, what's the value in a six-pack?" What was I thinking the big pay off for having virtually no body fat was? Perhaps I could find a partner who valued me for my looks and lost interest every time I gained a pound or two?
I see my peers, colleagues and friends imprisoned by digitally enhanced pictures of emaciated, vapid and underfed people -- images designed to make us feel inadequate and less than. I was one of those people and can share that there wasn't much joy in the experience. I was self-conscious, worried about gaining weight, constantly comparing myself to other men, and my looks became my whole reason for existing. It was a life with very little light.
I invite you to consider what chasing a "perfect body" might cost you. How much time do you invest in working towards or maintaining a slim waste and chiseled features? What else could you invest your time in?
Today, I've learned to love to exercise because it supports my healthy lifestyle and helps me feel good. I see challenging myself to exceed my expectations as a great way to grow into a transformational mind-set. My time at the gym gets to act as a metaphor for all areas of my life. Today I prefer my sexy to come from within. When I feel happy I exude confidence. I'm physically active with mindful living habits and I refuse to chase unrealistic and unhealthy body fantasies. I know the time commitment it takes for me to achieve chiseled results and I have too many aspirations to consider investing that much time on my biceps.
I'm extending an invitation for you to consider: For every hour you spend at the gym, dedicate 10 minutes doing volunteer work with an organization that feeds your soul. Sit with this idea and see what comes up for you. Consider how much time you commit to shaping your ass versus the time you commit to opening your heart.
Taking care of one another -- that's sexy.
Let's redefine what the face of sexy looks like. It's a face that's smiling, not pouting.
Calling all HuffPost superfans!
Sign up for membership to become a founding member and help shape HuffPost's next chapter