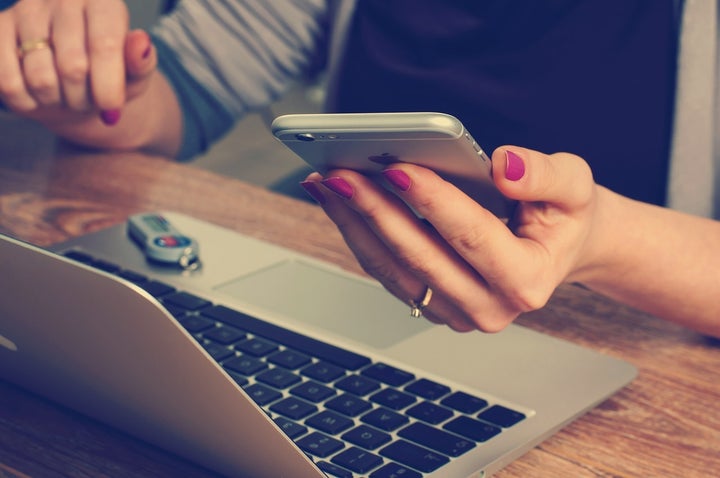 Sometimes the music started in the shower. Da da da…that 70's tune often worked its way into my head before I was fully awake. to me. "Do it," it whispered, and I paid close attention.
Email the teacher, make a meal plan, finish the client proposal, draft the essay, plan our vacation. I'd find myself repeating a list of my things to do as I stepped out, dripping and searching for a pen. I'd write down the steps of my daily dance and focus on how quickly I could check them off. There was no greater rush than ending the day with a completed list.
Need brownies for the school party? Have a committee with a vacancy? Want to know the best route to complete your errands without backtracking? I was your gal, and ever at your service. I was part of an army of moms also doing the hustle; useful and efficient women surrounded me. What I was doing was my currency and I was filthy rich.
Until I wasn't. My useful and efficient bone broke when I began a graduate program.
I'd entered the program confident that I could balance schoolwork with my career and my writing: my "work" bucket would just grow slightly bigger, I told myself. No problem. My "mom" bucket was already large, surely I had room for another big bucket in my life. My other buckets of daughter, sister, friend were managing just fine, thank you very much, and after some short adjustment period I planned to juggle these buckets with dizzying rhythm.
I was drowning in work and laundry and unmet expectations in less than a week.
"I can't figure it out," I said to my husband as we lay in bed, too exhausted to watch a movie or talk about our day. "Why is this so all-consuming. Why can't I get it all done?"
"It's too much," he replied gently. "Maybe take a day off?"
He might as well have told me to fly to the moon.
I ignored his advice. I kept limping along, making lists and drumming up the mental energy for meal planning, but it didn't work. The lists languished, half-made by my bedside and I was exhausted.
I began to focus only on the essentials: time with kids and Gabe, must-do client work, and what had to happen to keep our world spinning.
At first, it felt awful. I'd look around at my empty-except-for-ketchup-and-pickles fridge and my piles of laundry and my endless work must-do list and feel buried. More than once, I snapped at a little one with a question and unfortunate timing. How was this ever all going to get done? What did this say about me as a mom? I would catch myself spiraling, and sometimes couldn't stop the slow slide into negative-town.
But then I noticed something else. I was the only one noticing.
True, occasionally Simon, past six feet tall and constantly hungry, would complain that we were out of food, AGAIN. Or Lottie would wear something crazy because she was out of clean clothes. We left for vacation without a plan, save a vague idea about ziplining at some point during our trip. But mostly, no one in our family noticed the ever-growing list of things I didn't have time for except me.
The same was true at work.
I'd never questioned the mom hustle. It seemed to be part and parcel of this whole mom gig, and so I was wholeheartedly in. I've always been a rule follower. When I divorced, the mom hustle became more important somehow. Becoming a stepmom made it even more critical. Because we were a different kind of family, I felt like I should be a text-book mom to even the scales. I never looked carefully at what that meant, or whether that mattered to the people who matter to me. I just adopted the shoulds and went on my way.
When the shoulds became too heavy, spilling off my shoulders and all over the ground, I started over.
As I write this morning, our lawn is littered with water balloon remnants and streamers from a recent party. The laundry room is overflowing, and every child in this house is either still asleep or draped on the couch watching tv. The sink is still full of last night's dishes because we forgot to run the dishwasher after lunch. I am contributing in no material way to any committees at school nor am I crafting balanced meal-plans.
Lottie and I snuggled in bed last night, reading longer than we usually do because we couldn't bear to close the book at a cliffhanger. Caden and I talked while he packed his suitcase for camp (two weeks early), him wondering quietly if it was okay to be a teenager and still maybe miss home and me reassuring him that it was both okay and normal and expected. Gabe and I watched millenials build tiny houses in the jungle, giggling as we wonder what they'll do with toddlers on a swinging bridge.
When I panic about not contributing to the bake sale, or posting less often, or eating out more than we once did, I remind myself a slower time will come. Like all the seasons of our life, this one will shift. For now, this is what works for our family: far less doing, and far more being.
I gave up the mom hustle because I no longer have the time to do the things I once did. Do, do, do, that was the rhythm of that dance. Giving it up allowed me to be. Be with my children, be with my husband, be present to the gift of this family.
Kate Chapman is a mom and stepmom to six children, ages 8-15. . A widely-published blended family expert, Kate addresses the tricky topics of divorce, coparenting and stepfamily dynamics on her nationally-recognized blog, This Life in Progress. When she's not writing, she's turning off lights in empty rooms. Follow Kate on Facebook, Twitter, and Instagram for coaching, support and inspiration.