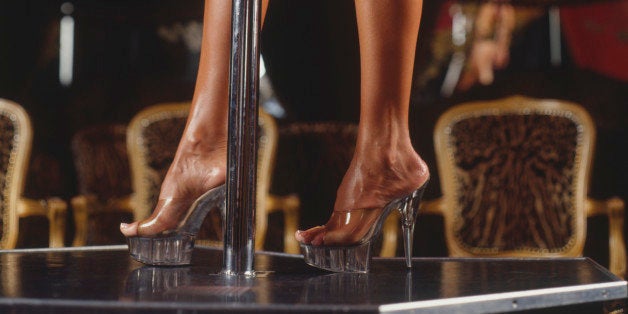 I first started working at the strip club as a waitress. My "interview" was me walking into a cluttered manager's office, on the top floor of a downtown club. The manager took one look at me and then called a different manager of another club to tell him "I have a beautiful girl for you that will be dancing in no time."
That's any strip club's goal, essentially: to find more dancers to bring in more clients to make them more money. In an attempt to meet this goal, they take conventionally pretty girls, dress them in what can only be defined as lingerie, ask them to work eight hours on their feet for minimum wage while other women make thousands upon thousands of dollars a night all around them, in the hopes the struggling waitress will eventually say "this isn't worth it" and start dancing, too.
As you could probably guess, they're successful a large percent of the time.
I can't lie, it was extremely tempting. Most of the women I watched, night in and night out, looked like they were having so much fun while simultaneously securing a small fortune. I took a job at a strip club and was willing to wear next to nothing, because I was dangerously poor.
The start-up I was working for folded, I had a part-time office job that kept me washing my hair with hand soap and I was living in a big city where rent was criminal. Waitressing at a strip club was easy, gave me night hours so I could work more than one job at once and didn't require as much training as a "normal" serving job because, well, it's not difficult to bring drinks to men who couldn't care less about their beverage. So, watching other people count out hundreds if not thousands of dollars after only working for a few hours was nothing short of alluring.
Self-consciousness is a funny thing though, and I didn't like my body enough to showcase it naked on a stage. So, instead, I excelled at my job until the manager noticed I was somewhat reliable and promoted me to bartender. The hours were slightly longer but I didn't have to walk the floor, I could hide behind the bar where my derriere wasn't as visible and, most importantly, I could watch.
When I wasn't ringing up champagne rooms or slinging drinks, I leaned up against the bar and watched gorgeous women weave their sexuality into some kind of all-powerful tractor beam of potential pleasure. And I watched the men who were powerless to control it.
I watched a married man come in five nights a week and spend at least $2,000 every night, on just one woman. He had his favorite and he would wait for her, politely declining dance propositions from other women, until she was available. She would give him one, maybe two dances, but the rest of the time she would sit on his lap and talk. For hours, that is all they would do. Talk. The metal of his wedding ring would glisten as the lights of the stage would flash and turn, highlighting his smile as he genuinely clung to every word the dancer said. He was possibly lonely, definitely sad and it was clear that spending thousands of dollars for a small portion of a stranger's time and attention made him feel better. A part of me assumed he was a widower. The other, more pessimistic part of me, believed him married for at least 30 years and so devastatingly out of love, he was too exhausted to do anything about it.
I watched young men come in and throw hundreds of dollars around, mimicking a scene from some rap music video they've seen at least 20 times. They'd come with a multitude of friends and they'd always be loud and they were more than happy to give every woman they saw $20 or $50 or even $100 tips.
For the few hours they were in the club they seemed so powerful and rich and happy, but I'd continue to watch them as their friends started to leave, one by one. I'd watch them as they signed their final bill, a sadness rushing to their cheeks, because they knew as well as I did that the allusion was coming to an end.
The sun would rise and the comforting darkness wouldn't be able to hide their emptiness or self-doubt or whatever it was they were so desperately trying to mask. These guys made me sad and angry. I felt bad for them, that they had sufficiently bought into a particular brand of masculinity and have found themselves enslaved to it. I felt angry, that they believed it okay to use money and women to make themselves feel better about their own perceived shortcomings.
I watched nervous men who were pressured by boisterous friends, uncomfortable and unsure. It was obvious they didn't want to be there and didn't fit into that kind of environment but, sadly, felt trapped by misguided obligation. If they said something, they were labeled "pussies" or "gay" or both, so they'd force a smile and hesitantly laugh and white-knuckle their way through the evening.
I watched angry men, who felt the need to take out their sexual frustrations or recent rejections on women they deemed "less than." These guys were usually kicked out before the night was over, and for good reason.
I watched women who loved what they did and found stripping to be an expression of their beauty and self-love and sexuality. I watched other women who stripped because they were severely convinced that it was the only thing they were good at. Their self-esteem was tied securely to their body and their ability to use it. And sadly, I watched a few women who stripped because it was a means to an end and an easy way to sustain a drug or alcohol habit. I would hope and wish for them because it was painfully obvious they didn't hope or wish at all and those are the women I think of the most.
Night after night until I found a decent paying job and left the club for good, I watched humans interacting in a sometimes ridiculous but (arguably) completely natural way. I learned so much about men and women and how powerful my body is or, at the very least, could be, when and if I decided to love it. I learned how to make my behind jiggle way before Miley Cyrus did it on stage and I learned that if I arch my back in this one particular way, my stomach will appear at least three sizes smaller than it actually is. I learned that lighting is everything. I learned how to stop a fight without getting physical and how to compliment a woman on something other than her looks. I learned how to hide illegal drug use and how to turn down an advance in a way that seems seductive. I learned about sex and love and how they can be completely separate for some, and so intrinsically linked for others. I learned about healing and determination and I learned a lot about money.
But mostly, I learned that the stigma surrounding female sexuality is what continues to ensure businesses like strip cubs are thriving, successful enterprises. I've learned that we've convinced a large population of women that their sexuality is wrong, that their bodies are shameful and that if they love their bodies they're "whores," just so that others can secure a profit. I learned that the allure of any strip club isn't necessarily the naked women or the passionate lap dances, but the palpable feeling of taboo secrecy. So much of the experience is rooted in the idea that it is exciting because it is "bad," and the women are "bad" because they're exciting.
I learned that a woman's power doesn't come from she shape of her body or how naked she is willing to be or how attractive she is considered by the opposite sex. No, her real power comes from being unapologetically herself, and owning every facet of her being in a way that says, "I am proud" instead of "I am ashamed".
I learned that a woman is at her most powerful not when she can convince a man that she is beautiful, but when she can -- and has -- convinced herself.
Calling all HuffPost superfans!
Sign up for membership to become a founding member and help shape HuffPost's next chapter