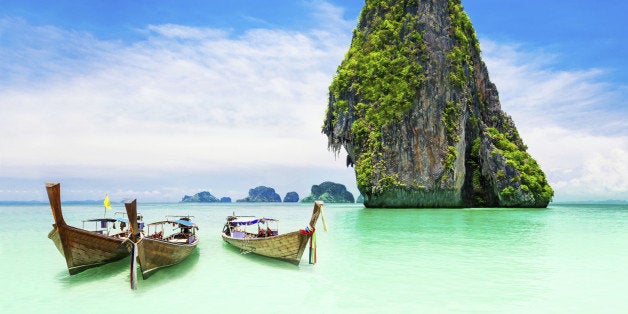 By the Lanta Sea Shore, I sat down and wrote. Koh Lanta is a little town few hours away from the much hyped Krabi. I wanted to escape the crowds and tourists hunting around for tourist spots and just be by myself and enjoy some quiet time. Koh Lanta was a blessing in disguise.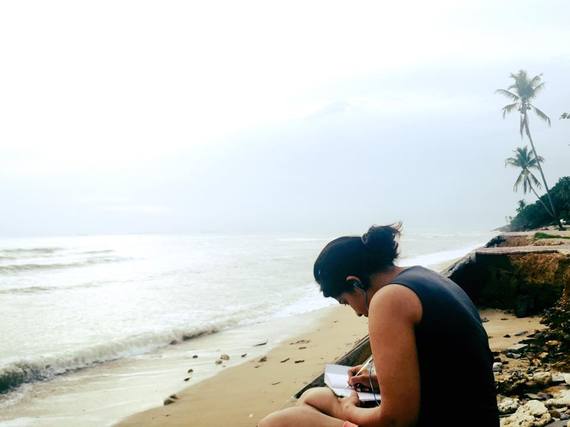 Image Courtesy : The Purple Backpack
The habit of carrying my diary around paid off. I was loitering around the old town of Koh Lanta on my scooter , enjoying the rainy climate and feeling happy. The sun was about to set and I found a spot right on the sea shore with the sun just about to set. I started writing about my thoughts at the moment. And forgot about them , until today , almost 2 months later I found the diary lying around and what I read really impacted me. So here is a raw version of my thoughts at that time , whilst quietly enjoying the sun set and listening to the soothing calm waves of the sea hitting the rocks and displaying magnetic hues.
You should learn to explore the beauty of old towns and places which lead to a much real and authentic experience. Selecting Koh Lanta to spend 4 days was the best decision of the trip. The calmness of the sea, the untouched jungles , the rains glorifying the beauty of the place already adorned with jewels , the streets with cute little cafes decorated in locally created art , really won my heart. Every single place I visited had a different feel to it. Thailand is an amazing place for soulful experiences.
The locals with their golden heart really make you feel comfortable. The availability of Indian food is a treat. I am feeling different right now. I don't miss anyone , I don't want anything else , I wouldn't change a thing about this particular moment , I realised I am much wiser now.I've never found the sounds of the roaring sea so calming and soothing. The gorgeous sunsets make me believe, to have faith and immerse in the beauty of nature. I know that whatever course your life takes is a part of a bigger plan.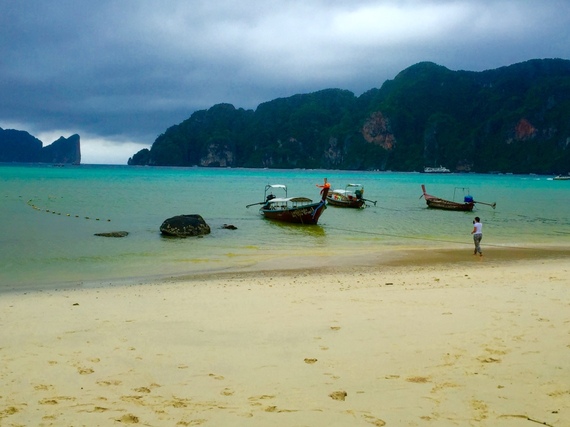 Ko Phi Phi Islands and their mesmerising beauty! Image Courtesy : The Purple Backpack
You feel so small in the scheme of life. Meditating on the sea shore , with sun setting gorgeously and the sound of the waves make you realise that we take life a little bit too seriously. That fear of a good appraisal , advent of an impending bonus , car and house loans , your children's education , all of these may sound important at the moment , and they probably are to you. But , if you come to see life from a distance , you probably will realise that all the things and situations causing you worry are not worth the worry. You should learn to decipher what is actually important and what appears important. That impending appraisal can keep up at nights , worrying , but what will it lead to. A bigger house? A luxury car? And then , what comes next? A villa and a Porsche? Where is the end to this? Why are we so busy in the rat race that we fail to appreciate the beauty of life. Who says life has to be tough , full of toil and stress , when happiness lies in seeing the sun set and displaying its amazing hues or in the sound of the roaring sea , or in the cold breeze playing with your hair, or in the ringing laughter of a child , or looking into the eyes of a loved one or watching a mother play with his child. Happiness is that simple.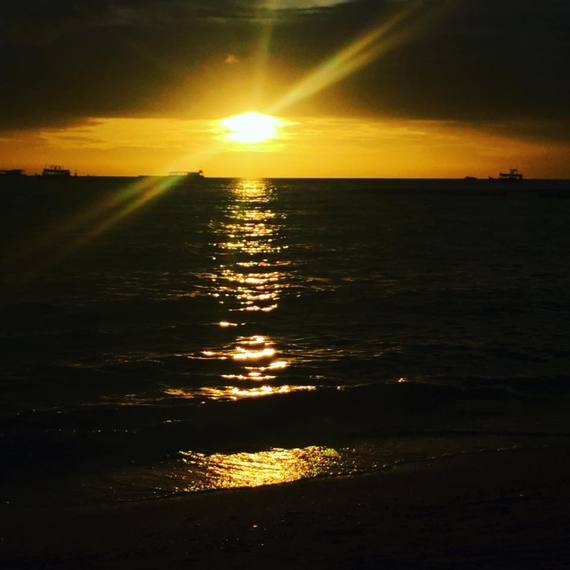 Watching a gorgeous sunset sitting by the beach in Pattaya. Image Courtesy : The Purple Backpack
I implore you to travel. Because of moments like this and so much more. I could never write like this whilst am sitting in the noisy city of Delhi , where all I can find when I look around for motivation are buildings and traffic. Travel makes you wiser , makes you see what is actually important. You forget those bitter relations , those sour words exchanged and aim for a new start. The above thought led to this life changing decision.
I implore you to travel however far you can. Not just the exotic far off lands like Europe or Thailand. Exploring the backyard of your city is just as rewarding. Find hidden spots in your city which is devoid of crowds , and take a moment to soak in the beauty and breathe in the fresh air. Meet new people in your own city. Travel does wonder , and that holds true for local travel also.
Related