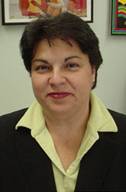 39 years ago, Margarita Muñiz's first teaching job in Boston was at the Agassiz School as a bilingual elementary teacher. She went on to serve as principal of the successful two-way dual language Rafael Hernandez School in Boston where she has been educational leader for 29 years.
My daughters, now 33 and 31, are fluent in Spanish because they attended the Rafael Hernandez. Spanish was not spoken in our home; they learned it at school, just as many children who do not have English spoken in their homes, rely on educators to bring their children to fluency and mastery of English.
I owe Margarita Muñiz and the faculty at the Hernandez my own children's immersion in Spanish language and the skills to work cross-culturally. But my children's education is just one debt I owe this remarkable educator. Margarita launched my educational career and this was accomplished because rather than viewing me as a pushy, pain in the neck middle class parent, she saw me as an energetic ally. She saw that we could work together to improve the school. In this way, she changed my life.
When I was an undergraduate and had decided I wanted to become an urban elementary principal as a career goal, one advisor encouraged me to transfer: I shouldn't waste my Harvard education on elementary education. When I applied for a position in the Boston Public Schools in 1974, my interviewer responded to my enthusiastic answers for improving reading instruction with this withering response: "You have a lot of ideas. You wouldn't be happy here." Unable to find a teaching job, I became a community organizer in Arkansas. In 1982, though, I had returned to Boston, and was visiting kindergartens to see where to apply for the lottery for my daughter.
I was greatly influenced by the work of Ron Edmonds who had focused on what it took to create effective urban schools: a strong, capable, mission driven principal. The most important factor in my decision was the caliber of the principal.
Margarita not only spent time with the parents who had come that day, she made a compelling case for children learning in two languages, and her school's ability to deliver on that ambitious goal.
I believe that many principals would have viewed me as pest. I ask a lot of questions, I am often demanding and intense. Margarita is a forceful person and she quickly tapped into my volunteer energy once I became a Hernandez parent. While I worked full-time at the state house as Sr. Research Analyst for the Health Care Committee, I gradually realized that I was spending every lunch break and after hours time working on the Hernandez. As parent Co-Chair, we partnered with Margarita to get the court order changed so we could become a K-8 school, find a new facility and renovate the building and playground. The Hernandez became a pivotal leader in transforming the neighborhood; the reason we were able to secure the empty building is that no one else would consider locating in such a dangerous spot. But Margarita was intrepid. She met with gang leaders and negotiated an informal agreement to keep peace. The school continues to have a long wait list today.
Margarita was a Peter Pan child from Cuba, sent by her parents to the United States when she was 11 years old. An only child, she didn't know if she would ever see her parents again. She grew up in a Catholic girls' orphanage in Louisiana, and came to Boston University for college. Her parents were able to join her in Boston during her college years.
In one sense, she was a "lost child" who had to develop a tough, feisty demeanor to make her way in the world. In my experience, usually such people become naysayers. It can't be done is their default mode.
Remarkably, Margarita preserved her ability to dream and to say yes. Instead of seeing me as a demanding parent, she saw that I had skills to offer. I didn't again have that deep sense of being welcomed as a partner in my child's education until I went to parent's orientation at Wellesley College. Both the Hernandez and Wellesley communicated effectively I mattered as a parent in this shared endeavor to educate my offspring.
My experience as a parent at the Hernandez helped me realize that I wanted to spend my professional days in the field of education. While still working at the State House, I began and completed my master's in early and elementary education from Wheelock College.
In 1988, Margarita introduced me to her friend and colleague, Diana Lam, then District Superintendent in Boston. Diana and I began talking and before long, I had applied for and been selected as the first "Restructuring Specialist" in the Boston Public Schools My job was to be a community organizer for school communities to help them envision what was possible and then craft a plan to achieve it.
I had the opportunity to collaborate professionally with Margarita when the Rafael Hernandez was selected as one of the first ten schools to implement Expeditionary Learning in 1993. As part of that founding group, we went on an Outward Bound white water rafting course on the Green River in Utah. She and the Hernandez faculty were key developers of the first learning expeditions and best practices of what has grown to be a successful national network and organization.
Margarita has been a mentor and teacher to me, launching and influencing my rewarding career in education. In the past two years, it has been a special pleasure to work with her and others to envision an innovative dual language high school within the Boston Public Schools named in her honor. The Margarita Muniz Academy was approved this week by the Boston School Committee as Boston's first two-way language high school. Under the leadership of Dania Vasquez, Margarita Muniz Academy will welcome ninth graders in September 2012 in the the former Agassiz School building, the site of Margarita's first teaching assignment.
Margarita will change their lives, too.
Related
Popular in the Community