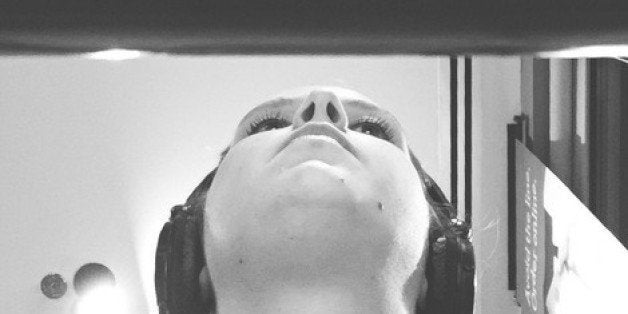 No one in this room knows I'm a mother. Or a wife (I was so much smaller when we got married that my wedding ring doesn't fit anymore). So, I sit here in this coffee shop with my enormous 99-cent headphones on like the nerd of the year and am anyone.
Just a girl, standing in front of a laptop, asking it to love her.
A few weeks ago, I wrote an essay about wanting more out of life, which was really just me using seven paragraphs to say I need help with childcare.
Why is it so hard to ask for help? The words get stuck in my throat like a dinner roll I've inhaled without a glass of water, and I'm left dry and weary. Mom pro tip: Ask for help and you will no longer need to slam cupboard doors to get your (secret) "point" across. The speeches I've rehearsed during angry cleaning are such a waste. I could have been listening to a podcast.
Before I had my first baby, a wise woman told me that "if this is going to work," I was going to need to ask for the exact help I need. Nothing more, nothing less. If the help is there, be thankful. If it falls though, at least you said it out loud. She said, "You will never get the support you didn't ask for."
It is so easy to give that advice. I don't know how many times I've said, "If you want the cake, ask for the cake." But encouraging someone else to be assertive, brave, and strong is a lot easier than living those adjectives out yourself. How quickly we play the victim.
Lucky for me, I didn't marry a misogynistic narcissist. Austin is great (a feminist narcissist). It is my own issue; my own self-doubt and self-loathing and tendency to under-commit. We live in a world with so much creative work at our fingertips that it is easy to be lazy. It is easy to leave our imaginations and originality behind with our Pinterest pins and the excuse that it's already been done.
It is easy to feel insignificant.
The good news is that humans have been feeling like boring shmucks since Eve got tired of hanging out with Adam. There is always something to be said, to be created, to do. Asking for help to do it is simply one step in a series of a million steps. We are our greatest obstacle. Our greatest asset. If there's one thing we can learn from Beyoncé, it's that hard work pays off, but also nannies. So many nannies.
I am writing this to you after two full hours in a cold coffee shop working on a memoir titled, Carbs And Bon Iver: Thank You For Helping Me Write This Book, because I asked for help.
A small step, but also a giant leap.