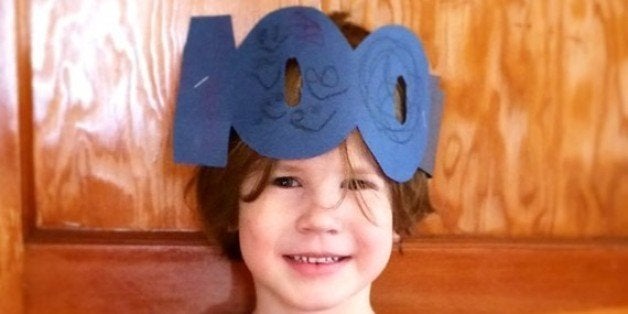 A couple of weeks ago, I trudged through the snow towards the kindergarten door at T's school. A gaggle of middle school girls breezed by and I noticed one of them waving a small manila envelope. Goosebumps erupted from my scalp to my toes.
It was a report card envelope.
In the fall, we had parent teacher conferences and the first report cards were distributed then. Seeing the envelope in that girl's hand was a complete surprise, and I could not wait to hustle T home to see if he had one too. I wanted to peek into his bag as soon as we were back in the car, but I made myself wait, savoring the anticipation and excitement. By the time we got to the house, I was lightheaded and giddy.
At the thought of looking at my kindergardener's report card.
When I was growing up, I was not a popular kid. I was not a beautiful kid. I was not an athletic kid. I was a smart kid. Everyone looks for an identity as we grow. Honestly, I would have loved to find mine as a popular kid or a beautiful girl, but smart is what I had. So I clung to it.
Over the years, I've come to realize I am not anywhere as smart as I thought I was back then. But in childhood, being grouped with the smart kids made me feel like I belonged. Excellent academic performance was not just expected, it was required. If we weren't in the National Honor Society, how would we get into a great college? My sister and I were good girls. We got into great colleges.
This is the baggage I hauled into the kitchen with me as I opened T's report card. It was excellent. T is a bright kid. His preschool teacher called him her little thinker. I breathed a huge sigh of relief. Most of the 3s he got in the fall had turned into 4s. At the parent teacher conference, we were told they don't give 4s in the fall because it doesn't give the kids any room for improvement.
"They don't give 4s in the fall, but T got one 4." I bragged to my friend.
"Homework. I always make sure he hands it in early."
"Oh, so YOU were actually the one who got a 4." My friend is incredibly smart, way smarter than I am. She nailed it. My pleasure in that 4 could not have been a clearer red flag that I was being nuts when it came to T's performance in kindergarten.
The second part of T's report card was a series of standardized test results. Like in the fall, his scores were terrific. All but one. He was a few points below the expectation in one.
The room started to spin, my ears started ringing, the lightheadedness increased.
That one score invalidated every good thing I'd read. I panicked. Should I call Z? My parents? What were were going to do? What had I failed to teach T? When was the soonest I could get a parent teacher conference with his teacher? Should I email her right away or talk to Z first? What were we doing to do?
I gulped in some big, deep breaths. My mind cleared a bit.
What the hell was I doing?
T is 5. He is in kindergarten. He is happy and learning and figuring out how to be a student. He is thriving. I am so proud of him.
Do I want him to see me losing it over one score out of many on his report card? Do I want to put that kind of pressure on him? On the flip side, do I want him to see me being thrilled over the good marks? Do I want him to think that my approval is tied to his academic performance? Is that fair to him? Is that the kind of Mom I want to be?
I called my parents and told them the whole story. They talked me off the ledge. Near the end of the conversation, I told them I was still probably going to contact the teacher to come up with strategies around the lower score. Obviously, I had not really internalized my big realizations about not pressuring my 5-year-old. They gently helped me see that there was nothing to contact T's teacher about. T was fine. I was obviously an insane helicopter mom, but T was fine.
That night, I got an email from my dad with a link for a news story out of Staten Island. A mom allegedly threatened to bomb her daughter's high school after learning that the girl failed a standardized test. My father, sarcasm oozing off of the computer screen, indicated her reaction was completely reasonable. I laughed so hard I cried. And then I cried for real.
T is not me. He is not a chance for me to relive and improve upon parts of my childhood. My son's kindergarten report cards have no bearing on his academic future. Being a smart kid in kindergarten doesn't mean he will always be a smart kid. Intelligence is not a measure of worth. This is a time for T to grown and learn and not be faced with pressure, especially additional pressure from his mother. My husband and I came up with a list of three things the boys need to do in order to make us proud: Be kind. Try hard. Treat girls the same way they treat boys. The three things are a mantra in our house. There is nothing about report cards or intelligence on that list.
I screwed up big time. Big time.
In the five short years I've become a mother, a chasm has cracked open, separating the kind of Mom I want to be from the kind of Mom I am. Five years doesn't feel long enough for it to have become so deep and wide. Seems like I have much more work to do than T does.