Co-authored by Whitney Szmodis
As Mother's Day approaches, I asked a friend of mine who is a mother, "what topic would you be interested in writing?" Her reply was: "I would write about how sorry I am. I'm sorry that no matter what I do or how hard I try, I am a failure 99 percent of the time."
Women are told that they can do it all. They can have a profession, a family, and a life of their own. They can be engineers, CEOs, even fight for our country on the front lines during war. Yet, tributes to motherhood neglect ways in which they can honor the diversity that motherhood has come to represent.
By ignoring the evolution from the 1950s housewife to the modern mother, it becomes insulting rather than celebrating what it means to hold such a title. Being a mother has become more of a cross to bear rather than a rite of passage. It has evolved to stand for the futile efforts women all make to be successful, when, in fact, they know they will fail regardless of how hard they try. But, they try regardless.
My mother friend said, "Perhaps stupidity and ignorance, or perhaps blind faith, brings me to such a place. No matter how I reach such a destination, I find myself, as a mother, destined for a dichotomous state of happiness and failure... never quite sure where I am from one minute to the next."
In a society that tries to ignore the glass ceiling felt by many working mothers, the media and marketing ploys to perpetuate the seemingly consistent efforts to keep women from being appreciated for who they truly are. They may make less money than their male counterparts, but their ability to juggle the endless jobs they take on each day makes their role in our society priceless.
As a professor leading biannual research trips to Cambodia, I often hear students without children ask women with kids who is taking care of their children while they are away. Typical comments include, "you are such a super mom, I don't know how you do it" or "you are setting such a good example for your children by taking time for yourself" or "oh no! you are going to miss them so much aren't you." I have seen women respond with such answers as "I don't know how I do it either" and "Uh-huh" with a forced half smile.
How many times do women in the professional world hear "what will you do with the kids" when they go on a business trip or take an opportunity that requires time away from home? How often do their male counterparts hear the same thing when faced with similar opportunities? We all function within a society that superficially rejoices in the strides toward gender equality, yet we soak up the media portrayal of the "good wife and mother."
As Mother's Day approaches, we are yet again inundated with advertisements of gift ideas. Whether it's a dozen red roses or breakfast in bed (this one day makes up for the breakfast she makes for the entire family the other 364 days of the year), or a pretty new necklace, the gift options presented to husbands and children are laden with the stereotypical adornments so closely tied with femininity and opulence. What would appear as instinctively good ideas for what your mother would like best, we tend to overlook the underlying harm done by such advertisements.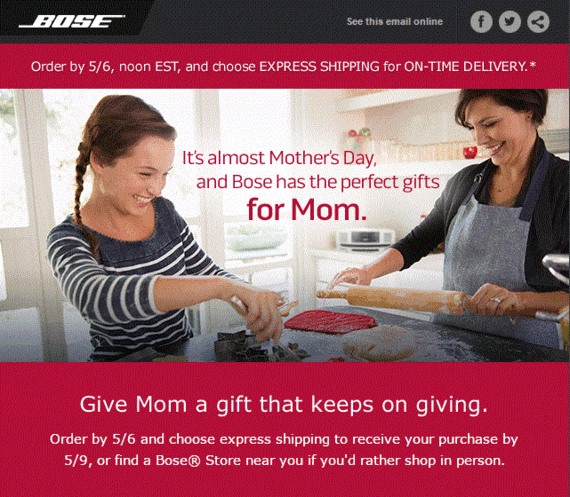 This year's Bose's Mother's Day advertisement (Link)

This year's Ala Detergent's Mother's Day advertisement (Link)


This year's Valpak's Mother's Day advertisement (Link)
The advertisements above illustrate how women are being portrayed on Mother's Day. They are viewed as domestic workers. I wonder by including the presence of father and/or a son in the ads would undermine the significance of Mother's Day. Or if it may confuse its customers?! Even when a man is featured in a Mother's Day ad, his presence is merely a fixture of the perpetual roles of husbands and wives.
My mother friend continues, "Are we not capable of golfing like fathers? Are we incapable of handling a power tool or table saw? The last time I checked, these were all targets of the Father's Day marketing ploys to get children and their mothers in Home Depot and sporting goods stores. Perhaps marketing and sales experts think that women are incapable of handling such impressive and powerful instruments. Perhaps they are wrong."
The fight for gender equality may never be won. Women and men might never be equal. Perhaps it's more than the fight for equity that needs to be won. It's not about women leveling the playing field. It's about recognition and respect that comes with understanding what motherhood means to women. It's about knowing how to show appreciation for them in ways that acknowledge what they need to hear and how they need to be supported in order to continue to be the glue that holds their family together.
Regardless of the outcome of the battle for gender equality, the injustice for women remains at the forefront of many mother's minds. When I asked my friend what she would like for Mother's Day, she replied "a really nice bottle of single malt scotch and a nice cigar." Well, there you go, it looks like the marketing world has it wrong after all.
Whitney Szmodis is a Ph.D. candidate in Teaching, Learning, and Technology at Lehigh University, Bethlehem, Pennsylvania. Her area of research focuses on the gender disparity in STEM education and the role that socio-cultural factors play in girls' aspirations to their future careers. She can be reached at wes307@lehigh.edu.
Sothy Eng is Professor of Practice in Comparative and International Education at Lehigh University. One of the courses Dr. Eng teaches is Diversity and Multicultural Perspectives that covers structural inequality of gender, class, and race.
The authors thank Audree M Chase-Mayoral for her constructive comments on earlier version of this article.
REAL LIFE. REAL NEWS. REAL VOICES.
Help us tell more of the stories that matter from voices that too often remain unheard.