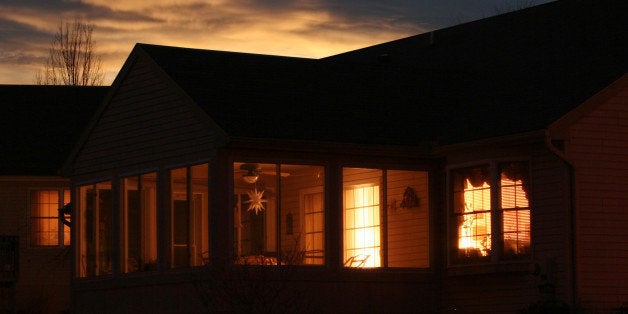 It was one of those cold, late February nights when the witching "hour" seemed to be three hours and my husband had been gone a few nights for work. I barely grasped onto my sanity through the conclusion of bedtime and had just settled into the nook of the couch to read a book. Then, a quiet barking sound was at my feet. My little dog, Neko, who had mastered the "whisper woof," was ready to go for his nightly walk. "Don't forget about me," he seemed to impatiently grumble. Since I was already in pajamas and the kids were asleep upstairs, I decided we were just going to cruise around our big backyard. No long strolls down the adjacent cul-de-sacs in these jammies, buddy! So, I pulled on some ancient Uggs and zipped up my down coat. The abrupt opening of the garage service door told me that it was barely still winter, yet not quite spring. I begrudgingly stepped out into the darkness.
We wound along the neighbor's fence and up past our dormant garden. The remaining snow piles crunched beneath my feet and a quick, little breeze made me pull up my hood. I peered above to a sky of parting clouds, looking much like the hide of a giraffe. And beyond that fleeting night skin, a few delicate stars twinkled here and there. We stumbled along toward the dark forest behind us, and Neko took his time sniffing every rock and bush. The night was silent and still, the naked trees bare of leaves for the wind to rustle. We turned back around and I saw something I had never seen before. A beautiful, little house full of color and light. Soft brightness beckoned behind the frosty, glass windows. The tree branches tapped along the family room window in an invitation, "Come on in, take off your ancient Uggs and wrap up in a blanket." An abandoned Paw Patrol episode was concluding on the television, its audience long since retired to their beds. The evidence of school bags and half-eaten lunches piled near the sink. Through the foggy windows I could see scattered artwork in the hallway and plates covering the kitchen table. Spotting a trail of Legos, I could almost hear the ringing of laughter and clamoring of little feet that was surely there hours earlier. This looked like quite a comforting refuge! A place by no means "perfect," but full of life and all the lovely mess that goes with it. What a happy little house!
To someone from the outside looking in, it appears quite lovely indeed. The cozy, glowing lamps filling each window. The exhaust puffing little clouds into the cool night from the endless loads of laundry. The den television flickering behind the drawn curtains. The children's artwork scattered along the back hallway wall. The shelf in the mud room, disheveled and lopsided, begging to be fixed. It looks like a house full of happiness, and laughter, and love. It looks like the Mommy and the Daddy don't have enough time to fix every leaning shelf and cluttered wall. Perhaps because they are too busy "living" in this little shell? Maybe each and every shelf doesn't need fixing at all? Maybe the imperfections are a necessary part of the whole existence? Just an unavoidable piece of the big puzzle of life? Another tick tock in the seamless passage of time? Peering in from the dark night, everything looks just as it should be. It looks to me like it is just a cozy, happy little nest. And so, I guess I realize for the first time, it is just that. And there is no other house, neither great nor small, that I would rather walk back into, and call my home.