I am not a fan of National Doctors' Day. I've been a primary care pediatrician for almost 10 years, working exclusively in communities like southeast Washington, DC where families struggle just to get by. My work is challenging yet fulfilling. I do not expect gratitude or recognition for simply doing my job. After all, that's what the paycheck and job security are for. Nonetheless, March 30 is National Doctors' Day, a time to tell doctors how much they are appreciated. This year, I urge my colleagues to skip the fancy lunches, dinners, and trinkets from the pharmaceutical reps. Instead, let's tell Big Pharma we are demanding better prices on prescription drugs for our patients.
Because of the high cost of medications, over 1 in 5 American patients have not filled a prescription from their doctor. Many families cut pills in half, skip doses, or share medications with friends and relatives because of limited incomes and high drug prices. Americans are trapped in false choices: they can pay for their prescriptions or they can pay for groceries or rent. When patients and families do pay fortunes for medications and other out-of-pocket costs, their health still suffers because the heat had to be cut off. As physicians, we know our patients' health suffers no matter what they do.
America spends more money per person on prescriptions than any other wealthy country in the world. We spend about $1,000 per person per year on medications, over twice as much as Germany or France. When confronted with these facts, Big Pharma markets lies as shiny as their sales reps' teeth. The pharmaceutical corporations tell the American people they are sacrificing their savings for medications because that is the cost of innovation, research, and development. This lie would be laughable if it wasn't infuriating. The truth is that the American people already paid for the scientific risks and discoveries when their tax dollars funded research at the National Institutes of Health and thousands of research labs across the country, leading to new medications and treatments. Taxpayer-funded research done by physician-scientists and biochemists in academic institutions is the foundation upon which Big Pharma makes minor improvements.
Patients and families are paying a second time for those medications at the pharmacy. Pharmaceutical corporations need us to pay for their marketing campaigns: television commercials, magazine inserts, pop-up ads on websites, and you guessed it ― dinners for doctors. Big Pharma is spending much more on marketing than on research and development, sometimes twice as much: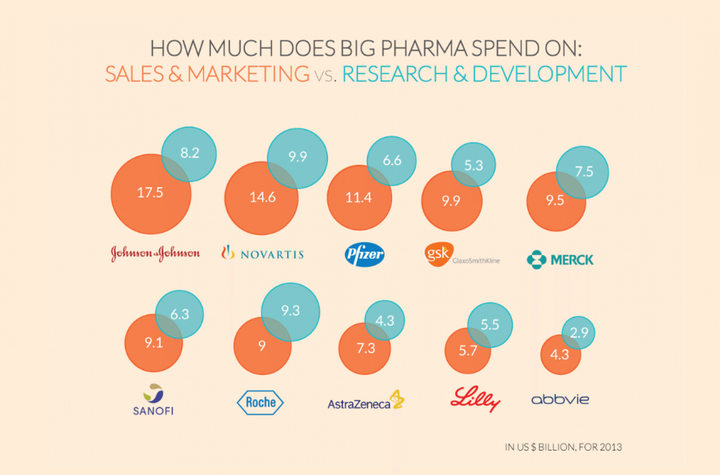 1. Medicare will be allowed to negotiate better drug prices.
2. Pharmaceutical corporations will be stopped from jacking up prices on prescriptions.
3. Monopoly abuses by pharmaceutical corporations will be stopped.
4. Competition from generics will be increased.
5. The drug industry's business practices will be more transparent.
6. Safe, affordable medication will be imported.
7. Out-of-pocket costs for prescriptions will be capped in health insurance plans.
8. Pharmaceutical corporations will no longer get tax deductions for advertising drugs directly to consumers.
All of the above provisions of the Improving Access to Affordable Prescription Drugs Act have been part of political rhetoric from both parties. It is time to turn that rhetoric into a reality. National Doctors' Day is a great occasion for health care providers to demand better drug prices for our patients. Let's earn the appreciation of our fellow Americans by demonstrating integrity and standing up to misinformation marketed by Big Pharma. Doctors, let's demand Congress put patients before politics and profits!
Popular in the Community