January 1, 2013 marked one year since I bought my last article of clothing. In that time, I've purged over 10 black trash bags of clothes from my closet, two bags of shoes and one bag of purses and belts. And yet, today, I still managed to clear out another half a bag full of clothes from my drawers. After a year of saving, I'm still surrounded by excess.
Last year, I looked at my dismal wardrobe made up of cheap Target finds and thrift store salvage and calculated the cost of my habits. Over $50 a month, and nothing to show for it except well-worn graphic tees and ill-fitting pants. I also wanted to pay off my student loans, so I decided to give up clothes shopping for a year. I called it my "No Pants 2012" challenge.
I began this challenge because after having my daughter Ellis, my gut hung wide and my thighs jiggled. And all the cuts and fits that I once took for granted felt tight and desperate.
I began this challenge because every month I would go into stores and browse the clearance section, not feeling like I had the right to own something better. Yet, not knowing how to draw the line between my identity and a knit sweater. Because inside of me was a little girl afraid of being poor again and yet deeply desiring to be beautiful. Because when it comes to shopping, it's never just about the shirt or the blazer; it's about our hopes for what we see when we look in the mirror.
I began this challenge because I have a little girl and I never want her to feel trapped by magazine pictures and style stories telling her what she should look like and that her beauty, her value and her worth is in the cut of her skirt. I don't want her to feel like I do when I run my hands along the lining of a jacket that is not on sale and feel like the price tag on that item somehow equates to my own worth. That familiar cold feeling in my stomach that makes me feel fat and ashamed and ridiculous and sends me running to the clearance section for cover.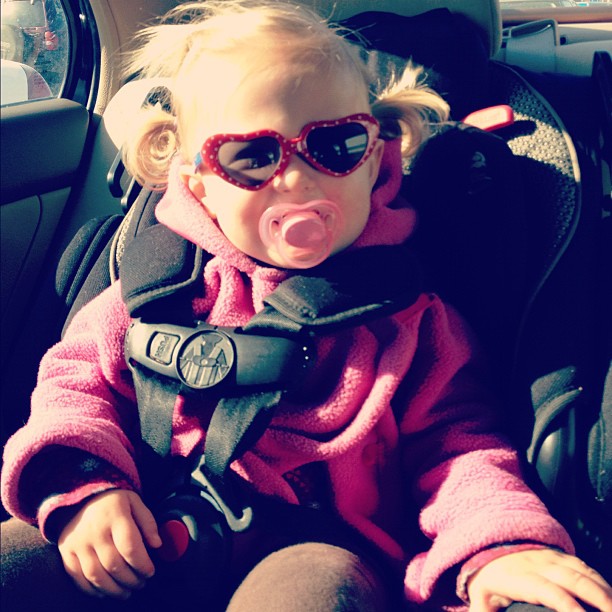 I imagined that at the end of no longer clothes shopping for a year, I would feel free. That I would emerge with a sense of style and self-confidence and people would ask me where I bought my clothes. But the only thing I managed to do is to pay off three huge school loans. While that's no small thing, my dream that freedom from consumerism would turn me into some sort of Dave-Ramsey-Anna-Wintourish butterfly is not going to happen.
Because I've learned that no matter what you wear -- a bold red dress to give you confidence, heels to make you stand tall -- you are still you. And I want my daughter to know what has taken me a long time to learn: No amount of ruching can hide the insecurities, double chin and cellulite that you are afraid to flaunt. It didn't take a dress to make Cinderella a princess, she was one all along.
Last year, I managed to lose all the baby weight and some. I trained for and ran my fourth half-marathon in five years and discovered my stomach and arm muscles again. Despite that, I still feel dumpy. A week ago, someone pointed out that my size 6 pants looked baggy on me and I thought, Dear Lord, what will it take for you to shut up and be happy about yourself? The answer: Not fashion. Not weight loss. Just a daily decision to look in the mirror and believe that what I see is lovely.
So, it's taken me 29 years of life plus a year of no shopping to learn some important lessons that I hope I can model to my daughter: Fashion doesn't give you confidence. Fashion isn't magic. Fashion is just there to highlight the parts of you that you love. But that means you have to love something about yourself first. That means that you have to divorce self-worth from price tag. That you have to stop letting your wallet be a slave to your deepest insecurities, hopes and desires.
So, I think I'm ready to shop. I'm looking to stay within my budget, but also find quality. To shop for fit over size and only buy things that I love. Love. And Love.
Lyz Lenz writes about not shopping for a year and more over on her blog LyzLenz.com.
Calling all HuffPost superfans!
Sign up for membership to become a founding member and help shape HuffPost's next chapter