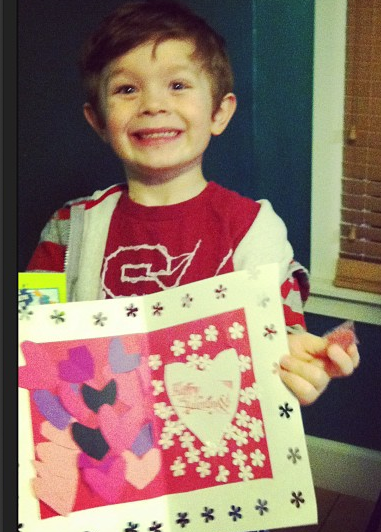 Marketers love Valentine's Day. We can run campaigns that pull at your heartstrings and make a whole lot of money in the process. We can make puny emails and get lots of attention with innuendoes. As a marketer, I actually enjoy seeing all the ways brands use the holiday to promote their stuff, but as a mom, this time of the year is starting to take on a new dimension.
Now that I'm a mom, the day brings up bigger questions than whether or not we should buy into the hype or what type of candy to get. The other night my son and I were discussing which characters to get on his Valentines this year, and he asked,
"Why are so many people divorced? Why aren't you and Daddy divorced?" (Ok, this just got serious!)
It made me realize that there's a lot to learn about love, more than paper hearts, candy, and silly marketing, and that there's also a lot to teach my kids.
Here's what I want my son to know about love:

Love is a gift.
(I know, I know, it's cliche, but here's what I mean)
Quality Matters

When you really care about someone, you want to give them something great, something that's quality. If love is a gift, then I want him to know that the quality of his love is being created now. How he can be counted on, how he can be trusted, and kind, and thoughtful. That's the quality he is building as a kid and as a friend, which he'll count on when he shares his heart with another person. His character will help make love real and lasting in his relationships. Our gift is who we are: honest, loyal, compassionate, that's a gift worth giving.
The Gift is Not About You

To perfect gift is something you know the other person will love. It means going beyond what you want, and thinking of what they want. I want him to know that there is sacrifice in love, and empathy, and charity. If he gives in a way that isn't about him, but is actually about the ones he loves, then he will nurture his relationships and keep as time goes on. To show a person that you truly know them and to connect with them on a deeper level is called intimacy. I want him to know that intimacy isn't just about holding hands, it's about really knowing another person and caring about how they think and feel.
Give Often

Valentine's Day is a sweet reminder to take some time for each other, but love comes from giving consistently over time. I want him to know to give often: speak the words, "I love you" often, give hugs and kisses often, listen often, and laugh often. Wild romantic gestures are fun and exciting. They are the big packages with shiny paper and bows. However, I want him to know that it's the small moments, that happen over time, that mean the most to the ones you love. These little gifts come in small packages and will help him in all relationships.
Appreciating others gifts to you is often just as important and giving your gifts to them. Whatever their love language may be, the people in your life are showing how they love you and what they want most is for you to acknowledge and receive it. If someone does your laundry, writes you a note, gives you a hug, supports you with advice, they are loving you in some way. I want him to be able to see the love he's receiving from others and to receive it well. The give and take of love is what makes relationships work. I also want him to know that if his love isn't being acknowledged or received back that he may not be investing in the right relationship.
As this holiday unfolds, I think about my kids and their views on love. I want my son to know that love is a gift, and my daughter too, and I hope more than anything that they can grow to be people who can have that gift in their lives: to experience lasting love, parenthood, and deep and meaningful friendships with each other and many others.
In a world where so much is changing, love remains the same. Love is a gift, and it is one that I feel lucky to have received.