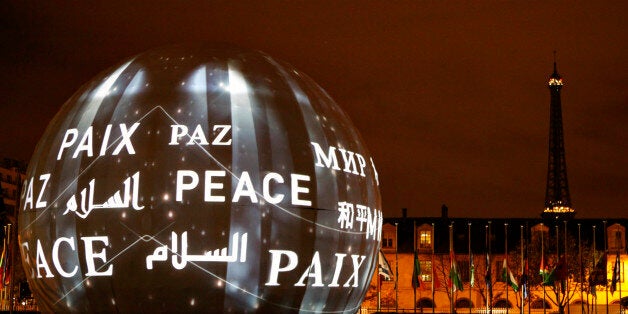 PARIS -- As I write these lines, the images and testimonies that parade on our screens, mobile phones, the exchanges that we have with our friends, these text messages, all charged with emotion, amazement, fright, words full of history, come to my mind. Most of the time they evoke the barbarity of the attacks that hit last night, the heart of our country, that injured Marianne, which has created, beyond all borders, a spirit of solidarity and compassion as strong as after the attacks last January, which had touched the depths of our democracy by attacking a symbol of freedom of expression. The words that came to me then were these: "It is ink that should flow, and not blood."
Today, despite everything I still wandered, and my steps led me successively to the Rue Michel Slitinsky, and then to Rue Chaban-Celmas, two members of the resistance who still live via their contribution to the resistance, from that period in which Lucie Aubrac would say a few years later, "to resist is a verb conjugated in the present." This quote is the profile picture that I chose to put on my Facebook page in solidarity with the victims and their families, in solidarity with everyone in our country who puts high on the front of our buildings, "Liberty, Equality, Brotherhood." Solidarity with those who beyond their own political, philosophical or religious opinions, carry this treasure of secularism in themselves, like a border which allows us all to live together.
... peace must never give in to violence.
On Monday, full of these images, of these convictions, I am going to meet those with whom I share my daily professional life. These men and women imbued with love for the teaching profession, of that desire to transmit their knowledge, but also their values; those who ensure that the notion of the education community is nothing but the antechamber of the society that we want for tomorrow, made of responsible, emancipated citizens. These are people who also touch the lives of pupils and students, administrative or technical staff who also have this invisible but strong bond, which by their words or looks, are helping them (the teachers) to build. So all and all, I'll choose words that might not be my own, but are inspired by a beautiful text of a weekly newspaper that had a major role in our national history, more discreet today, but which expresses this need to live together despite our differences and instead relying on them to make our national community stronger. Here are those words...*
"It is France that is attacked by a real act of war, a war waged against what unites us. The places mentioned are those of friendship, brotherhood, life and happiness. We are in mourning because the dead are our brothers and sisters, but we are not destroyed. We will fight with our weapons, which are those of democracy, law, freedom, brotherhood, with the assistance of the forces of order and intelligence, with respect for the rule of law. Thus we will be faithful to France, true to our values, true to who we are and what we pass on to our children."
As principal, I will address the women and men as citizens before being teachers or administrative or technical staff. Together we will build that which we have to offer as a place of exchange and freedom for students. We will share that freedom we hold dear: to express, to exchange, to propose, to set up workshops, to produce texts or put words to that which strikes us in the heart. Each and every one of us will thus have a share of this responsibility to capture these fleeting moments of gravity that allow us to meet each other in a most intimate way; to also see the pupils and students, the citizens of tomorrow. So you say more: each will say their words, gestures, glances, the silences might be burdensome or sometimes meaningful.
In addition, there will be that moment of silence that we will have collectively during which some will expresses their fragility, and others emotion. Some will perhaps join together as if to give themselves courage. The silence is that of respect, of seriousness, as in January. In this minute of silence, we will live, standing up to show that together, we will remain standing in the face of infamy, cowardice and barbarism. Then, we will probably meet again at the Town Hall square, mixed with other college students, and high school students in our city. Citizens and elected officials will also attend. We will find ourselves facing the flags that bring us together: that of our country, but also the one with the blue background with all those stars that shine in the most beautiful way, solidarity between them and us to face terrorism. This moment will be both educational and citizen building. But I have no doubt. We will be there. In connection with these millions of young people who will also be fully gathered to show that barbarism will never win and to ensure that Marianne no longer cry.
I will certainly be moved too. I do not know if I will say a few words. probably not. The silence will be more powerful than the words that I could say at that time. Or shall I say simply the right words of Lucie Aubrac: "Resistance is a verb conjugated in the present." All simply, with humility, and measuring the immense task which returns to us as adults, citizens and stakeholders in education: to transmit tirelessly this simple idea that peace must never give in to violence.
This post first appeared on HuffPost France. It has been translated into English and edited for clarity.
Calling all HuffPost superfans!
Sign up for membership to become a founding member and help shape HuffPost's next chapter