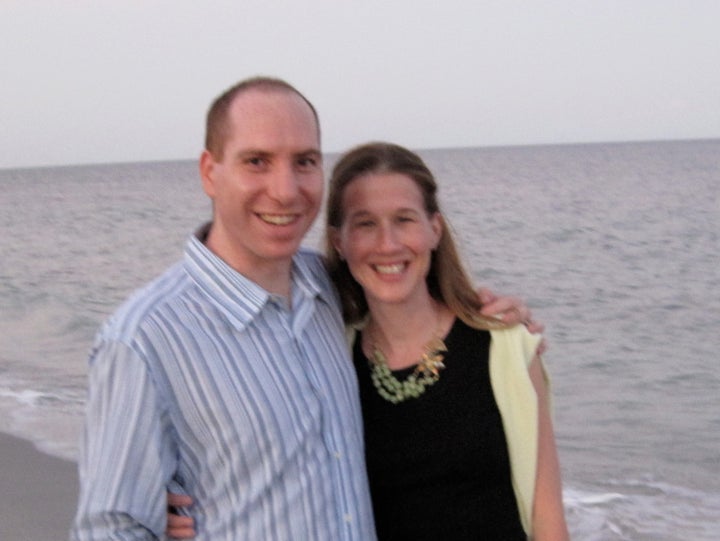 One of my favorite things about my first real job in magazine publishing was casual Fridays. After a long week of way too many meetings, way too soon deadlines and way too many oversized pants suits (yes it was the mid 1990s) nothing made me happier than being able to express my own style and comfort at work. Although the human resources manager explained to me and the other new hires that it was okay to wear "nice jeans with no holes in them" to the office on Fridays, I still didn't feel it appropriate. Funny to think about that now as jeans (many with purposeful holes in them) are staples of my wardrobe.
There's one particular casual Friday outfit that I can still so perfectly describe now almost 20 years later to the day. Well it was actually the night, and it was the night I met my husband. Abiding to my self imposed no jeans in the office rule, I wore black flowy Banana Republic pants and a short sleeved light blue Ann Taylor chenille sweater (yes, still the mid 1990s) on one such casual Friday. I had no after work plans and was actually looking forward to a night of hanging out in my apartment with my roommates watching movies I'd already seen a thousand times on TBS. But then my good friend from college called insisting that I meet her and her boyfriend out at a party hosted by the boyfriend's friend at a neighborhood bar.
I was hesitant, as I clicked over to my call waiting call to be greeted by mother's cheery "check in" voice. I told her of my impending evening plans. She wondered why I wouldn't go out with my friend. My mother always loved a good party. I clicked back to my friend and agreed to meet her out having no time to change out of the flowy pants chenille sweater ensemble. I did manage to accessorize adding a pearl choker complete with a citrine stone hanging from the middle of my neck. I thought it would compliment my pearl drop earrings, and I was abiding by another self-imposed fashion rule – the one about there being no such thing as over accessorizing.
My friend and her boyfriend were already at the party when I arrived, and I knew a lot of people there. After all, the boyfriend was also a good friend of mine from college, and I had met many of his friends who he had known since childhood, throughout our college years – except for one, the stranger. This stranger in the group was chatting away and joking with the boyfriend. He shook my hand firmly looking me right in the eye as the boyfriend introduced us. I always trusted a firm handshake almost as much as I mistrusted a weak one.
The stranger and I talked a lot that night, about the basic resume stuff, where we had gone to school, where we grew up and what we did for work. We also talked about some of the not so basic resume stuff as I shared with him what I thought to be witty stories of family and friends. He outwitted me with some of his own stories and observations about his new haircut and my black flowy pants. I think the pants confused him. He was more of a jeans guy. Clearly he knew nothing about mid 1990s fashion, but he was really funny. He had a nice smile and his eyes got warmer when he smiled.
After a few hours of free flowing conversation and free flowing cheap drinks, I was ready to head home to my apartment, my roommates and maybe some late night movies on TBS. The boyfriend insisted on walking the college friend and me home. Before I could grab my Kate Spade black nylon bag, the stranger was by my side. He wanted to walk us home too. I guess he had liked the flowy pants.
The four of us ended up going out for dessert en route to my apartment. The stranger ordered cannoli and we split them. He was impressed that I knew the line about the cannoli and the guns from The Godfather. I was impressed that he shared the cannoli with me even though I told him that I didn't want any dessert.
The stranger, the boyfriend and the college friend left me off in front of my building. I gave each one of them a kiss on the cheek; saving the stranger for last a bit unsure if my gesture was appropriate. As I pulled away from the stranger, he asked if I wanted to go out with him sometime. I giggled at his formality.
"Sure," I said. "I'll wear the flowy pants." And I am pretty sure I winked at him. He smiled more warmly than I had remembered from earlier in the evening, and I walked past my eavesdropping doorman and into my building.
I went out with the stranger again and again and again. We married three years later. It's hard for me to imagine that he ever was a stranger to me. Over the years we've developed joint witty stories and observations about the family and the life we have created together. I still impress him with my movie quotes, and he still impresses me by sharing his dessert with me even when I tell him that I really never wanted it.
In the last two decades, my wardrobe has evolved with each passing trend. Every now and then the stranger turned husband makes a comment about what I choose to wear whether for a special occasion or just another day in our life together. His fashion memory is spotty at best, but not when it comes to those flowy pants. He says he'll never forget them. I'm glad I wore them out that night so many years ago. But really, I'm just glad I went out that night at all.
Support HuffPost
The Stakes Have Never Been Higher
Related
Popular in the Community