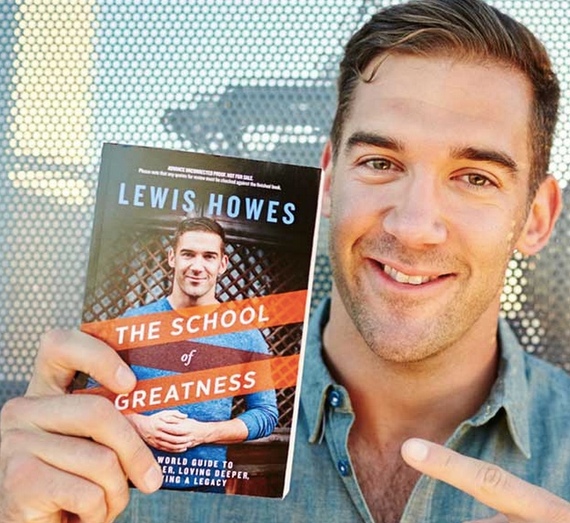 "Life should be lived passionately. Otherwise you're playing another person's game."
What if there was a school that focused on living passionately? One that showed you that you can build not only an epic business, but also an epic life?
What if there was a school that taught you how to be great?
It turns out that there already is. Its name gets straight to the point -- The School of Greatness -- and it was created by athlete-turned-entrepreneur Lewis Howes. Believe me, if there's somebody who's qualified to talk about greatness, it's Lewis -- he's a model for how to achieve power and influence, and how to use it for the greater good.
Lewis doesn't just teach you the latest business hacks (though you'll get plenty of that if you follow him); he doesn't give you "the ultimate sales funnel to six figures fast" or empty entrepreneurial gimmicks. No; instead, he teaches you how be of service to your community, how to be a good partner and parent, how to be a real leader. He teaches you how to be a change maker, in both your personal and professional life -- the kind of person who attracts raving fans and followers.
Lewis understands what it means to be a change maker, because he hasn't always had it easy. Once a professional football player, he had to give up his lifelong dream of being an Olympian when he was injured on the field. But he didn't let this stop him. Rather than let something that could be perceived as a set back take hold of him, he channeled his passion and rediscovered himself, using his struggle as an agent for positive change.
In the end, he went from living on his sister's couch to creating a seven-figure business online. Recreating your identity so successfully -- not to mention flying in the face of adversity and struggle -- is one of the most powerful things that we as humans can experience.
But beyond his incredible life story, what really attracted me to Lewis was his message and his drive to genuinely inspire people, to show them that they absolutely CAN create exceptional lives doing amazing things -- no matter where they are in the present moment. His messages aren't about how you can make the quickest buck or misleading sales tactics to get people to sign up for your email list: they're about self-development, about improving your quality of life, and about discovering yourself along the way.
He doesn't just teach you how to create a wildly successful business. He teaches you about taking inspired action to create something unique. He teaches you how to be great.

It's not just me who appreciates Lewis's honest and genuine attitude. He has literally hundreds of thousands of loyal fans and followers, and it's no wonder why. When somebody really wants to help others improve their lives, it shows. Lewis's honesty, altruism, and passion emanates, and is a serious breath of fresh air in the world of online marketing and lifestyle businesses.
Lewis strikes the rare combination of a market strategist who knows his stuff, and a thought leader who treats you as a person, not a number.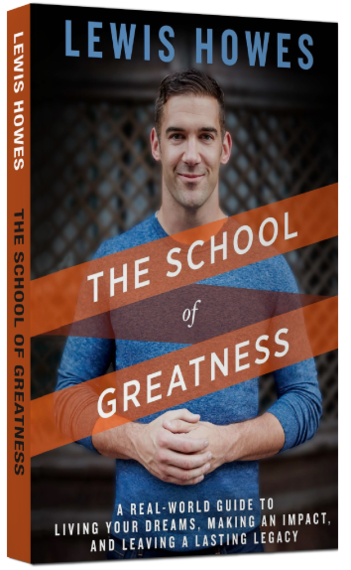 When I first heard about his book The School of Greatness was going to launch, I was so excited because I knew that his message and his philosophy would expand his audience exponentially by reaching more people, the people that so desperately need the hope and inspiration his leadership provides. I'm beyond confident that each person this book reaches will experience a shift in their personal and professional life. That's how powerful Lewis's energy is.
It's not often that people get the chance to hear Lewis speak. Not only is he particular about the events he speaks at, but they also must inspire him and align with his values. On October 3rd, you'll have the opportunity to hear him speak at his book tour by attending his School of Greatness master class in LA, along with best selling author and actor Michael Port. Then get ready to party at the book launch bash on October 24th at the Wanderlust headquarters. These are two incredible events you don't want to miss!
Heart-centered entrepreneurs like you and I aren't just looking to be rich. We're looking to make ourselves and the world the best that they can be. Because of this, it's important to support thought leaders like Lewis Howes, as this tells society that we support those who care about the effect they have on the world and how they treat others. I encourage you to share the upcoming launch of his book across all your social networks, pre-order his book and get involved in the greatness.
Indeed, Lewis Howes will show you how to do what you love full time. But more importantly, he will teach you how to enrich your character, and the lives of others around you all while creating an epic life for yourself!
You can learn more about Lewis Howes here.
Calling all HuffPost superfans!
Sign up for membership to become a founding member and help shape HuffPost's next chapter