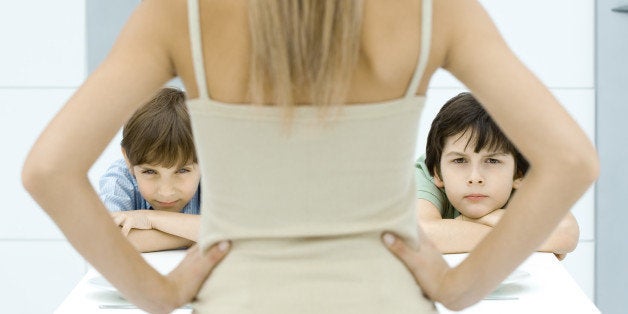 After I teach my picky eater program in people's offices, many parents ask (some beg) me to move into their homes. Lately, I've started thinking about a "break-your-picky-eater-from-the-inside" job. It wouldn't be hard. I'd need about a week.
Step One: What's the problem? I'm going ask you about your picky eater, but truthfully, I already know what you'll say. Chances are you are cooking two, three or four meals and snacks to get the kid "to just eat something." I'm almost positive you have distracted, negotiated, begged or bribed your kid to eat because sending him or her off to bed without dinner or to school without breakfast is unthinkable. You only go to restaurants where they have the right kind of pizza crust or breading on a chicken nugget your kid will eat. Sushi or Chinese food are reserved for date nights when the kids are tucked away at home. You bring food with you to other people's homes for parties because what they are serving won't work. And dinners are disastrous, right? I know dinnertime can turn into a very unhappy part of your day because that is when the major meltdowns occur. After you tell me everything, I will assure you, much of this drama will end this week.
Step Two: Promise me. You will hear me tell you, firmly but compassionately, to change the way you think and act around your picky eater to get yourself out of this mess. You'll need to promise me that from now on, all of your energy and effort will be put into planning mostly nutritious meals and snacks at scheduled times throughout the day. You cannot freak out if your kid misses a meal... or two... or three. You are making the food and letting your kid decide whether he or she eats the food. And then, I'll have you sign my "Picky Eater Program Promise." This makes it official that you will follow the steps of the program.
Step Three: Menu plans. This is where the real work begins. Here is where you stop asking yourself what your kid wants for dinner and start thinking about yourself. Do you want salmon, broccoli and sweet potatoes or do you want Indian or Thai food? If you want to eat it, we are putting it on the menu and making it (or ordering it). We can still make a few foods your picky eater likes, but for the most part, what the adults like to eat takes priority on the menus.
Step Four: Read books. I won't lie. We are in high-risk territory for complete meltdowns when your picky eater sees the shrimp stir-fry on the plate. You must be prepared. This is why, when I moved in this week, you also joined a book club. I want you reading a book called 1,2,3 Magic by Dr. Thomas Phelan, Ph.D. It really is magic! He has skillful discipline tactics for you because crying, screaming and throwing food is unacceptable and disrespectful at the table. Dr. Phelan will help us stop it. And you must get your hands on everything Ellyn Satter has written about feeding children because she is an internationally recognized authority on feeding kids, especially the picky ones.
Step Five: Time to eat! We will sit as a family for all meals and snacks. There will be no televisions on or toys at the table. We will all eat the same foods, sit in our chairs, behave and eat (or not eat). I'll sit right there with you, enjoying our meal and I will support your discipline efforts with any drama that occurs. You will keep the conversation upbeat and fun and stay out of discussions and negotiations about food.
Step Six: The departure: After one week on this program, it's time for me to go. I move out, but you'll be fine without me. At this point, your kid will be calmer at meals and snacks. He or she will have tried a new food or two (or three). Your overall life will be more pleasant. Will the picky eater ask for grilled calamari, mushroom risotto or tofu spring rolls? Not just yet, but you're on the right track and it may happen sooner than you think. So it's your job to stay true to the steps I taught you.
I could offer a program like this, but if I move into a client's home, that means I move out of my home. I spend time planning weekly menus and cooking for my sweet husband and cute kids who are 7 and 8 years old. They readily ask for sushi and artichokes, but sometimes don't eat their broccoli and apples. So I better stay put planning my weekly menus and counseling families with picky eaters from the office... unless there is an offer I cannot refuse.
Related