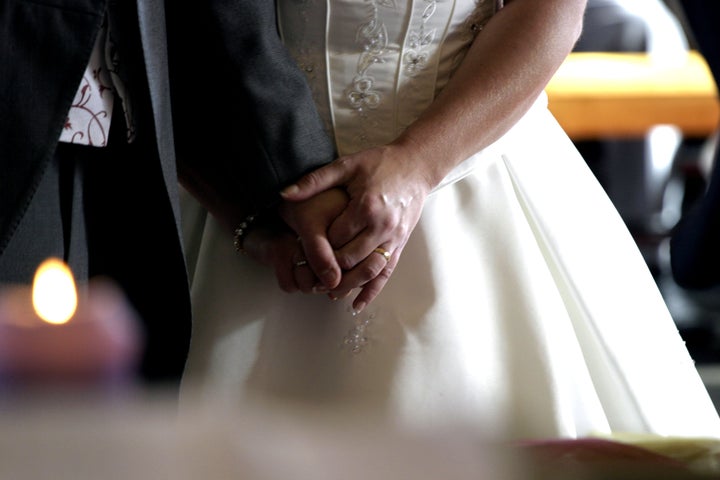 It is traumatic to lose a loved one at any time, but when this happens close to your wedding day, it can be devastating and disorienting. I have gone through this with couples, and it is never easy. However, there are many ways to lovingly and appropriately acknowledge your loss while maintaining the spirit of the occasion.

Every family has a different comfort level when it comes to speaking about death. For some couples and family members, it may feel too raw to make mention of their loss, or they may fear it will sound too morbid at their wedding, yet I encourage people to acknowledge when someone beloved has been lost. Brides and grooms are worried they will lose it and melt down in tears, or that other family members will. While these are very important and valid concerns, it is equally important to realize that there are ways to include those difficult emotions and still have a beautiful wedding. You can remember the one who has passed on ever-so-briefly, without making it a focus of the ceremony.

One of the spiritual aspects of honoring lost loved ones is that it extends a spiritual invitation -- while they cannot be there in the flesh, they can symbolically be part of the proceedings. Many couples say it makes them feel as if their loved one is still watching over them. One groom, sadly, lost his dad five days before his wedding. It was completely devastating, and he did not even want to mention it for fear of breaking down in front of guests; some did not even know the sad news. He opted to have me mention his father's untimely death and then lead a brief moment of silence. He later told me that, even though he feared the feelings that may arise in him, the moment of silence actually gave him a chance to feel connected with his dad.

There are many poignant ways to honor your loved one. Here are some ideas that can be used for any of the people you have loved and lost -- even those who passed on quite some time ago:

Carry them with you. You can make a point to just hold your loved one in your heart as you walk down the aisle and carry something that belongs to him or her with you. One bride took her mother's handkerchief and wrapped it around her bouquet; another bride had a bouquet made with special flowers that represented five deceased relatives.

Moment of silence. Ask the officant to simply call for a moment of silence. It can last just a moment or two and then you can move on quickly to a more uplifting part of the ceremony. Even just a 30-second pause can help create a sacred remembrance.

Light a candle. Light a memorial candle for your loved one, or have family members come up and light a remembrance candle. One couple had the bride's mom and brother step up to light a candle for her dad. She was able to have a special memorial candle with his name created; you can buy a plain white candle as well.

Special music. One couple who worked in the music industry decided to honor the groom's deceased mother by having the groom come down the aisle with his two brothers, walking to a song he had written to comfort his mom in her last days. It may sound maudlin, but it was very touching. I spoke a few words about her, there were some tears, and then within moments, the energy of the ceremony became lighter and happy. It meant so much to the family.

Plants or flowers on the wedding altar. You can say "I love and remember you" by placing your loved one's favorite flowers on your altar -- or a selection of flowers to represent more than one person. One bride and groom placed a couple of plants on the wedding altar to represent a lost parent or grandparent in a green way.

Remembrance table. Display items that represent your loved one on a table near the wedding altar. One bride had a photo of her dad, a doctor, along with his stethoscope. Another bride kept her father's old harmonica on her wedding altar to bring his music to her special day. Some couples opt to have photos of the grandparents and great-grandparents on their own wedding day as a shout-out to beloved ancestors.

Give them a seat. You can include deceased loved one in the seating chart -- at least for the ceremony -- by holding a seat for them with favorite flowers. One couple reserved a whole front row for departed grandparents, placing small bouquets of favorite flowers on each seat. Another groom placed the flag from his father's coffin (folded military style) on the chair next to his (living) mom, to have a physical reminder of dad.

Symbolically remember. To keep it very simple, I will sometimes ask guests to "light a candle in your hearts and minds" for the loved one who was lost.

One lost his mom unexpectedly two months before his wedding. His family was trying to be strong and somewhat stoic, but it was agonizing for all of them. We had planned to have her included in the ceremony in a number of ways -- lighting unity candles and doing a reading -- so we asked his grandmother to represent her daughter and do those parts and she gladly obliged. Then we decided to gently broach the subject of Mom's loss right after the opening prayer and then go on to the first reading.

To those gathered, I said, "We are all heartbroken on this day because we know there is one seat that is empty. Before we go on, the bride and groom would like us to take this moment to honor the memory of the beautiful soul who left us too soon. We know that her love and spirit live on. And that she smiles upon us all on this special day! The bride and groom have placed a rose for her on their wedding altar. Let us observe a moment of silence. "

Just as I was about to end the moment of silence at this outdoor wedding, a white bird took flight above the altar. I took that as a sign! The groom's dad caught it too, and it was the first time I saw him smile.

I am convinced that when we remember those we have lost it is like inviting their loving spirits to share in this important moment.

Popular in the Community