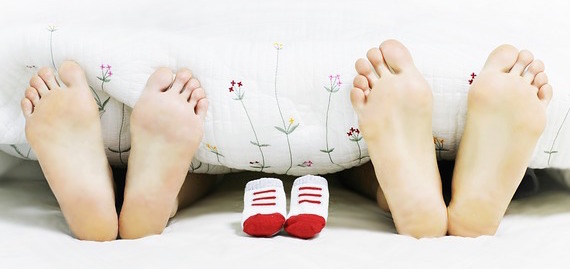 The recently published study in Demography on parenting and happiness has been generating some buzz, especially among my childfree friends. The study explores how becoming a parent affects personal happiness, particularly how a drop in personal satisfaction during the year after a first child's birth affects the decision to have a second child. They found that older, more educated parents are less likely to have a second child if they experience a decline in their personal happiness.
An article in the Washington Post on the study deduced that becoming a parent is "worse than divorce, unemployment--even the death of a partner." Referencing previous studies, they cited that when asked to rate their happiness on a scale of 0 to 10, new parents reported their happiness decreasing more significantly than newly divorced, unemployed, or widowed persons. With those kinds of statistics who would want to go through all of that a second time?
As the mom of a nine-month-old, I get it. While I won't spend time bemoaning the trials of new parenting, I'll admit that if someone were to ask me to rank my post-baby happiness, I'd confess there's been a drop from my childfree days. It's challenging and demanding to meet the constant needs of a small and vulnerable, albeit adorable human. I remember how in the early months, like many new parents my husband and I desperately sought any sign of emotional connection from our infant daughter--the hint of a smile, the "laugh" that was probably a hiccup.
But, I also approach this issue of parenting and happiness as an advocate for women and families. I knew there had to be more to this study than just comparing the birth of a child to various and tragic life events. As I read through the study I read a significant detail that the Washington Post article didn't highlight: those who are hit the hardest by new parenthood are often socially and economically marginalized.
Those who have a more difficult transition to parenthood are more likely to be women, have lower levels of household income, are less educated, and are less likely to be working.
This fact shouldn't come as a surprise, but why is it omitted in our discourse?
Whenever I am dealing with a hardship in parenting, I ask myself, how do parents manage to raise children without the network of support and the access to resources I'm privileged to have? And I don't mean luxuries. I mean things like affordable child care, quality health care, and basic necessities like diapers, which up to 30% of moms struggle to afford.
Maybe becoming a parent has made me less happy, at least in the short-term. But I also know that it's made me more compassionate and more committed to advocate for women and families. This study should be a reminder to us all that while parenting is challenging work for everyone, it's especially difficult for those living at the margins.
As for a second kid for us? I'll have to get back to you on that.