What if we were to consider it a gift?
My courage barely outweighs my fear in proposing this idea. Battles in the recovery world and in the infertility world are easily ignited. And I could easily keep my mouth shut but that would also mean that I not live my authentic truth; but I must shine my light and my love into the world. And, so I will feel the fear, move through it and practice courage.
My continued work in ever upward, my continued work in advocating in the world of infertility and my continued work with clients struggling through the infertility battle has really only solidified this idea for me.
This gut wrenching, soul crushing, fucking horrible battle of infertility is a complete, wholehearted gift.
Or, at least, I think, we can consider it one.
As both the mental health therapist and as the survivor I am going to propose that maybe we can shift our perspective to consider this battle and the lifelong journey of infertility to be a gift.
A gift that we never wanted.
A gift that we want to throw back or return with fervor and top of the lungs curse words.
A gift that we may have to learn to love.
A gift that if we actually accept it, we will find ourselves and our light inside.
A gift that makes us love harder and deeper.
A gift that can make us better, happier and healthier versions of ourselves if we allow it.
A gift that can make us open our eyes to the work we really need to do to be happy from the inside out and not from getting what we want.
A gift that makes us appreciate more.
A gift that can strengthen and not tear down our relationships.
A gift that forever changes us, and if we do the work forever changes us for the better.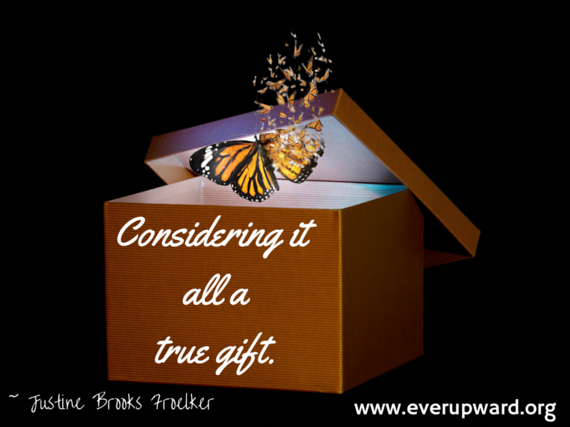 Sure, it may be easier for me to say this as a survivor and thriver after the battle, as the one who continually practices the work to define my own happy ending. A couple of years I ago as I was trying to find my light after my losses in the infertility journey, I would have punched you in the throat had you told me to consider it all a gift. But, today as I shine the light of ever upward on the world and as I work with women trying to not lose themselves completely in the battle, I have no doubt that this work must include shifting our perspective to consider it all a true gift.
Because it is, baby or not, if we choose to do the work in our recoveries not only after surviving infertility, but also while trudging through, we will become the better, happier and healthier versions of ourselves. We will define our own happy ending and we can fight for and find our ever upward.
To stop proving it. To truly own it. To break the silence. To embrace it all. Living wholeheartedly brave.
This is my story. This is our story. This is ever upward.
Related