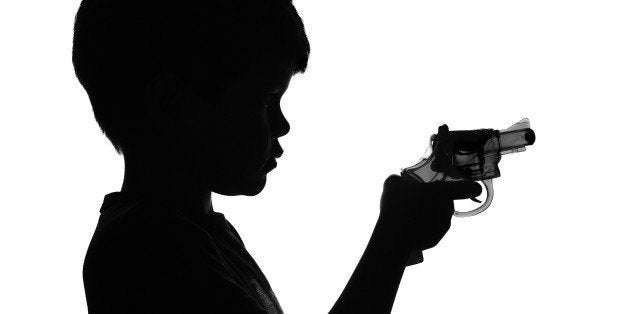 Last year, my family was at a party at a friend's house. As the adults were sitting around watching football, there were more than a dozen children -- all under the age of 7 -- running around, leaping over furniture and causing the kind of pandemonium that reassures parents that everything is okay, because as any parent knows you should get worried when the kids get quiet. In one of the laps that they were seemingly endlessly running around the house, my husband reached out and stopped my son. In my son's hand was a gun.
The gun was a toy gun, a toy that my son had never played with before. We are not anti-gun; my husband and I are gun owners. However, we do not allow toy guns in our home. We might allow in the occasional neon-colored balloon shaped NERF water guns, but no realistic looking toy revolvers because I never want my children to believe that a gun is a toy. So when my son ran past playing some sort of cops and robbers game, my husband stopped him. Without missing a beat, my husband gave him a speech about how guns were not toys and, even with a toy gun, we never point the gun at a person. The speech went on from there, going over some basics of gun safety.
On the next lap, a friend who does not own nor has likely ever touched a gun in her life, stopped her son who also had a toy revolver in hand. She pushed him over to my husband and said, "Give the speech" and my husband happily obliged.
What this moment illustrated to me is how those of us who weren't raised with guns and who do not have experience with guns can lack the basic knowledge to teach our children about gun safety. Several months back, the Washington Post published an article entitled "The Question I Ask Before Any Play Date." The author's point was that parents should ask the basic safety questions of whether there are guns in the home and, if so, whether those guns are properly stored - even if this point is masked by the author's open hostility towards guns. However, in reading the article, it was clear to me that while this is an important first step, it is not enough.
About ⅓ of households in the United States have a gun. While some folks might think that no one in their circle owns a gun, 24 percent of liberals, 27 percent of Northeasterners, 22 percent of Democrats and 25 percent of urban dwellers own a gun. These numbers might get higher if you are a Conservative, Republican, rural Southerner - but the reality remains that depending on where you live between ¼ and ⅓ of households own a gun and that may include houses of friends and playmates of your child.
As parents, we spend so much time teaching our children to be safe. Yes, we try to make the environment around them as safe as possible with cabinet locks and plug covers and safety gates. But we also spend time teaching them about what is safe and what is not. Parents should not let their own feelings on the politics of gun control or their own uncomfortability with the subject of guns get in the way of teaching their children what to do if they ever encounter a gun.
As has been pointed out, more preschoolers die from gunshots each year than police. These deaths are tragedies. We can do our best to keep our children away from guns and it is the responsibility of all gun owners to keep their weapons properly stored and away from children. But, just in case our best efforts fail, and just in case our child at 5 or 15 years old comes across a gun, it is our job to have taught the necessary lessons to keep them safe. Stop. Don't touch. Run away. Tell a grown-up. These four phrases, these eight words could save a child's life. So while we need to ask the questions to make sure the grown-ups we are entrusting our children to are keeping them safe, we also need to empower our children so they have the knowledge to keep themselves safe.