Despite talk of a peace process, the Israeli army has ordered the eviction of some 1,000 Palestinians -- men, women and children -- from their homes in the occupied West Bank. Why? Because the military wants to turn eight Palestinian villages into a "firing zone" for military training. Even as President Obama and Secretary of State John Kerry speak in favor of a peace agreement, the U.S.-subsidized Israeli military is subjecting Palestinians to ongoing human rights abuses.
The eviction orders are just the latest example of the countless human rights violations committed by the Israeli military under its occupation of the Palestinian Territories. While rights are under assault, any talk of peace is an empty gesture.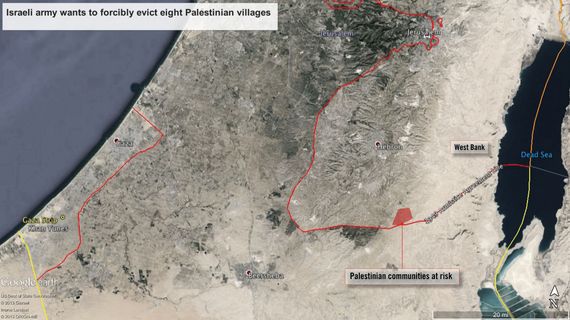 © Google Earth. Image © Landsat 2013. Names and boundary representation do not necessarily constitute endorsement by Amnesty International.
Many people presume that the West Bank is "under Palestinian rule," but the reality is that 60 percent of the land is under complete Israeli control. For the 150,000 Palestinians who live in what is known as "Area C," the Israeli government sets all the rules. The Israeli military's push to turn eight Palestinian villages into "Firing Zone 918" appears to be part of a systematic effort to separate many Palestinian communities throughout the West Bank from the land they live on.
Over decades, the Israeli government has transferred hundreds of thousands of Jewish settlers into the Occupied Palestinian Territories, including East Jerusalem. This settlement construction frequently requires brutal military enforcement to push local Palestinian communities out of the way. Indeed, Israel's policy of building settlements constitutes a war crime under the statute of the International Criminal Court (Article 8.2(b)(viii)).
Last month in Jerusalem, Secretary Kerry expressed his own frustrations with continued Israeli settlement construction: "We think they're illegitimate. And we believe that the entire peace process would, in fact, be easier if these settlements were not taking place."
Such U.S. actions have made it easier for Israeli officials to destroy Palestinian villages. Last year, Palestinian Hajj Issa gave Amnesty International an example of how Israeli soldiers had harassed his village of Jinba, one of the eight villages facing conversion into a firing zone. According to Issa, "Soldiers had come into the houses of about 15 to 20 families and broken everything, doors and pots and furniture." He shared that Israeli soldiers placed a military checkpoint at the entrance to his village, and that some Palestinian families had already left under pressure.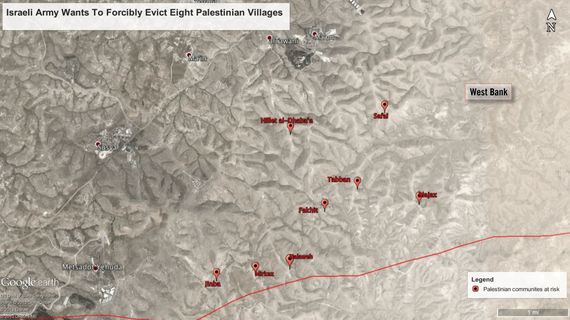 © Google Earth. Image © DigitalGlobe 2013. Image Date: March 29, 2011. Coordinates of affected area: 31.383357, 35.162228 Names and boundary representation do not necessarily constitute endorsement by Amnesty International.
The eight villages facing the latest threat of forced eviction are in the hills southeast of the West Bank city of Hebron. According to both academic research and villager accounts, Palestinians have lived in these communities for many decades. Despite this, the Israeli government wrongly claims that the villagers do not reside in their villages.
To make matters worse, under Israeli military law, evicted families would not be entitled to alternative housing or any compensation. If evicted, many will be left homeless and destitute, with only families and charities to turn to. Nearly half of the villages' residents are children, and among the buildings under threat of demolition are a primary school and general health clinic.
On September 2nd, the Israeli High Court of Justice proposed that the State of Israel and the Palestinian villagers enter into mediation to reach a solution. The village communities and the Israeli military agreed to the court's request, and the first mediation meeting has occurred. But given the threat of forced eviction by a powerful army, what choice do the villagers have?
In the meantime, the villagers hang on to their hills, hoping that in the end, their rights will be upheld. The Israeli military hasn't canceled its eviction orders, which ominously hang over the mediation. Meanwhile, ongoing Israeli demolitions elsewhere in the West Bank threaten to prejudice the entire outcome. How can any such process possibly be called fair?
That is why Amnesty International has issued a global alert via our Urgent Action Network calling on Israel to immediately cancel its eviction order for the villages. Instead of threatening Palestinian communities with destruction, Israeli officials should cease all house demolitions and forced evictions in the Occupied West Bank -- including East Jerusalem.
The Israeli military must be stripped of any responsibility for planning and building regulations in the Occupied Territories. Those responsibilities must be placed solely in the hands of local Palestinian communities. Ultimately, all Israeli settlements in the Occupied Palestinian Territories must be completely removed.
In the days ahead, President Obama and Secretary of State Kerry should pay close attention to these eight Palestinian villages and the larger reality they represent. It is time for the U.S. government to demand that the Israeli military drop its threat of eviction. You can't have a conversation about peace unless human rights are at the top of the agenda.
A prior version of this piece was first published at TheHill.com.
Calling all HuffPost superfans!
Sign up for membership to become a founding member and help shape HuffPost's next chapter