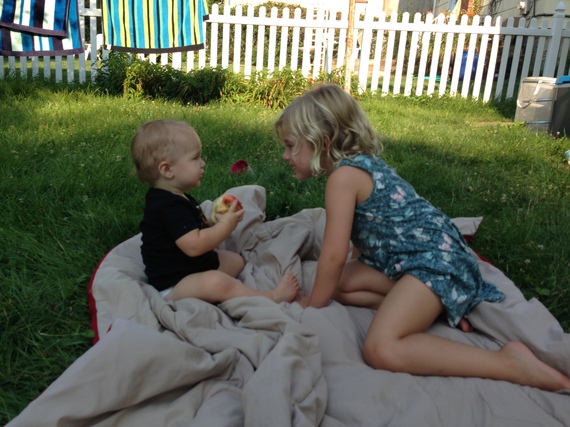 With one child in full-day kindergarten and the other at a home daycare for more than half the week, I'm beginning to make the transition from full-time stay-at-home-mom to working mother. While I've always embraced the creative opportunities that came my way outside of baby-rearing, this will be the first time in nearly six years that I'll be spending more time on my work than my children. There is no denying that I am (and have been) ready, but as I kiss my daughter goodbye, turn out of the school parking lot and head to drop my 15-month-old son at a home daycare, I can't help but think about what I'm giving up.
Being the parent who was always at home meant I was the one who did absolutely everything the kids needed between the hours of 7:00 a.m. and 7:00 p.m. If someone was sick, I was the one who changed my shirt three times in an hour because I kept getting puked on. I scheduled the dentist and the doctor's visits and held them after they got shots. I was the one who didn't have time to shower, never had time to sit down and eat a sandwich or check my email. I was the one who made breakfast, lunch and dinner, and cleaned the remnants off the wall and the floor. Taking care of the kids all the time meant just that -- all the time. There were typically no breaks, no time off, even on days when I was sick myself.
But I got to do the fun stuff, too. I got to take the kids to the zoo, to the park or to go see their first movie. I got to swim in the pool and go for ice-cream. I got to spend extra time cuddling them in the morning, building fairy houses and having play-dates. I spent hours nursing and rocking both my babies to sleep. Almost all of the hugs and kisses and "I love yous" and "you're the best mama ever" were directed at me. Though my husband understands (I think) how hard the job was, he sometimes envied the closeness that the children and I shared.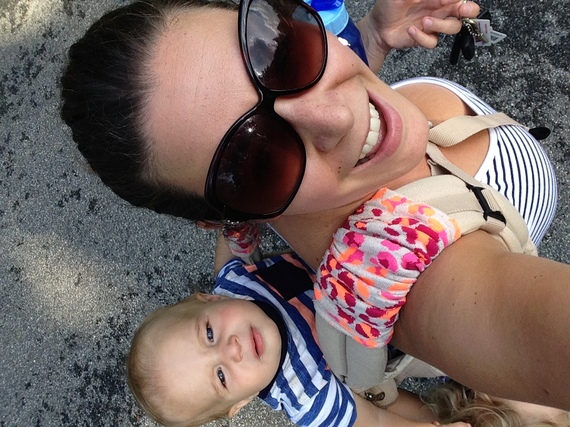 It was hard for me to understand where he was coming from. How could he be jealous of me? The person who always feels like she's suffocating? I don't even have time to go to the bathroom in a timely fashion. But now that I'm trading in milk-soaked t-shirts and yoga pants for, well, slightly cleaner t-shirts and yoga pants, I'm starting to understand. Not being with my kids every waking moment means someone else will be filling in the gaps for me. Though the people doing the job--teachers, grandparents and a wonderful, caring sitter--are more than up to the task, I know there's a lot that I won't get to experience firsthand. Loose teeth might come out at school. Milestones will be reached at the sitter's house instead of at home. In my quest for newfound freedom and creativity, I will undoubtedly be hearing about those experiences, rather than seeing them for myself.
At times, my stay-at home life took a pretty big piece of my sanity, like when my son didn't sleep for more than 10 minutes straight for the better part of a year. Or when my daughter seemed to catch one tummy-bug, cold or fever after another for months on end. But overall, I'd like to believe my years at home, day after day, were worth it. It is relentless, but hugely important work and I was (mostly) happy to be the one to do it. But I knew my soul needed to be served by something other than my beautiful children. The career I'd spent evenings and weekends building for the past six years was something I wanted to pursue more fully. For the first time, I felt like I was ready to give myself something I sorely needed.
Summer has come and gone, and saying goodbye to our lazy, snuggly mornings has been abrupt. The snuggles are now short-lived because in the morning, time somehow moves faster than it does any other time of the day. There is never enough time, even if everyone gets up before the alarm (and they always do). We're shoveling oatmeal into everyone's mouths, throwing folders in book bags and we're out the door in a flash. Hugs are quick and "I love you"s are shouted out the window of the car. It's all different now and in some ways it's better because, man, have I missed showering. But as I assemble my day of exercising, working and generally keeping busy, I realize it will probably never be quite as full as it was before. For better and for worse.
Photos courtesy of Sarah Bregel
Related