Winter is ebbing, spring seems not so far away, so it's a good time to sample new wines that might make for further consideration as the year wears on.

Joseph Drouhin Vaudon Vaudesir Chablis Grand Cru ($55-$60)--The name "Moulin de Vaudon" comes from the watermill nearby the property, whose limestone-rich Chablis vineyards were abandoned after the phylloxera infestation of the 19th century. But Drouhin has restored them to Grand Cru status, using biodynamic farming methods. I've come to feel you really have to get to Grand Cru level to appreciate the charms of Chablis--so much boring Chablis is made in Burgundy--and yields are kept low. This example has richness while at the same time the flinty, lean backbone that makes Chablis so appealing with shellfish.
Le Volte dell'Ornellaia 2013 ($30-$32)--An IGT wine of Tuscany, this is the lesser label of the great Ornellaia estate but shares much of the DNA in a blend of 50% Merlot, 30% Sangiovese, and 20% Cabernet Sauvignon. The vintage started with shaky weather but a good warm summer followed that ultimately pushed the fruit to ripen well over an entire month in autumn.
The wine was aged for 10 months, partly in barrels used for Ornellaia and partly in cement tanks, so that the fruit was maintained and tannin muted. It does not reach the heights of its illustrious big sister but neither does its price, and I would happily drink this any night of the week with roasted meats or risotto with wild mushrooms.


Donnachiara Irpinia Coda di Volpe 2013 ($9-$15)--This estate is in Montefalcone in Campania, so there's plenty of sun and volcanic soil from Mount Vesuvius to produce a good structure from the Coda di Volpe (tail of the wolf) white varietal, whose virtues are its balance of fruit and acidity, making it a very good choice for shellfish in particular, of a kind you'll find in the restaurants of Naples and the Amalfi Coast.



Matanzas Creek Winery Merlot 2012 ($28)--Ever experimenting but never experimental for the sake of effect, Matanzas Creek always looks at the Sonoma vineyards producing the best grapes and the best clones of those grapes to bring elegance to their wines. Following a near perfect 2012 summer and after several evaluations over a 14-month period, a blend (including just 2.3% Cabernet Sauvignon for tannin) was made and returned to oak for two more months so that the components could rest together. It is a soft and satiny wine just skirting being too high in alcohol, at 14.5%.
Tenuta Saint'Antonio Monti Garbi Valpolicella Superiore Ripasso 2012 ($13-$17)--Valpolicella gets a bad rap for being a lightweight red produced in volume, but the ripasso style, which involves keeping the wine in longer contact with the pulp during maceration, really shows what a fine Valpolicella can be. Made from a blend of Corvina, rarely used Corvinone, Rondinella, Croatina, and Osleta varietals, it has unusual complexity because these are indigenous to the Veneto and spend 15 to 18 months in barrel, rounding them off and giving body to the final bottling. What a great bargain this is for a wine of this caliber!
Presqui'le Vineyards Santa Maria Valley Pinot Noir 2013 ($60)--Presqui'le's President Matt Murphy and winemaker Dieter Cronje show that California can make a solid, delicious Pinot Noir without burning alcohol levels--the 2013 bottling comes in at 13.1%--from this 200-acre winery founded in 2007. The vineyards enjoy the cool Central Coast appellation, and all the family's wines are made in small batches, carefully tended so that none takes on that cloying flavor that is the major flaw of so many made-by-the-book Pinot Noirs that seem products of marketing than of good wine making.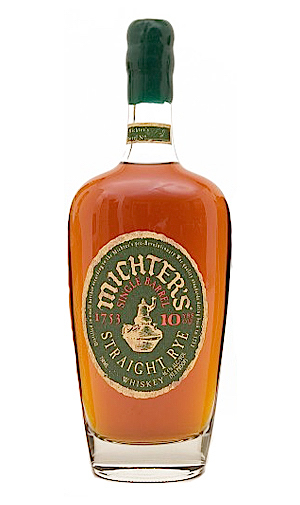 Michter's 10 Year Rye ($150)--Along with drinking good wines, I like a nightcap of Scotch, Irish or Bourbon, but I must say I've been impressed by the recent flurry of releases based on rye, which almost disappeared from the market in the '90s. Leading the comeback is Michter's (which had gone bankrupt in 1989), whose Master Distiller Willie Pratt is bringing back next month. I got an advance tasting, and the maturity of the whiskey is essential to appreciate the delicate and not-so-delicate difference between rye and corn-based bourbon. It has an edge and a fine dryness (93 proof) that make you forget all that cheap Canadian rye of the last century. . . . Colonel E.H. Taylor, Jr. Straight Rye ($70) is less than half the price of Michter's and is a Bottled in Bond blend of rye and malted barley, so, while light in color, at 100 proof, it has an engaging briary cut to it and a slight sweetness that may remind you of a single malt Scotch with American breeding. . . . According to spirits expert Fred Minnick, the main reason rye is having a renaissance is that "in 2000 Seagram folded their whiskey operations and sold its Lawrenceburg, Indiana, distillery to Pernod Ricard, which announced it would close it in 2006. (CL Financial purchased it but sold it five years later.) But the distillery The distillery had a couple thousand barrels of rye whiskey leftover with nowhere to go so small brands started popping up, buying the Indiana juice."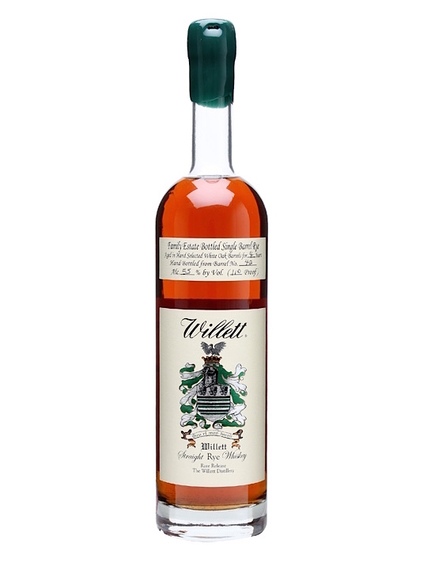 Willett 4 Year Old Single Barrel Rare Release ($45), at a whopping 110° proof rye, is an Indiana rye. Though the company opened its distillery in 1937 and took until 2012 to produce their first blended whiskey . This rye, which actually has some corn in the mash, is a very smooth whiskey indeed, with a pleasant burn, and faint sweetnesshas a lush, sweet element to it.
Popular in the Community