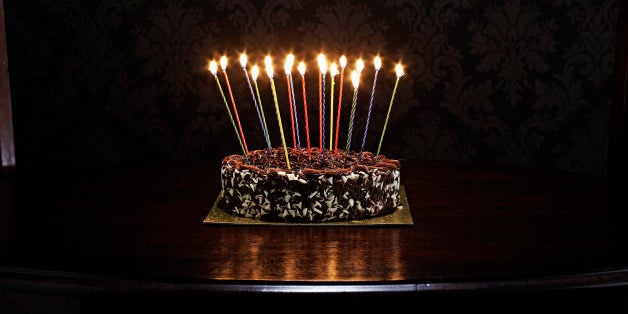 The first day of spring was my 85th birthday. I know many of you have wondered how old I am. To be honest, I've been afraid to say the "number" in fear of losing your friendship. I worked until five years ago. Many of my friends were younger than I, and we had a lovely relationship until some of them found out my age. It seemed to change the dynamics. The thought of losing the other friendships and love was something I didn't want to gamble on. However, I am not afraid any more, so here goes.
This has been a revealing week for me. It started last Saturday evening, when my small but loving family shared dinner with me at one of my favorite restaurants in New York. I sat at a table with my two daughters, my three grandchildren and my son-in-law and I felt such love coming from them. The pride I felt watching this very attractive, very bright and very loving family was overwhelming. I had often wondered what my purpose in life was. What had I done that had kept me alive and vital for so many years? Sitting at that table, I realized that this was my purpose. I had somehow helped to create this loving group. I was overwhelmed with happiness. I am a worthy person, I told myself.
The following Tuesday, I walked down my local street very excited about my planned vacation to Santa Monica, and the fact that I had just finished physical therapy after months of pain with a broken wrist. Suddenly, I went flying through the air. All I could think of was, Oh no, I'm going away next Monday, this can't be happening. I landed face down on the pavement. Two total strangers, a woman and a man who had been walking behind me rushed to my side. Other people simply stared and walked past me. These two angels helped me to sit up. Blood poured from my nose. At first, they thought it was coming from my eyes, which had immediately turned black and blue by the force of my eyeglasses. He had a handful of tissues, which he gently applied to my nose. My saviors wanted to call for an ambulance. I emphatically refused. I only wanted to go home. When I could finally stand, I realized I had also hurt my knee, but I still just wanted to go home; and so these two wonderful people, holding my arms for every step, slowly walked me to my apartment. I am writing this four days after this mishap. Each day I see improvement in my face and my knee. I didn't cancel my trip; I've simply postponed it for a few more weeks.
On my birthday yesterday, I awoke to a day of love from so many people. Cards poured in through the mail, emails arrived, facebook messages arrived and my children, my grandchildren and my son-in-law all phoned to sing and give me love.
So many of the people wishing me well were people I had spent time with in the years of working. I wonder if they know how much their messages meant to me.
At the end of the day, quite content with the wonderful meal my daughter had delivered from our favorite Chinese restaurant. I turned and said to her, "I must be a nice person after all, not perfect but really not too bad." I guess what I am trying to say is, I am who I am. I could be worse, but I'm better than I thought. Who can live 85 years and not have done harm as well as good? I just hope my good overshadowed the harm.
I wish I could explain how I feel about aging in way that it might help any of you who worry about it. How you handle life and growing old is so in your head. You can play the age card, like so many of my friends who, sadly, live in fear of dying, and have the need to be catered to. I just am not programed that way. I can still remember what it was like being a young woman, never knowing if we could pay the rent, wondering if my life would ever be peaceful again, if only for a day. I remember when the only thing getting me through life were my beautiful children. And then, unbelievably, I found a new life in my forties. I embraced all the excitement and love it brought to me. I learned to give and take, and to live again. I smiled, I cried, I loved and I was so happy. When my heart was broken again, I cried, as any woman does, but I realized I'd had what I had longed for, and no one gets everything. A good life is so much more than how much money one has. Without feeling and giving love, there is no real life.
I'm finally proud of all I am. It's taken me this many years to feel this way. I am so grateful.
REAL LIFE. REAL NEWS. REAL VOICES.
Help us tell more of the stories that matter from voices that too often remain unheard.