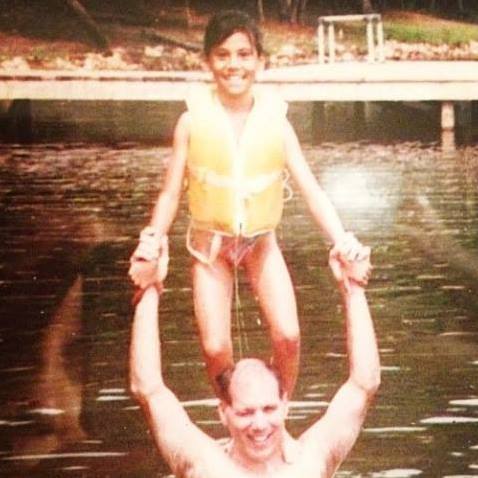 It's been about two months since my dad passed. Three weeks before, I had gone home to Maryland, not because it was "time," but because Dad had lost an unexplainable amount of strength, and I was going to train him back to his fighting weight. Dad and I's time together over the 16 months of his illness was always special. It was just me and him for the week or two I was able to be home. Being the health nut of the family, Dad (and everyone really) leaned on me to guide Dad's exercise and nutrition once we found out he was sick. I'd play personal trainer, making him green shakes every morning and then stretching out every sore spot on his body. I taught him how to meditate and together we joined the local "yoga for cancer" class. My Dad was never the meditating/yoga type man, but once he was diagnosed with Stage IV Lung Cancer, my sweet dad was open to everything.
After our long days of working out, multiple doctor appointments and cancer support groups, we'd often treat ourselves to an early evening movie. Sometimes we had so much to say, other times just being together in silence was enough. We found a way to push aside the dark cloud that naturally loomed over us after an advanced cancer diagnosis. We found a way to make it fun and hopeful. I wouldn't trade those days for anything.
But this trip home was different. Dad's strength was so far gone that he was hospitalized the day I got home. The next day, we received new MRI results -- the cancer had spread to his brain. We entered hospice care two days later. As shocking as it was, I found myself very calm. I had been familiar with the word and idea of "hospice" but I didn't know until I was there, what it actually meant. "Hospice" is really another way to say "no more fighting." Cancer patients, once diagnosed, have to become such fighters, whether it's in their nature or not. Entering hospice means that they can let go now. No more machines, no more treatment, just pain management until the body shuts down. I was no longer supposed to force healthy food or even water if he didn't feel like it. It was a hard concept to accept, but I understood.

I told him so much of who I am is because of him and promised him I'd never let his legacy die.

The growing cancer in the brain was proving to be very painful for Dad. After a day of intense screaming, which was very unlike my gentle Dad, we were declared in a state of "acute pain management" and qualified for care at the Montgomery Hospice Casey House. We moved Dad in immediately. We naturally had no idea what to expect entering what could also be called a "house of death," but truth is -- it was lovely. Almost like a storybook "house of peace," everything was white and blue. The staff was so amazingly bright. They allowed all of us to basically move in with Dad, offering blankets and pillows while we tried to sleep on the chairs and couches. Volunteers played violins and harps, others offered lavender hand massages. Everyone was so wonderful with Dad. And they were equally wonderful with us.
Once we settled in, I sat by Dad's side the entire time. I talked to him as much as I could, sharing so many old memories -- how he used to let me shave my face with shave cream and a popsicle stick so I could be just like him, how he would re-write the ending of my bad dreams to make it a happy one. I shared memories of our Dad-and-daughter trip to the Grand Canyon, our bike-rides on the beach when he'd visit me in LA.
I thanked him for always believing in me and for being my constant rock. I thanked him for showing me what it means to be a good person, man, husband and father. I told him my wedding would be a beautiful one -- barefoot on the beach somewhere. And that my first child's name would begin with an "S" after "Steven." I described what I saw for myself in my future and told him it was only because of everything he gave me. I told him so much of who I am is because of him and promised him I'd never let his legacy die.
I told him we'd miss him, but that he didn't have to worry. My Mom and sister and I would take care of each other, so it was ok to let go now. I told him he was such an incredible man, that he had done everything he was supposed to do in this life, and that it was ok to let go now. I rubbed his head, bathed the skinny weak body that was once so big and strong. I sang to him, read to him, slept by his side, listening to each breath as it got shallower and shallower while he fought harder and harder to hold on. With so many family and friend visitors in and out of the room, I cherished my alone time with him. He was officially unresponsive starting just a day after we moved in, but I was sure he could hear me. When I would place my hand in his, I swore I could feel his slight squeeze back.
Of course it got hard -- how many times could I say goodbye?? I'd wake up from very little sleep each morning, with so much relief that he was still with us, but with an equal amount of pain and fear that we had to do this for another day. I wondered what he was thinking. Was he scared? Was he sad?? Was he angry that he was given lung cancer without ever smoking a cigarette? Did he have regrets? Had he lived the life he wanted to? Are there secrets that he'd never shared with anyone? One morning, his eyes opened. I think the muscles had given out around his lids because his eyes were cloudy and not moving, but I wondered if he could see me. I sat there right in front of his open eyes, just in case he could. After so many days without food and water, his body had shrunk to literal skin and bones. I could not only see his complete protruding ribs, but I could also feel the sternum underneath them. As hard as it was to watch my big strong Dad slowly leave his body, I cherished every moment of it. I didn't want to miss a thing, and I felt powerful and purposeful that I was able to be there for him.

What I knew was that it was terrible living with my father sick, but now I was seeing that I had no idea what it was like to live without him.

One magical morning, Dad was a little more active and moving than he had been the day before -- "Can you hear me Dad?" With no movement in his mouth, he pushed out a faint moan and then a ... "Yeah." -- "I love you so much Dad." And as if with all his might, like he was screaming on the inside fighting to communicate... I heard it -- "I love you too."
While no one was in the room the exact moment he officially let go, I was the first to find my Dad with no more breath. After staring at his chest that was fighting so hard to move up and down, up and down for so long (the slight movement was almost harsh on his weak body) it was strange to now see it completely still. I wasn't scared or immediately sad. I sat with him for a minute and stared at his chest waiting for any bit of movement. When it didn't come, I grabbed his hand and told him I loved him and that I hoped it was beautiful up there. I called for our tender nurse and watched quietly as she listened for his heart. A couple times in different areas to be sure. She took off her stethoscope, looked up at me and nodded her head. She looked behind her to the clock and declared it officially 6:05 a.m. This was just one week after we arrived at the storybook Montgomery Hospice Casey House and only two weeks after we entered hospice.
____________________

I like to call myself a spiritual person. I'm a huge kundalini yogi with a strong meditation practice, a tarot card reader, and with guidance from my astrologer, have visited multiple past lives. Because of all this, I felt like my time with my Dad on his last days in this life was so much easier. I watched my sister fight the fact that we were losing him, but me -- I was different. I was excited for him to be out of pain and knew that his soul would return to me in another form. Of course I cried at his death bed, my eyes spilled more tears than I knew I had. But I was accepting of it. I was so grateful that I was able to say goodbye and knew that Dad was giving us the gift of understanding instead of leaving us suddenly. I saw the entire experience as magical.
After staying home in Maryland for a week with my Mom, I've now been back in LA for a little over a month. At first, re-entering the world of my friends and my boyfriend's family, I was almost proud of what I had been through. I was happy to talk about it and felt special when people would listen to my story saying they could never go through what I had. Initially, it was almost like, "Nothing can stop me now! If I can get through that, I can get through anything!" For 16 months of my Dad's illness, I lived with a tight knotted, almost suffocating feeling in my chest. I felt pretty socially awkward with a heaviness that no one could possibly understand. I thought that because I'd handled the past weeks with strength and was able to accept my Dad's passing, that now the knot was supposed to just go away. But one morning after waking up with a new, sharper, stabbing feeling in my chest, I saw so clearly that I had no idea what I was in for. What I knew was that it was terrible living with my father sick, but now I was seeing that I had no idea what it was like to live without him.

And maybe I'm allowed to be sad and I'm allowed to be happy and that's the true equation of life.

I thought I was supposed to come back to my life a new woman. I was supposed to be stronger and wiser, and of course, now I'd have my Dad by my side spiritually and together we would be unstoppable. I thought I was supposed to feel him. And hear him. When I would have a question, Dad would show me the way, right? Having struggled with the common millenial question "What am I supposed to do with my life?" for quite some time, I thought that maybe now Dad would send me the big answer!
But just weeks after returning to LA, I was faced with the real truth -- my Dad is gone. I don't feel him. I don't hear him. He hasn't come to me in my dreams. He hasn't sent me some grand message explaining the meaning of life. And I don't feel my connection to him is stronger than it was before. He's just gone. And I'm left here, without him. I can't call him. I can't cry to him or share a funny story with him. He barely knew my boyfriend before he got sick, he won't be at my wedding and he'll never know my children. I now find myself angry. No one can possibly know what I've been through or what this feels like. None of this is fair and there is definitely nothing magical about it.
I remember in the first weeks after returning to LA, putting up new curtains in my new apartment with my loving and supportive boyfriend. (We had just moved in together a few months before Dad's passing and obviously, all our decoration plans were put on hold.) Now we were here, after everything we'd been through, both feeling stronger and optomistic about the home we're building and our future lives together. We were giggling hanging these curtains because we didn't have a drill and were doing it our way. I remember laughing and reaching for a new screw to pass to him after he bent the last one, and stopped suddenly -- in my head, "Oh my god, my Dad died." I didn't tell him, I passed him the new screw and went on laughing, but -- "Oh my god, my Dad died."
I found myself now angry at so many people around me. Okay, I'll go to your party or go see a movie with your new boyfriend, but do you have any idea what I've been through?! Do you even care?! I knew that my anger wasn't exactly justified but was afraid that all of my friendships would now be so odd, incapable of understanding each other. I may be able to smile the same smile and even laugh the same laugh as I had before, but my insides are forever changed and no one will ever really know.
When I'm alone in the shower, or barreled over on the floor of my apartment, or journaling in bed before I sleep, sometimes I close my eyes and try my hardest to feel Dad. Maybe I'm trying too hard. Maybe I'm not ready to see him. Or maybe this is just how it is now. After sharing all of this with my boyfriend one day, he asked me simply, "Well, what do you think your Dad would say to you now if he was still here?" And there's one clear thing that came to me immediately ... "It's ok Meli."
So maybe it is okay. Maybe it doesn't have to be magical, maybe it's just life and it's real. Maybe my spirituality has nothing to do with this, and it's not easier or harder for me, it's just life and it's real. Maybe this experience is only my own and no one else is supposed to know. Maybe that's what makes it special. And maybe I'm allowed to be sad and I'm allowed to be happy and that's the true equation of life. So I don't know if Dad's sending me this message now or if it's just me imagining what he would say to me. Maybe I can just allow those words to be his. And now mine.
This post is part of Common Grief, a Healthy Living editorial initiative. Grief is an inevitable part of life, but that doesn't make navigating it any easier. The deep sorrow that accompanies the death of a loved one, the end of a marriage or even moving far away from home, is real. But while grief is universal, we all grieve differently. So we started Common Grief to help learn from each other. Let's talk about living with loss. If you have a story you'd like to share, email us at strongertogether@huffingtonpost.com.