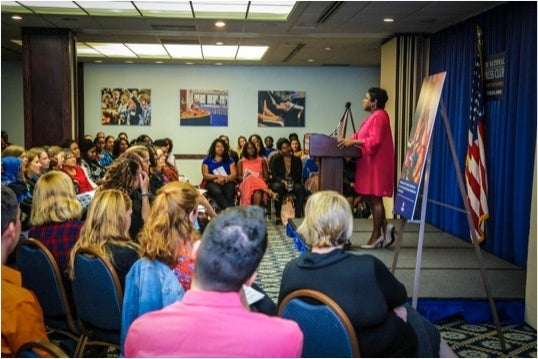 The continent of Africa is the source of mankind defined by its rich history, diverse culture and resilient women and girls. As a youngster, I took pride in being able to point to my homeland on the map and talk about my tribal lineage and art, music, and literature. I am product of some of the greatest kingdoms ruled by powerful women leaders like Queen Nzinga, Yaa Asantewa, Queen Makeda and Queen Amina of Zazzau. There was a point in our collective history where women stood at the apex of political leadership and were regarded as the world's toughest warriors. We were fierce intellectuals with legacies that left a lasting imprint on world history that will never be forgotten.
Things have since changed and gender inequality is felt in countries all over the world. I am first a generation American with roots in West Africa. One can leave home but the elements of culture will travel with you and components of sexism still lingers. As a girl, marriage is prioritized and male children are exalted and treated as superior. This dehumanization is amplified if you're a girl living with a disability. At age 11, I became the recipient of a heart and kidney transplant. I was given a second chance at life and had to come to terms with a new life as disabled young woman. If society devalues women and girls what's the worth of a girl with a disability?
I felt like less was expected of me. The marker of disability was a scarlet letter and an identity to be hidden at all costs. One day I chose to walk out of the shadows of shame and I wanted to show the world what girls with disabilities were capable of. In my chest I felt this burning desire to change the world for people like me. This flame was lit by then President Barack Obama. On September 27, 2007, I found myself at Prince George's Community College in Maryland as a sixteen-year-old high school student with two of her best friends. We waited in line for hours with hundreds of other people waiting to hear then-Senator Barack Obama speak.
He talked about wanting to spark change while instilling hope for a brighter future for all Americans. When I became older, I wanted nothing more than to work for the Obama Administration, an Administration on the forefront of changing the lives of millions for the better. Over the course of three-year period, I worked effortlessly to become a White House Intern. After three failed attempts since 2007, I read my acceptance letter in Spring 2010 and was excited by the thought of spending my summer in the Office of Public Engagement and Intergovernmental Affairs.
As intern, I assisted staff with the work of the White House Council on Women & Girls. In 2009, President Obama created the Council on Women & Girls "to ensure that each of the agencies in which they are charged takes into account the needs of women and girls in the policies they draft, the programs they create, and the legislation they support."
This was my first foray into public policy and working in the White House is the single toughest job you'll have. You become accustomed to round the clock meetings, drinking dozens of cups of coffee to stay alert and working into the wee hours of the night. At any time of the day you would be sitting in on meetings with world leaders or watching the President surprise wounded veterans during East Wing tours of the White House. Though you may feel tired and stressed out you come home with the feeling that you worked side by side with leaders that were running the country. You know that even the smallest task you do was helping uplift our nation and influence public policy for the greater good.
Now, politics has its good parts as well as bad elements. One of the good parts of the program was being introduced to lifelong mentors and friends. These friendships will last the test of time and you build sisterhoods among other ambitious women. I found that mentor in fellow intern Mariama Keita. She was a leader in every sense of the word having studied at University of Maryland, College Park earning a B.A. in Communication, a graduate from NYU Master of Science Global Affairs program and Columbia University Community Scholar. In the early stages of her career she worked in the field of entertainment television for on-air talent on BET Networks. She later transitioned to working in the field of international relations and development for the United Nations, most recently UNICEF. As a mentor, Mariama has remarkable way of taking you under her wing and teaching you how to lead from where you stand and reach your full potential. We left the White House and kept in touch as she continued to inspire me with her awe-inspiring achievements. Since leaving the White House, she started How I Make a Difference (HOIMA) in 2014, an impact driven initiative that delivers market-relevant professional development programs that strengthen basic communication, soft skills, and workforce competencies to ensure that young women of color enter the world of work with confidence to secure leadership roles. Her workshops, mentorship and one-on-one coaching sessions translates into results as young women and men across sub-Saharan Africa, Asia, Europe and India have secured competitive internships and higher-education opportunities with leading institutions that include: NYU, UNTV, 2015 World Bank-IMF Young Professional Forum and George Washington University under her leadership. I continue to follow in her footsteps as the founder of the education nonprofit organization Project ASCEND. Our mission is to create higher education opportunities for marginalized and disadvantaged young people across the globe. Project ASCEND's initiatives have reached hundreds of young people living in Washington, D.C., West Africa and Central America.
In all of our efforts, we've worked to empower women and streamline opportunities for those traditionally excluded from them. As a result, our organizations collaborated on September 26, 2016 to sponsor a USAID – Women@AID empowerment event for women organized by executive board member and social chair Mariama Keita, at the National Press Club featuring White House Social Secretary Deesha Dyer.
All three of us were former White House interns that had in common unconventional career paths. Social Secretary Dyer went from being a hip-hop break-dancer and journalist to becoming the right-hand woman to President Obama and the First Lady. Her remarkable story, authenticity and humor left the audience of over 120 men and women attendees feeling inspired. This included Lecia Ductan, a young professional who currently works at New York University and traveled from New York City just to hear Secretary Dyer speak. As the second African-American woman to hold this esteemed position, her keynote address revealed that anything is possible and you don't need a famous last name or Ivy League degree to make it in Washington.
On this International Day of the Girl we celebrate women and girls all over the world and work towards how we as women can set a better example of leadership. We can each make a promise to promote compassion over competitiveness within our gender. As adults, we can take a step back and remember the dreams we had about our future when we were little girls. Then we can take action amongst ourselves to help one another pursue our passions and achieve our goals. Let's exchange competition for mentorship, as we are all in this together and empowerment starts with unity and sisterhood. Equality begins with us working together as a collective to make a change in society on how women are treated. In the words of Madeleine Albright, "there's a special place in hell for women who don't support other women." We only contribute to oppression by being willing participants in patriarchal systems that keep other women from advancing. Our standing in society will only progress if we demand better and do better. Let's take the pledge to celebrate women and girls globally working towards creating their own destiny and setting a better example for the next generation.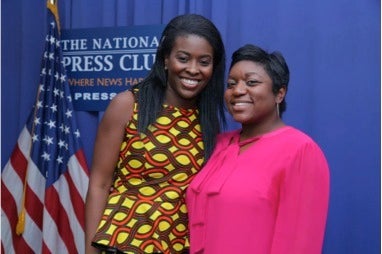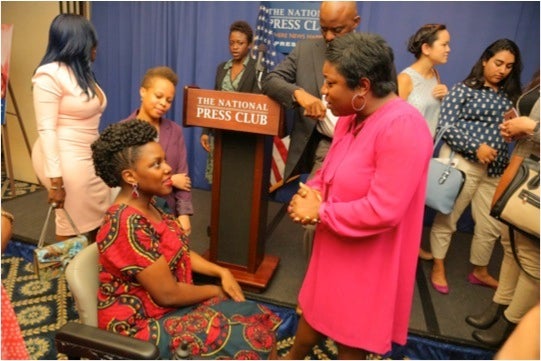 Related
Popular in the Community