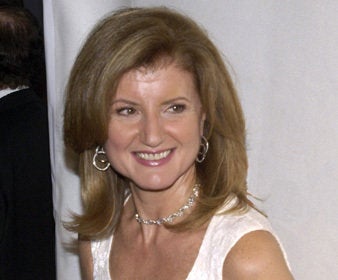 I've never known someone who loves books as much as Arianna Huffington. She's absolutely the most omnivorous reader I've ever met. And she takes her favorites personally, whether it's a new release or a classic, a book on politics or spirituality, a novel, a biography, a worthy topic or a guilty pleasure.
What's more, she loves to talk about the books she's read. And recommend them. And buy multiple copies to give to her friends. This combination makes her the perfect person to lead a book club.

And, with the launch of our HuffPost Books section, we have the perfect place for that club. We are calling it "Arianna Is Reading."

On a regular basis, Arianna will write about a book she is reading. Our HuffPost Books bloggers will weigh in with their takes. And we, of course, know that you'll join in the discussion.
"I want our book club picks to start a conversation across the site and the community," Arianna told me. "And we're not going to pick only new releases or the latest bestsellers. There is absolutely no reason for books to have a limited shelf life. Indeed, good books should provide the ultimate resistance to the disposable culture we live in, and I want to celebrate that fact."
We'll be announcing Arianna's first selection tomorrow. She'll write a post telling us why she picked it, the book's author will respond... and the party will begin!
So check back tomorrow and join the discussion. And we want your input on other books we should feature. Send your suggestions to amyhertz@huffingtonpost.com.
And let us know any other ideas you have for HuffPost Books. This is very much your section.