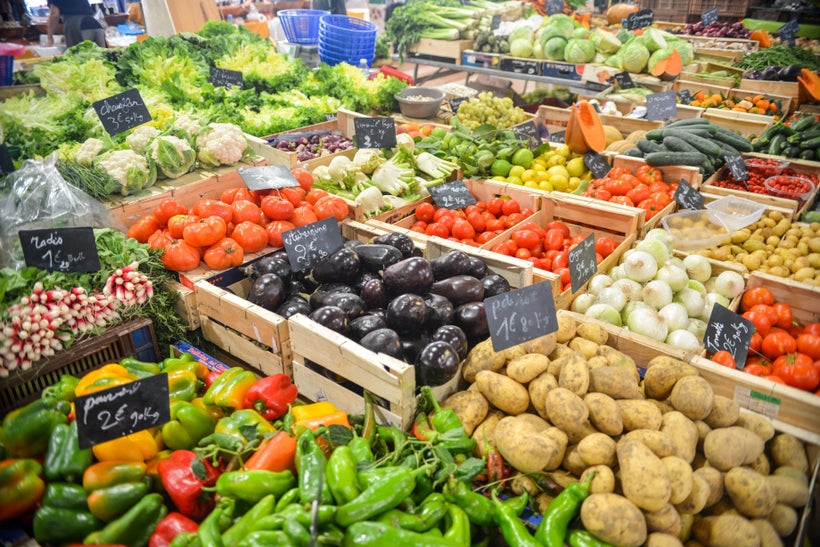 Once a little-known concept among the public, sustainable food is now becoming a subject of high interest and high demand. Consumers are not only focused on what is in their food but also how it's produced: how much water is needed to produce my Saturday night steak? How much food is thrown away by my local supermarket? Will I be able to enjoy my favorite chocolate bar by 2020?
There is no doubt, sustainable is the new organic.
Don't judge an apple by its shine
Food waste used to be a niche issue reserved for sustainability professionals, tree huggers or hipster mothers. These days are over. Americans are starting to pay attention to food waste as they are more educated and concerned about the issue. And they are rightfully doing do. The numbers speak for themselves. According to a Guardian report , about 50 percent of all produce in the United States is thrown away—some 60 million tons (or $160 billion) worth of produce annually, an amount constituting "one third of all foodstuffs." In addition, wasted food is the single biggest occupant in American landfills according to the Environmental Protection Agency.
Fortunately, driven by public education efforts, more and more supermarkets, food manufacturers, restaurants and consumers are, slowly but surely, starting to change their habits. Consumers do not expect to find perfect shiny fruits in their supermarkets anymore and companies such as Whole Foods Market or Walmart are starting to sell so called "ugly", more sustainable products, which is without a doubt a step in the right direction.
The truth, the whole truth, and nothing but the truth
Full product transparency is now a mandatory element for consumers. This need for exact information has only increased as mobile technology has advanced.
According to a new study from Response Media, almost everyone finds transparency important in food products — 99% for fresh food and 98% for packaged food — and 70% said their purchases are always or often influenced by transparency content. In addition, almost all respondents said they would pay more for more transparent products — 99% for fresh food and 98% for packaged food. Demographically, 100% of millennial moms said they would pay more.
Luckily, new initiatives such as the SmartLabel are changing the game and growing in the market. The launch of the SmartLabel transparency initiative by the Grocery Manufacturers Association and Food Marketing Institute, gives consumers easy, instant access to detailed product information. Going beyond the product label makes sharing additional product information with consumers more attainable and sustainable for brands and retailers. The result is more information and, consequently, more transparency.
Food companies are also increasingly taking active measures to respond to consumers' need for transparency. Whole Foods for instance is working on becoming the first national grocery chain to offer full GMO transparency with its projects. With a goal of 2018 for full deployment, the project will require every product sold as non-GMO to go through a verification process. The company has always encouraged its suppliers to put its products through a verification process, as well. Whole Foods hopes that by making this commitment to GMO transparency, it will encourage industry-wide transparency, with manufacturers and distributors asking the questions that need to be asked.
Take a bite out of climate change
According to the EPA, in 2015, 9% of all greenhouse gas (GHG) emissions came from agriculture alone. According to another recent study by the Potsdam Institute for Climate Impact Research (PIK), without efficient emission reductions, the United States may see crop losses up to 49% by the end of the century due to rising temperatures. To fight against this, numerous food companies today are committing to cutting their carbon footprint across the value chain and holding their suppliers accountable.
For example, Mars, known for its delicious Twix, and M&Ms, has pledged to invest $1 billion over the next few years to fight climate change. The sustainability drive includes investment in renewable energy, food sourcing, cross-industry action groups, and farmers. Mars, which employs 80,000 people worldwide, relies on farmers to produce the raw materials for its products. With this in mind, Mars isn't just "doing this because it's the right thing to do but also because it's good business," Mars' CEO explained.
Similarly, Walmart unveiled the ambitious Project Gigaton this year which aims at reducing one gigaton of greenhouse gas emissions (the equivalent to taking over 211 million cars off of U.S. roads and highways for a year) from Walmart's supply chain by 2030. This project is part of a series of Walmart sustainability initiatives, focused on addressing social and environmental issues in ways that help communities while also strengthening business.
Finally, PepsiCo recently committed to reducing greenhouse gas emissions by partnering with Science Based Targets Initiative (SBTI). More specifically, PepsiCo is committed to reducing GHG emissions by 20% across their value chain by 2030. As part of their 2025 agenda, PepsiCo plans to address the emissions impact of their direct operations, including owned-fleet fuel use and purchased electricity. This accounts for about 7% of their total carbon footprint. The company's climate goal also includes the 93% of their carbon footprint that comes from sources outside their direct operations, including farming, packaging, third-party transport, and the end consumer.
Whether it is food waste, transparency or climate change, consumers are more concerned than ever about food sustainability. Food corporations that understand and support these consumer priorities can achieve long-term consumer loyalty and brand value.
To learn more, join Salterbaxter and a collection of the world's leading companies from across the food system, academics, NGOs, policymakers and disruptors at the 7th Sustainable Business Forum to explore and debate the fundamental challenges facing the system and learn about the solutions which will facilitate and accelerate vital transformation across the entire food chain.
Salterbaxter helps companies and brands step up to the challenge of the changing relationship between business and society. At Salterbaxter, we have unrivalled experience in delivering sustainability and social purpose strategy and communications for companies like yours. Through our work with leading companies, we bring a deep industry of both the issues of the sector and where the opportunities lie to make a positive impact.
REAL LIFE. REAL NEWS. REAL VOICES.
Help us tell more of the stories that matter from voices that too often remain unheard.
This post was published on the now-closed HuffPost Contributor platform. Contributors control their own work and posted freely to our site. If you need to flag this entry as abusive,
send us an email
.