"The fourth industrial revolution is unlike anything humankind has previously experienced. New technologies are merging the physical, digital and biological worlds in ways that create both huge promise and potential peril. The speed breadth and depth of this revolution is forcing us to rethink how countries develop, how organizations create value and even what it means to be human." - Klaus Schwab, Founder and Executive Chairman of the World Economic Forum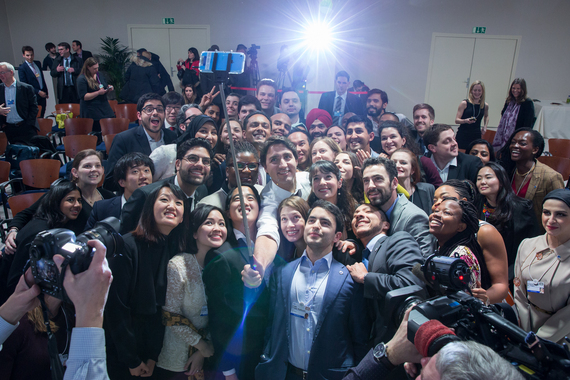 Photo: Prime Minister Justin Trudeau takes a selfie with the Global Shapers after our private session - he is definitely the new face of global leadership for millennials
We are living in an increasingly complex and uncertain world of constant change unlike anything in history. Advances in technology are outpacing implementation and these emerging technologies whilst presenting brilliant opportunities for a more positive world also present potentially detrimental threats.
In January, I had the unique opportunity to see the world through a crystal ball otherwise known as the Annual Meeting of the World Economic Forum. The meeting is popularly known as Davos, because it takes place in Davos, Switzerland a remote ski town located 3 hours south east of Zurich.
So what exactly is Davos? From my experience it is an extremely exclusive gathering of 2500 of the most powerful and influential leaders on the planet meeting to discuss ideas and opportunities to change the world for the better including issues of immediate global consequence, such as the refugee crisis. The audience is diverse capturing business leaders, innovators and creatives, nobel laureates, academic stalwarts, government officials and celebrities, but Davos is especially known for its enduring ability to attract billionaires and world leaders in abundance. This is a one of a kind convergence of people bold enough to believe they have a role to play in shaping the future of the entire planet and it may be fair to conclude that the collective is well positioned with many of resources necessary to do so. The gathering offers a unique community feel, a trust network where heads of state and the business elite are extremely approachable and open to dialogue. For the most part people are open to discussion and the playing field is relatively level.
I was the only participant from the Caribbean throughout the entire event, so I feel compelled to share my experience as a Jamaican participating in this global gathering. Like many in the region, I often feel the Caribbean is being leap frogged by the rest of the world. I also think we miss opportunities to showcase our brilliance in areas where we have proven leadership and excellence. I believe events like Davos are important for us in the Caribbean to keep pace with the rest of the world. It's important that we find ourselves at the cusp of innovation and well positioned within ecosystems that influence our futures.
The opinion makers gathered to discuss topics including artificial intelligence, robotics, smart cities, the future of energy, space travel, digital currency which encompasses bitcoin, the shared economy, big data and space travel. There was also a focus on the 'internet of things,' the potential multi trillion dollar industry being driven by the increase in connected devices in the world. Companies including Google, Intel and Cisco are investing billions to capitalize on the future potential of this emerging sector. What's most interesting about working to predict the future in a positive manner is the high level of forward thinking required to anticipate them problems that may arise and how to circumvent them.
For many of us these topics may seem out of touch with our daily lives and to some extent they are. Much of this won't be realized for the next 5-15 years, but to bring this into the immediate just imagine that Google has never considered itself a search engine but instead an artificial intelligence company, and Siri on the iPhone operates on artificial intelligence as well. Honda just announced a self-driving car and numerous other companies are working on them, and rumor now has it that transportation giant Uber is scouting for a manufacturer for a fleet of 100,000 self-driving cars. The connected world is just as scary and as it is exciting, cars today are already being hacked, so self-driving cars will be vulnerable as well.
The technological revolution will birth new industries and create trillions of dollars in economic value. Despite all the advances we have experienced in the last decade alone it is fair to say we barely scratched the surface. Technology is the great equalizer that threatens the power of dominant players across various sectors including governments. We are already seeing this play out and experts believe this is only the beginning. In the same breadth we must be mindful of the negative social, economic and environmental consequences. It may result in greater divides between people and poses major concerns about privacy, security and waste.
Conversations on the future impact of technology raise questions of a more socio-economic nature such as diversity and inclusion. In some instances Jamaica is already a stand out leader with so much to share with the world. For example, at Davos, Unilever CEO Paul Pohlman shared an interesting statistic; if women shared the same inclusive rights as men in terms of employment, health and social mobility, global GDP would rise by US$37 trillion. I also sat and listened to Canadian Prime Minister Justin Trudeau call himself a feminist, which has gone viral globally. Jamaica is already a trailblazer in this space with numerous female CEOs and senior executives penetrating our work force. More developed nations struggle with this and we should work to take ownership of this and use it as an avenue to become apart of global leadership accessing the benefits and responsibilities that come.
Jamaica has also successfully pulled off 2 debt exchanges and continues to employ austerity towards economic stability. This has required national buy in, with the potential for civil unrest. This has been no easy feat, even considering our size. With the tight economic conditions facing global economies, countries will have to find creative ways to manage debt and while no one should follow in our footsteps on the path that led us to where we were, we have much to share on our path to recovery.
Our creative culture also offers the opportunity to become a hub for people in the creative industries. Jamaica could establish itself as a leading destination for creative minds to connect and collaborate. Considering our musical heritage, I've always imagined a future where musicians think of Jamaica as the holy grail, a place where they must visit and record a few songs to announce themselves to the world. A point of validity, in line with what Davos means to corporate leaders and government leaders. It's possible.
I was honoured to be offered a seat at the table as 1 of 50 members of the Forum's 6000+ member Global Shapers Community. We're called the Davos 50, a group chosen by the Forum each year, a stand out minority, in a gathering, which for the most part was much older than us, but extremely excited to hear our views as we reflected the voices of young people around the world. For me it was a dream come true. When I was in high school I used to watch coverage of Davos on television with awe, wondering how on earth was a kid from Jamaica ever going to qualify to access such an amazing community, but low and behold here I was, in the company of giants.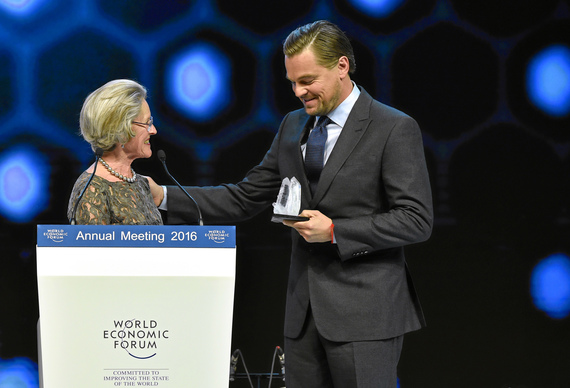 Photo: Leonardo DiCaprio accepts his Crystal Award from the World Economic Forum for his work in Climate Change
Just about every global corporation you can think of is represented and anyone you can think of was present from Bill and Melinda Gates to Vice President Joe Biden and Al Gore, HP CEO, Meg Whitman; IMF Director Christine Lagarde; Credit Suisse CEO Tidjane Thiam; Facebook COO Sheryl Sandberg; Former United Nations General Secretary Kofi Annan; Israeli Prime Minister Benjamin Netanyahu; UK Prime Minister David Cameron; Former UK Prime Minister Tony Blair; U2 front man Bono; Facebook COO Sheryl Sandberg; Hamdi Ulukaya, CEO of Chobani; African American Billionaire Robert Smith; Alibaba Chairman Jack Ma; Microsoft's CEO Satya Nadella, Salesforce CEO Marc Beneioff.
Kirk-Anthony Hamilton is an entrepreneur, investor and a World Economic Forum Global Shaper. He is the Founder of the Destination Experience and has been recognized as 1 of 75 Emerging Global Entrepreneurs by President Obama.
Calling all HuffPost superfans!
Sign up for membership to become a founding member and help shape HuffPost's next chapter