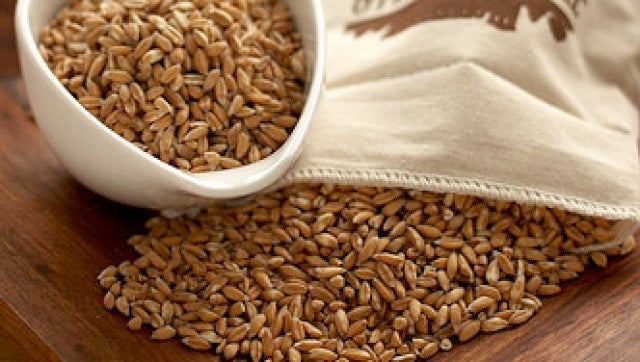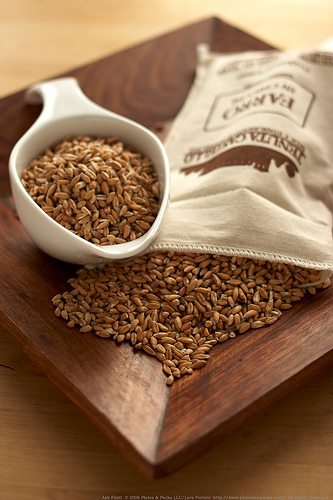 Farro seems to be taking over menus at every stage of the meal -- soups, salads, mains, and even desserts. But what exactly is farro?
Often used as a substitute for pasta or rice, farro is a grain with a nutty flavor similar to brown rice. It is rich in fiber, magnesium and vitamins A, B, C, and E.
Farro may seem trendy, but it's actually ancient. It was first domesticated 10,000 years ago in the Fertile Crescent, has been found in Egyptian tombs, and is believed to have sustained the Roman legions. Today, farro grows in the central and northern Italian regions including Lazio, Umbria, and Tuscany. Historically, these were impoverished areas, and the longevity of its people is sometimes attributed to farro.
True farro is Triticum dicoccum, also known as emmer. Its husk has two spikes. A similar plant, Triticum monococcum, has only one spike and is also called faricella, or "little farro." This has caused widespread confusion, leading Farro di Monteleone di Spoleto to seek the designation of the European Union's Protected Designation of Origin, similar to true Champagne from the Champagne region of France.
Adding to the confusion is Triticum spelta, or spelt. Though spelt looks similar, it is an entirely different grain and should not be used interchangeably with farro. The same mistake applies to barley; these "fake farro" grains act differently and are not suitable substitutions.
In Newport Beach, California, Italian-born brothers Domenico and Michele Maurici were so inspired by farro that they named their restaurant Caffe il Farro. Their specialty entrées include eight different farro pasta and farro risotto dishes.
Zuppa di farro, or farro soup, is a hearty specialty of Lucca, Tuscany. It is traditionally served with beans or lentils, but modern variations include sausage, mushrooms, kale, and squash. Celebrity chef Mario Batali's Eataly in New York offers a vegan Mixed Vegetable and Farro Soup with carrots, peas, leeks, and onion.
Even desserts are flaunting farro. It can be used for puddings, mousse, and sweet breads, or as a crunchy accent atop cheesecake or sundaes. Blackbird restaurant in Chicago seasonally offers a toasted farro pudding with cantaloupe cream.
Kimberly Kohatsu is the Managing Editor of the Menuism Dining Blog, the educational arm of Menuism.com, a popular website where a passionate community of foodies rate their favorite dishes and comment on restaurants they've visited. Kim is also a freelance writer and marketing consultant, whose recent dining adventures revolve around ramen, cheeseburgers, and fried chicken.
Correction: An earlier version of this post incorrectly stated that farro is gluten-free. Farro is not gluten-free.
Related