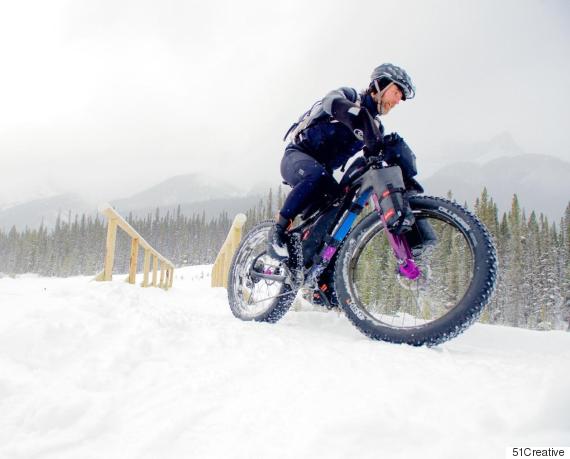 When the seasons change and flakes start to fly, most folks will sadly put their bike into storage. But what if there were a way to combine your love of riding with your love of snow? With the fat bike, there is.
So what exactly is it? We partnered with Travel Alberta to find out. In essence, it's a specialized mountain bike built to accommodate extremely wide and knobby tires, about 4-5 inches compared to a traditional mountain bike's 2.5. By running these ultra-wide tires at a low pressure (think 5 – 10 psi), they provide a ride that floats over soft terrain like sand, mud and snow.
The original fat bikes – not counting gold rush-era Klondike bikes or this amazing 1930s-era "bicycle fitted with balloon tyres" – first appeared in the 1980s as a grassroots evolution of the then-surging mountain bike craze to ride on sand and snow.
In 1986 French engineer Jean Naud had Michelin make special tires so he could bike across the Sahara. Around the same time, the Iditabike race, following a famed Alaskan dogsled trail race, the Iditarod, inspired riders to lash two or three wheels together to avoid sinking in the snow.
Meanwhile in New Mexico, a dune rider started manufacturing wide rims and wide tires, which found their way up to Alaska in the late 90s for use on custom-built snow bikes. Then in 2005 Minnesota-based Surly Bikes' released the Pugsley, the first mass-produced fat bike. Surly designer Dave Gray says fat bikes have since evolved for "racing, off-the-beaten-path exploration, groomed-trail riding, agriculture/industrial uses, hunting/fishing/foraging, electric motor-assisted riding, commuting, and off-road touring/bikecamping."
So they're not new, but fat bikes were thought of as a novelty before taking off in recent years. The Associated Press declared it "the fastest growing segment of the bicycle industry" while Outside Magazine called it "the hottest trend in cycling" and compared the experience to "a human-powered monster truck" and gushed over the "white Velcro" tire traction grip.
The appeal for bike-lovers is that they can safely ride through winter, whether it's their daily urban commute or hitting the trails and backcountry like they would during the rest of the year. But the surging sport is also attracting curious newbies because unlike, say, snowboarding, it's as easy as riding a bike.
It used to be an ordeal to lay your hands on a fat bike. Few shops carried them, or had maybe one or two in stock. Nowadays, you can spend anywhere from $1000 for an entry-level model to an eye-watering five figures for a full-fledged carbon fibre race bike. Many bike shops offer rentals, too.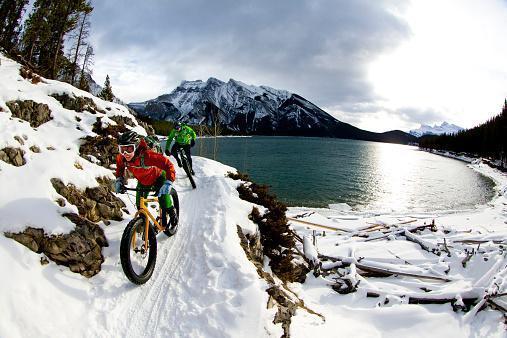 Alberta, Canada, among other winter sport destinations, has taken a leading role in boosting fat biking after watching it "grow exponentially for the past few years." To help extend their reach beyond ski hills, the province has been increasing access for those eager to try fat biking amidst the jaw-dropping Canadian Rockies.
Canmore Nordic Centre Provincial Park just adapted a series of summer trails for dedicated single-track fat bike use. Shared routes across the Kananaskis Country park system are also available, offering difficulty levels ranging from the beginner Bow River Loop and the intermediate Highline Trail to the advanced Goat Creek Trail.
Elsewhere in the province, riders can get their turns in at Bragg Creek within an hour of arriving in Calgary. The network of all-season and snowshoe trails is open to fat bikes, creating a nearly endless variety of rides. If you're the competitive type, and up near Edmonton in mid-February, you can even sign up for the fifth annual Blizzard Bike Race in Devon.If you don't have your own fat bike, Rebound Cycle in Canmore and Smack Cycles in Bragg Creek both have rentals, and many other shops may have one or two demo bikes. Your best bet is to call or e-mail ahead to avoid disappointment – and it's always a good idea to ask about local fat bike etiquette.
So don't be a seasonal cyclist stuck waiting for spring – hop on a fat bike this winter and hit the snow.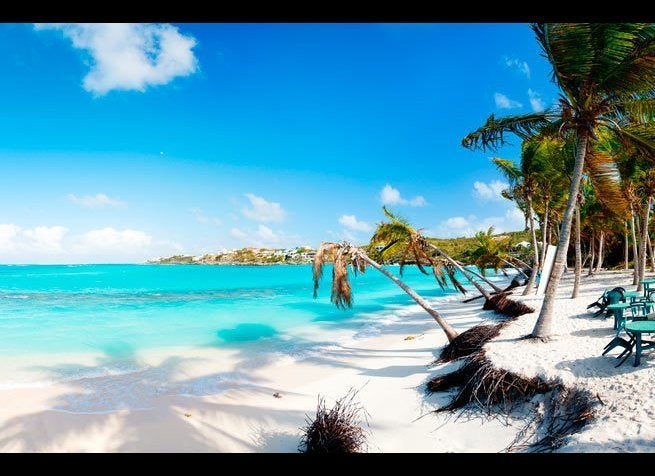 Under-The-Radar Vacation Destinations
Related