Funeral insurance can be confusing because it goes by several names — pre-funded, burial or final expense — but the policy is designed to cover the final arrangements for your body after your death whether that be burial or cremation.
Basically, funeral insurance is a type of life insurance but the policyholder in this case has a specific idea for how the money should be spent. Many life insurance policies cover a variety of expenses, such as college and paying off a house.
People often have a separate policy for long-term expenses and a separate smaller policy just to cover the funeral.
Nobody likes to think about funerals, especially their own. But if your family doesn't have thousands of dollars to bury you, pre-funded funeral insurance may provide an affordable solution.
Funeral insurance is designed for people who don't have money set aside to pay for their own burial costs and don't want to leave that financial obligation to their loved ones.
One reason people buy funeral insurance policies is because they don't want to be a burden to their families, says Paul Martin, a spokesman for Trusted Choice, an affiliation of independent insurance agents.
"I think that's a noble sentiment, particularly if your kids are struggling, too," Martin says.
A funeral can easily cause financial strain. The average cost for a funeral or cremation as steadily risen in the last couple of years. The conservative figure a few years ago was around $6,000, but that's no longer the case. According to Parting.com, the cost of a typical funeral in 2017 is between $7,000-$10,000.
Costs can broken down into the following categories, which don't include the grave space, headstone or digging the grave: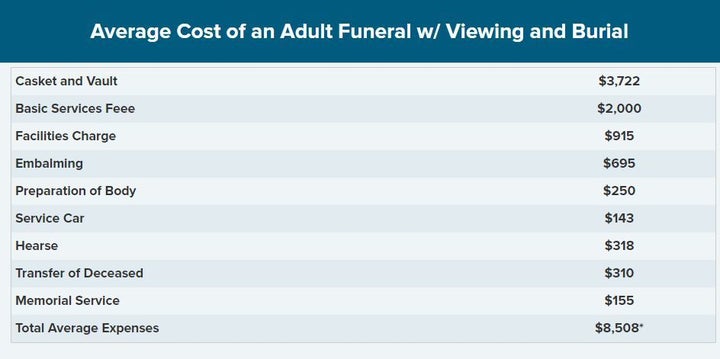 However, 50.2% of Americans are opting for cremation according to The National Funeral Directors Association (nfda.org*) and that number is projected to increase to 71.3% by 2030.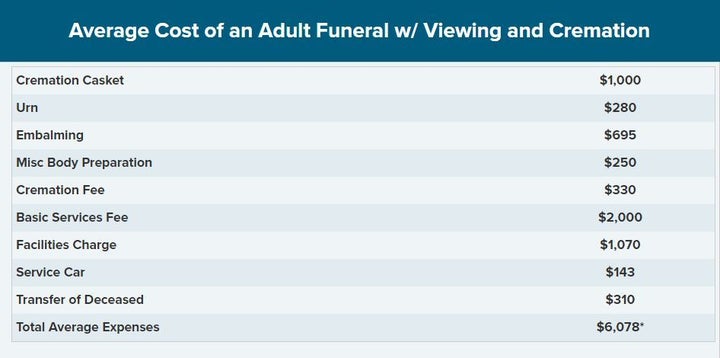 Life insurance and burial costs
Funeral insurance policies are basically small life insurance policies that can be used to cover the costs of burial expenses. However, unlike many traditional term and whole life insurance policies, they are "guaranteed acceptance policies," meaning you don't have to take a medical exam to be approved.
That means you can qualify for a policy whether you're 35 years old and healthy or 90 years old and terminally ill. Because the policies can be purchased by older or unhealthy people — who normally wouldn't qualify for a more traditional policy — the policies are expensive, Martin says.
On the surface it might not seem like you're paying a lot. For example, a person might be sold a funeral insurance policy that costs $79 per month — and that amount could fit in his or her budget.
However, that $79 a month might only qualify you for about $10,000 of life insurance, which for a young, healthy individual would be a rip-off, Martin says.
But if you can't get life insurance any other way, it's a good price, he adds.
If you're young and healthy, funeral insurance policies are not advisable because you can likely get so much more for your money. For example, a healthy 35-year-old woman might be able to buy $500,000 worth of life insurance for about $36 per month, according to Trusted Choice.
"That's a big difference," Martin says.
Another difference is that funeral insurance policies can be purchased for smaller amounts, such as $2,000 or $5,000, while traditional life insurance is typically available in larger denominations, such as $25,000 or more. Some policies have cash value accounts, meaning a portion of the premium grows tax-deferred and is available even if you cancel the policy.
However, because funeral insurance policies tend to be for small amounts, the cash value typically does not amount to much.
While funeral insurance policies are marketed as a way to pay for funeral expenses, you or your family can use the money for anything. When you purchase a policy, you select a beneficiary who will receive the money once you die. Since you're buying the policy to pay for your burial expenses, you might want to choose the person who will handle the funeral arrangements as your beneficiary.
Types of final expense policies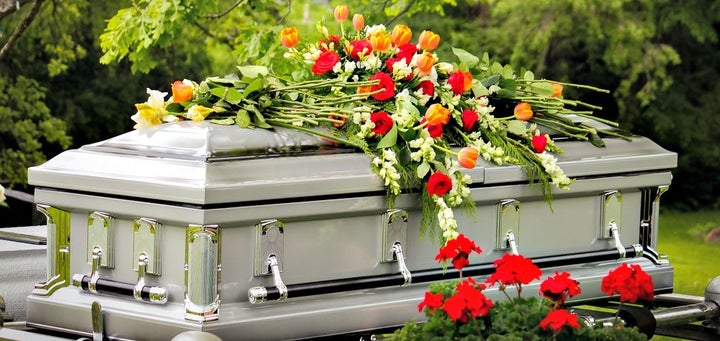 There are three ways you can set up final expense or burial policies:
First, is you can name a loved one or someone else willing to assume the responsibilities of paying your funeral costs, such as a close friend or even an attorney. The money is paid out to this individual who, in turn, is expected to cover the expenses of your funeral.
Or, you could chose to take out small policy with the funeral home, or funeral director, as the beneficiary. This is done with the understanding that the payout will be used to cover the expenses related to your burial or cremation. Any leftover funds are often designated to be paid to someone else.
Another option for paying burial expenses is entering into what's known as a preneed funeral agreement. These are contracts signed with a funeral service provider that allow you to pay for your funeral expenses in advance over time.
"It's a way to budget this expense," Martin says.
Insurance agents typically work with funeral service providers to sell preneed policies, which can be either guaranteed or nonguaranteed. A guaranteed policy is one in which the amount you pay will cover your funeral even if the cost of funerals rises before you die.
So in effect, you'll be paying today's prices for tomorrow's funeral. With a nonguaranteed policy, if the cost of a funeral increases by the time you die, your family may have to pay out of pocket to cover the difference.
Funeral insurance may not be the most economical option if you have years to plan your burial expenses. But if your time is limited, it can provide the peace of mind you need.
Laura Adams is a personal finance expert, award-winning author, host of the top-rated Money Girl Podcast, and insuranceQuotes' senior analyst. Join a growing group of thousands who are taking their finances to the next level in her free Dominate Your Dollars private Facebook group
Popular in the Community