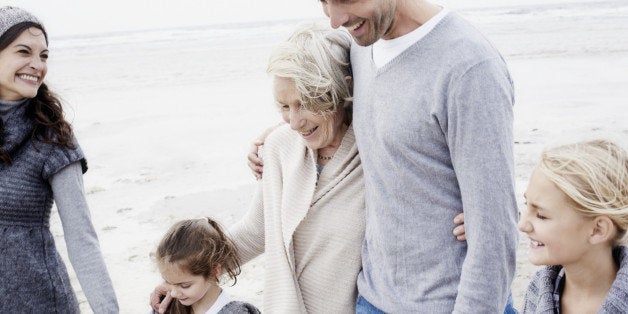 Last week I attended a very interesting event for grandparents at my grandson's elementary school. The people there were asked to share some of their concerns regarding the challenges of being grandparents. I was surprised to hear that my thoughts were not much different from the others in the room. One of the primary topics was the issue of respect and attention that is given to the older generation now as compared to when we were children.
When I was a little girl, some of the happiest memories take place in my grandma's house, not just for holidays, but for simply being together. The smells from my grandma's kitchen still comfort me as I try to create her recipes, sometimes to no avail! When my grandmother spoke, everyone listened to her because she was grandma. Usually, her input to family discussions held different perspectives that the others had, and usually they generated more conversation because we knew that her years had brought her wisdom that we lacked. When my parents were working, we went to grandma's house after school and waited for my parents to pick us up. Sometimes, when my mother became i8ll and had to be in the hospital, my sister and I had the security of spending more time at grandma's house until my dad was able to come to take us home. On weekends or holidays I remember the cuddles from my grandma as she sang me songs like "Ochi Chernie," a Russian folk song which means "Dark Eyes". I thought grandma's voice was about the sweetest sound in the world, and I always begged her to sing more, whether it was in English or Russian or Yiddish. It just didn't matter. Grandma was definitely the little matriarch in her four foot ten inch body. She taught me the value of being together, the science of worrying (Oy, I'm so worried!"), and the meaning of family. Naturally, I assumed it was going to be easy to be a grandma, because I had such a good role model.
I have found some real challenges, as did the others in my discussion group. We wondered collectively why we were not feeling that same distinction by the virtue of being the eldest generations in our families now. Didn't our children realize that our time was going to be shorter now that we were in our seventies? Didn't they want to hear about all of the things we have learned along the way? Wasn't it our time to be revered for all the effort and years we had put in? One Asian woman was really distressed because she said she thought it was cultural, being in America; however, she was surprised to find that everyone in the group had similar issues, no matter where they originated. Some of our children's spouses had never grown up with grandparents. Some of them simply wanted to connect with their biological grandparents so they could emulate only them. Some of the grandparents felt that they were simply not particularly important in one way or another. Those grandparents who assumed they would be the hub of the family for gatherings like Thanksgiving voiced disappointment in feeling that they were just an afterthought for an invitation!
I left the meeting feeling grateful for my children and my grandchildren, but I wondered if any of the above situations would happen to me. How foolish of me...I am the matriarch who wants so much to contribute...or am I? I guess time will tell!