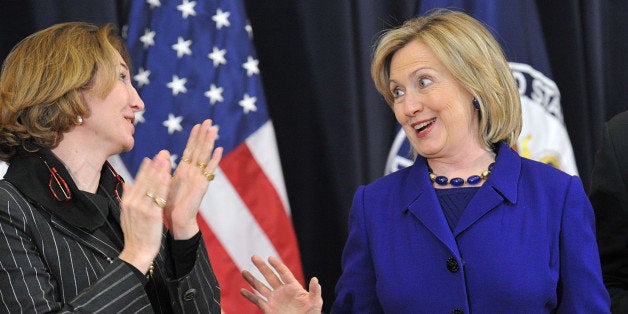 In addition to revealing the relentless pressure Clinton felt with every public comment, it shows the continuing struggle women of all ages and stations of life feel about finding the perfect work-life balance. Even with her exhaustive and much debated Atlantic article, "Why Women Still Can't Have it All," we are left with the unanswered question: What does having it "all" look like?

During the past decades, the ideal woman's life has morphed from contented housewife, to successful professional, to master juggler who learns to work between naps and kids' games. In each of these scenarios women, and the men and children in their lives, veer between feelings of having achieved what people say creates happiness and the void of not truly mastering lasting joy and fulfillment. In each of these integrations of the way women live, there is a shortfall of the things we want most -- peace, well-being and joy.

There are three essential issues that are missed in this discussion and until they are addressed nothing will change for woman and our society:

1. Change your definition of success: Every measure discussed by the political and economic elite has to do with hyper-masculine principles around the consolidation and wielding of power. While competition and innovation are important, they are not the be-all and end-all of success. Integrating contribution to others, impact on community, quality of relationships and creativity in our definition of success adds vital elements of happiness. Once these factors are truly integrated into the success formula, a variety of choices become more accessible for women and men as they proceed through their careers.
2. Be happy with your choice: Much career advice hinges on the belief that you must sacrifice something in the present to achieve something better in the future. In 25-years of guiding people in realizing their full leadership potential, I've never encountered a situation where enduring something unpleasant was the way to create success. What is important is enjoying, thriving and being your best, where you are, right now. How different would women feel if they were encouraged to enjoy each stage and phase of their life and career? Want to fully devote yourself to your work? Great! Want to take a few years off to be with your family? Terrific? Want to work part-time? Good for you! Instead, it seems women are encouraged to constantly judge themselves and their choices against others who are choosing differently. This phenomenon is corrosive -- harming and hindering the success of all women.
3. Know yourself, be yourself: The final way women are trapped in the conversation of "having it all" is that we keep trying to find a one-size-fits-all solution. Like the emergence of a broader acceptance of women's appearances as evidenced in the 2016 Pirelli calendar; is it not time to allow women to make a wide variety of career and life choices that best fit her, her relationships and her family? The ultimate in women's liberation will come when we accept all the choices women make as what is best for her at each stage of her life.
It will come as no surprise that I see each of the above factors as essential to leadership. Leadership that is based on knowing who you are, what you want to contribute and aligning your life with these truths. When women harness these principles, life will not only change for them -- it will change for the men with whom they live and work and the children they are raising to lead us into the future.

For me, I managed to walk many lines in my work-life balance choices. I started my career early and had my first child in my late 20s. I ran my business from my home after my sons' were born. I navigated travel and clients around my children's schedules and have lamented not being as "far ahead" as a result. I am approaching the time when my children are leaving home to start their adult lives; I am eager for what lies ahead for me professionally and personally. And if there is one thing I would change from the past 18 years, it is this: I wish I had spent more time enjoying my choices, instead of questioning them.

It is an important leadership lesson for me and one I intend to share with others. With this leadership insight it reveals how women can change the world -- for themselves and those they care for and about.
Calling all HuffPost superfans!
Sign up for membership to become a founding member and help shape HuffPost's next chapter