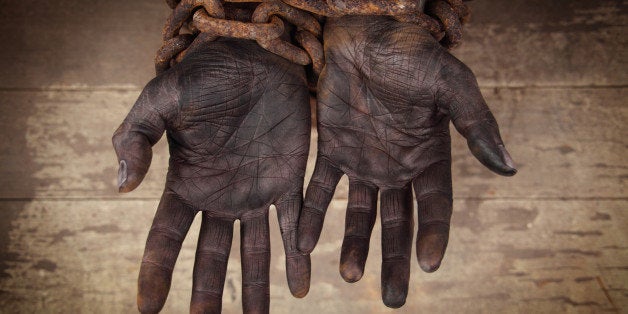 In this season of turbulence, Americans have been thrust into a national discussion on racism. As a result, Americans are increasingly opening their eyes to the negative symbolism undergirding many of our institutions. This has caused an examination of the names, insignias and icons of an unequal and unjust past.
Through the use of symbols, society makes a statement concerning its past, present and future values. In the process, the U.S. reinforces to the world--and to ourselves--its priorities and aspirations. We reach back into history and present the living with our immortal heroes, and provide past evidence of our enduring beliefs, just as we offer lessons to future generations on the type of nation we hope to become.
One outgrowth of the debate over racial injustice has been the effort to rename monuments with racially offensive names, faces or connotations, and to replace symbols that have reflected a painful, objectionable and often unacknowledged legacy. A most potent example is the removal of the Confederate rebel flag over the South Carolina state capitol in July of this year, following the Charleston massacre. Southern states had resurrected the flag--an emblem glorifying slavery and domestic terrorism--in defiance of the U.S. Supreme Court desegregation decision in Brown v. Board of Education.
Most recently, university campuses have become a battleground over timeworn symbols that embody the promotion of racial injustice as a virtue.
Harvard Law School has formed a committee to examine the continued use of its seal, which is the family crest of Isaac Royall Jr., who owned dozens of slaves and made his wealth through the slave trade. At Harvard Law, where portraits of all of the African-American professors were vandalized in recent weeks, one portrait which remained unscathed was that of U.S. Supreme Court Chief Justice Roger B. Taney. Author of the seminal 1857 Dred Scott v. Sanford decision, Taney wrote that blacks "had no rights which the white man was bound to respect."
Students at Yale University--whose campus has been embroiled in conflict amid charges of racial insensitivity--have called for the renaming of Calhoun College, a residential undergraduate college named for John C. Calhoun. The seventh vice president of the U.S., who served as a secretary of state, secretary of war, a U.S. Senator and a member of Congress, Calhoun was an ardent supporter of slavery who called the dreaded institution a "positive good."
Meanwhile, a group of Princeton students called the Black Justice League staged a sit-in in the office of the university's president Christopher Eisgruber, demanding diversity and inclusion reforms, including the removal of the name and imagery of Woodrow Wilson from all university buildings and institutions. President Wilson was virulently racist, even for his day. Under his leadership at Princeton, not a single black student was enrolled. After he was elected president, Wilson segregated the federal government, declaring: "There are no government positions for Negroes in the South. A Negro's place in the corn field." A defender of the Ku Klux Klan, he enthusiastically approved of the film The Birth of a Nation, screening it at the White House and declaring: "It is like writing history with lightning, and my only regret is that it is all so terribly true."
Lawmakers are playing a role in removing these offensive symbols as well. Rep. Steve Cohen (D-Tenn.) introduced a bill to remove the name of J. Edgar Hoover from the FBI Building. "The civil rights we enjoy today are in spite of J. Edgar Hoover, not because of him," said Cohen. "Given his well-documented abuses and prejudices towards African Americans, gays, and lesbians, I believe it is past time to remove his name from this place of honor." As FBI director, Hoover engaged in the surveillance, infiltration, discrediting and disruption of civil rights groups, and the destruction of black leaders through his COINTELPRO program. On December 4, 1969, the FBI conspired with the Chicago Police Department and the Cook County State's Attorney's Office to assassinate the charismatic Black Panther leader Fred Hampton, killed in his home in a hail of 90 bullets.
And state Sen. Ted Kennedy, Jr. (D-Conn.) called for the renaming of a state landmark--a navigational buoy called "Negro Heads"--on the grounds that the moniker is racist, and times have changed.
Student protesters, who face institutional discrimination and inequity on campus, seek justice and a reckoning with a troubled past. Critics are shortsighted to dismiss these students and characterize them as politically correct whiners--overly-sensitive and over the top--and claim that somehow, the achievements of problematic historical figures trump their misdeeds.
Institutional racism thrives because of the badge of slavery, which criminalizes and dehumanizes black people, and renders them inferior in the eyes of society. This badge brands African-Americans as deserving less than that which full citizenship bestows. Eradicating institutional racism requires removing the badge, along with the old symbols of oppression that have been so ingrained as to become normalized.
Americans are being challenged--if not compelled--to examine systemic racism and white privilege, and the inequities of the justice system, in policing, on college campuses and in other facets of society. If we are diligent, we may find ourselves further down a hard road to reassessing many of the nation's practices, customs and institutions in a new light and with a new perspective, and placing ourselves on the road to reform--and for the better.
Popular in the Community