What is Inbound Marketing?
I received several emails regarding my last post, (a report on Hubspot's Inbound 13 conference) for which I am grateful. This is a continuing learning experience for me. In the previous post, the assertion was that traditional marketing -- direct mail, telemarketing, TV and radio ads -- if not dead, is certainly dying. We have entered an entirely new business model phase. Marketing has been transformed from "interruption" marketing, represented by the old, to "permission" marketing, a term used by Seth Godin (see below) to define the new.
This is a strategy that raises the level of engagement with the "the human on the other end" to build trust. Focus on the relationship. Educate. Give.
Here is an example of an email from Dr. Stan Mandel head of the Angell Center for Entrepreneurship at Wake Forest University: (Full disclosure -- Stan and I serve as volunteers together for a NC Piedmont Triad organization called VentuRealization -- to encourage and support entrepreneurs in the community.)
"'That is a great piece...congrats... ...but as I read, I saw what inbound marketing was not, but what is it?...is it the permission marketing you mentioned via Seth?' ....Stan"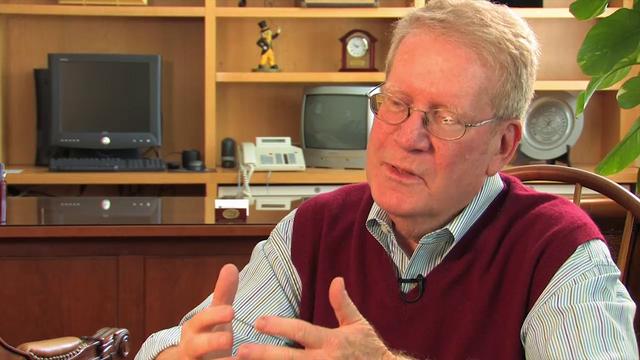 Dr. Stan Mandel
This question raises a couple of issues. First of all, Stan's diplomacy is appreciated because obviously it isn't "a great piece," if I failed to explain Inbound Marketing effectively. I am a now Certified Inbound Marketer for heaven's sake. Whew! This is why I like about blogs..... We have another chance.
Secondly, there were 5000 people at this conference in Boston and a significant portion of these folks would be more effective explaining this topic. He didn't ask them. He asked me. There are still many, many people who have not been exposed to Inbound Marketing. We ALL have our unique audiences -- our "tribes". (another Seth Godin concept). "Permission Marketing"is a guiding principle of Inbound Marketing. What does that really mean?
Below is a simple graphic describing the "science" of Inbound Marketing created by Hubspot. One thing you have to admire about Hubspot is they practice what they preach. The support and intense continuing education they provide their users is better than anything I have seen in my many years in the technology business.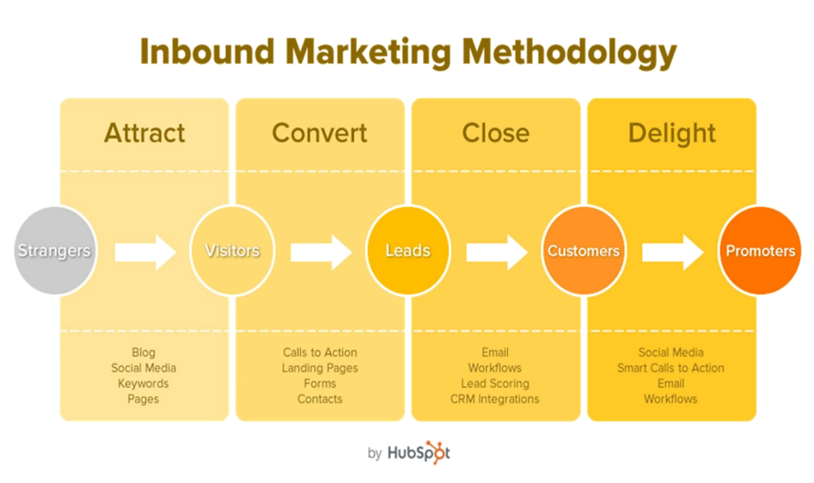 A successful Inbound Marketing campaign...
attracts strangers and makes them visitors,
converts visitors and makes them leads,
closes leads and makes them customers,
delights customers and makes them promoters.

These are the ingredients but obviously there is an art to it as well. How do we create remarkable content, great blogs that attracts the stranger, the "door-opening" landing page that produces a lead, or engaging email campaigns delivered as a "gift." This is a process we will be learning together as I blog about our own personal experiences.
1) Know your targeted audience -- different from target market when you create this specific content know who your audience is
2) Create unique personas - a fictional character that represents who you are addressing. (For example we sell fleet management software -- a persona for us might be a 45-year-old man who is a second generation fleet owner with 30 - 75 trucks who likes car racing, fishing, country music and motorcycles. He's concerned about getting and keeping good drivers, the price of fuel and profitable loads.) Most businesses have between 3 and 5 personas that make-up their targeted audiences.
3) Know where they are on the above chart - obviously, someone in the initial stages research on your service or product is different from someone who has already done the research and is ready to buy.
4) What are his/her greatest concerns?
5) What is the best way to engage with him or her?
6) What might he or she search on (keywords)

In this Ted talk Seth Godin talks about tribes (click here). Tribes are groups of people large or small who share the same values and ideas. Tribes and the internet permit ordinary people to assume leadership roles. This is still one of my favorite TED talks and an important moment in defining this "sea change" in marketing and in business in general.
What tribe or tribes do you want to influence? I hope this sheds some light on the subject.
Related
Popular in the Community