It was Mark Twain who once said, "If you tell the truth, you don't have to remember anything."
I urge you to see Twain's words proven with extraordinary power and gusto at the Cort Theatre while such a powerful testament still enchants the streets of New York. There is everything indecent about Paula Vogel's INDECENT. It is truth - all of our truths - exposed, laid bare, vulnerable, real, and creating spectacular theatre at this very moment.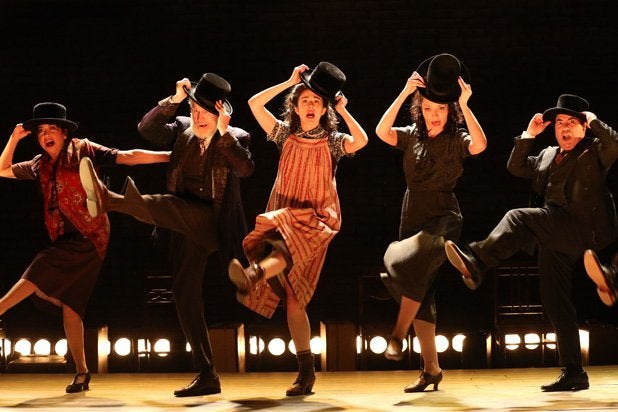 Vogel, a prolific woman playwright making her long-overdue Broadway debut with this groundbreaking Jill-of-all-trades work, tenderly addresses a letter to the audience in the Playbill for INDECENT:
"There is a story we want to tell you."
Both the urgency and universality with which INDECENT is told becomes strikingly clear, making the 105-minute intermission-less performance fly by.
As we read the program, we notice that we are not the only observers in the night's crowd. The cast rises from chairs that line the stage, ashes falling from their clothing, as they step onto a platform that is bound to deliver audience-wide chills by the play's poignant end.
"We are the first generation that gets the chance our parents never got. To tell our stories."
And isn't that what we all hunger for in the end? To keep our stories alive, and have some means of documenting, however possible, that we once existed, and somehow made an indelible mark on our world?
This guiding question is the powerful force that enables INDECENT to transcend all labels, genres, and loglines. This play tells a powerful and moving story of the enormous difficulties writers and performing artists must endure in a constantly changing and often cruel world; but also of their joys and triumphs, and of the durability and continuing relevance of the art they produce.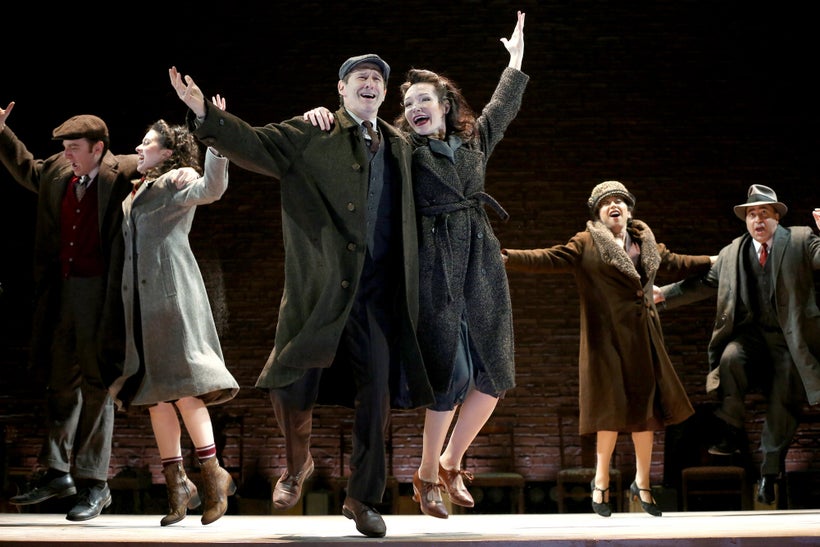 INDECENT is also a stunning piece of theater and stagecraft; a brilliant mix of words, music, and dance. The rain scene between the two girls, which we also see repeatedly, (and I'm sure you've heard about by now) is still, after 107 years, something shocking, beautiful and sacred. It's a visceral, tactile image that tickles the senses and will stay with you long after the show is through. There is such astonishing power of Vogel's Broadway debut - and did I mention that INDECENT contains a completely original score? There is scandal, history, more relevance than I've seen from any contemporary play or musical. There is abounding humor, plentiful moments of awe, heel-kicking live music, and most importantly, great entertainment.
Because I am also a playwright influenced by similar themes which drive Ms. Vogel's epic work, I would be remiss if I didn't mention the brilliant theatricality, which served as a delightful surprise throughout, whether you get "theatre" or not. The lighting alone is not to be missed. There was one particular moment when Adina Verson stood in the center, as another individual changed her costume. Everyone continued to move around her, as a singly light solely highlighted her, as if to pierce through her commanding presence on stage. Suddenly, attention was paid to her transformation into a different character as the chaos encircled. The movement direction as a whole in this piece was gorgeous, truly organic and created a vocabulary amongst themselves that one recognized as an audience member, and accepted throughout the show.
The multilingual nature of the play was potent, impactful, and gifted the audience with better understanding of what it felt like being an outsider in their various communities. This rather brilliant device used by Vogel, which can frequently come across as unnecessary or gimmicky in other dual language plays, was entirely purposeful and created a camaraderie and group spirit amongst audience and cast.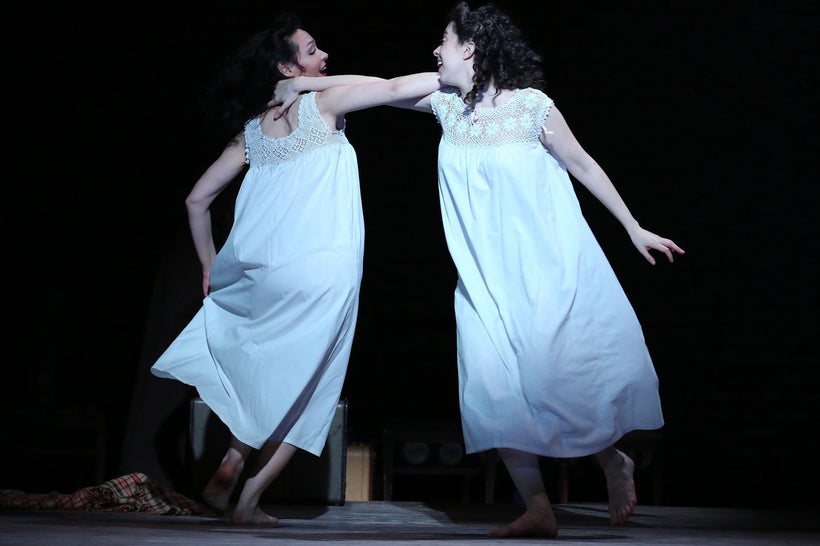 INDECENT has no singular protagonist - it was such an ensemble so tightly woven together, that you had no choice but to root for the whole troupe. Just as creating theatre is a group effort, this play, unlike many other plays where I've felt appreciative, yet subjected to the outskirts, allowed both theatre-goer and theatre-maker to engage with the space. INDECENT - in every aspect possible - is a play which bridges divides. It is an important play - and perhaps even more vital - a good one. It's a story that needs to be told, and a play that must be seen.
"Why must every Jew on stage be a paragon?" Asch asks the scandalized writers.
"You are pouring petrol on the flames of anti-Semitism!" Peretz responds.
"When?" Asch, wounded, lashes back. "When will be the right time?"
Maybe there will never be the right time. Maybe it takes one fearless trailblazer to make the right time.
And maybe, when this path is marked, others will follow.
Ms. Vogel has done precisely that, and enough have followed, so wholeheartedly, in fact, that the show has been extended until August 6th.
This is more than "a few extra performances to catch." This is a call to action - a chance to bear witness to story, to participate in a dialogue...and to see some damn good theatre that dares to do it all...and succeeds, more than decently.
That is the best possible indecency I can think of - brilliant, arousing, landmark theatre.
Please, catch it while it's here...and maybe we can all make INDECENT a memory lives our its legacy.
Indecent (Buy tickets here)
Cort Theatre 138 W. 48th St. (Midtown West)
Category: Broadway, Drama, Play
Runtime: 1 hr. and 45 min.
Credits: Written by Paula Vogel; Created by Paula Vogel and Rebecca Taichman; Music by Lisa Gutkin and Aaron Halva; Choreography by David Dorfman; Directed by Rebecca Taichman
Cast: Katrina Lenk, Mimi Lieber, Max Gordon Moore, Tom Nelis, Steven Rattazzi, Richard Topol and Adina Verson Preview: April 4, 2017 Opened: April 18, 2017 Closing Date: August 6, 2017
Upcoming Shows: Tuesday July 25 7:00 PM Wednesday July 26 2:00 PM Wednesday July 26 8:00 PM Thursday July 27 7:00 PM Friday July 28 8:00 PM
Amy Oestreicher is a PTSD specialist, artist, author, global TEDx speaker, survivor, award-winning actress, contributor to over 70 publications, and playwright. She is currently touring Gutless & Grateful, and developing FIBERS, a play to honor her family's survival through WWII and immigration to New York. More at amyoes.com.
Calling all HuffPost superfans!
Sign up for membership to become a founding member and help shape HuffPost's next chapter
This post was published on the now-closed HuffPost Contributor platform. Contributors control their own work and posted freely to our site. If you need to flag this entry as abusive,
send us an email
.