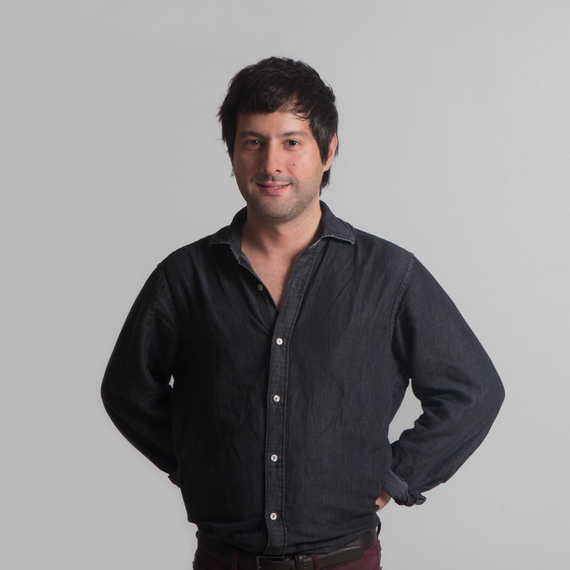 "Why write about a dealer when you can write about the artists?" Asked me someone I bumped into at the opening of the Whitney Biennial in New York, when I told him I was there to interview Francisco Javier Rovira. And sure, I totally got his point. But lately I am exploring experiential paradisiac concepts, I guess.
There is definitively something about Roberto Paradise, this gallerist's alter ego and the name of his art dealership business. His clever brand -- a hyper chromatic name that could belong to a Latino, American or European guy, straight, gay or bisexual, a state of mind, or a sailboat -- summarizes the vision and winks to the strategy of an art lover who, at a very early age, discovered his passion for that world, but realized he was not an artist himself, and consequently embarked on a mission to become the art business person his time, context and situation called for.
Initiated as an intern at the Ronald S. Lauder Collection in New York, Rovira later worked at the Contemporary Art Museum of Puerto Rico, the Isabella Stewart Gardner Museum in Boston, and M&M Proyectos, back in his native San Juan. All before taking the plunge in 2003, at 26 years old, when he founded "Galería Comercial" in the island: a space that housed a whole new breed of art in a place that suffers no shortage of talent. If anything, the opposite is true. Although it rarely creates the international splash his project was able to generate in a very short time.
Now I operate with a business mentality but, back then, not at all. It was all impulse, creativity and a big mouth to talk, because I was convinced that was exactly what was missing in that moment and in that context in the Island. I didn't sell anything, of course, except for a piece here and there to my mom and an early collector, but I didn't really care.

That, and the economic crisis, accelerated the closing of the project in 2008. But after a hiatus in the marketing and advertising world, he refocused all energy in "the" mission. And in 2011, Roberto Paradise, resurfaced both as a gallery space in Puerto Rico and a sort of invigorated agent provocateur in the international arena.
Some people think Roberto Paradise is a very well connected silent partner that relies in Rovira's young drive. Others speculate that he is a big European collector that thought Puerto Rico was the place for the perfect art gallery. A twin brother himself in real life, Francisco Javier Rovira is used to live having an identical person roaming around him, so he assumes the increasingly growing figure of his alter ego with an impassive nonchalant manner.
This relative newcomer to the contemporary art global circuit has proven irresistible for its movers and shakers. Which doesn't mean he is the new Leo Castelli. But we all know it's a jungle out there, and there is a sort of Quixotic quality in Rovira's quest, because he comes from a very peculiar latitude on Earth, a Caribbean island trapped in a political limbo. And yet, this now 37-year-old man with good boy demeanor and inquisitive eyes, has managed to create a unique art dealership brand in a highly volatile and competitive business, able to sell the experience as the message, opening the door for a handpicked group young of contemporary artists, both from the island and others that have adopted the place as a creative mecca, putting Puerto Rico on the global map right at a time when it is navigating a crippling economic crisis... Not too shabby at all!
While sitting in a corner of the Whitney Café, waiting for a table, Rovira talks about his sort of road to art paradise, with Breaking the Ice by Radamés "Juni" Figueroa, the piece of one of his represented artists, in the background. It is fair to mention that yet another remarkable piece by fellow Puerto Rican, Pedro Vélez, made the event this year, and they both have captured the attention of the art world based on their own undeniable merits.
It might be because it is the third time he attends the event representing a participant (Chemi Rosado Seijo in 2004 and Bubu Negrón in 2006), or because of the trail blazing trajectory of his artists in Nada Art Fair (Miami and NY), Madrid's Arco (Spain), Art Rio (Brazil) and Pinta (London and NY). The fact is Roberto Paradise (now it is impossible for me to distinguish him from Rovira) has whatever it is it takes to make it in the art business, so we talk about it:
I tend to work with artists that, I realize, can only be artists, they cannot do anything but to create, whatever happens in their careers. In art fairs, that transpires as contrast between the artists, the gallery and everyone else. And that is what gets media coverage and eventually generates commercial success.
"Puerto Rico has more artists and collectors by square feet than any place on Earth" and he seems determined to continue using his energy as a catalyst for the exchange between the island and the world. Member of the prestigious "New Art Dealers Alliance" since this past February, and with his first baby on its way, motivations are high for Roberto Paradise in 2014.
After talking for a while, we join a group of friends and enjoy the exhibition until we bump again into the mutual acquaintance who shoots at him, sort of joking about it, "I was badmouthing you before!" To what Mr. Paradise replies, steadily, cool as a cat: "Oh, it really doesn't matter."
Calling all HuffPost superfans!
Sign up for membership to become a founding member and help shape HuffPost's next chapter