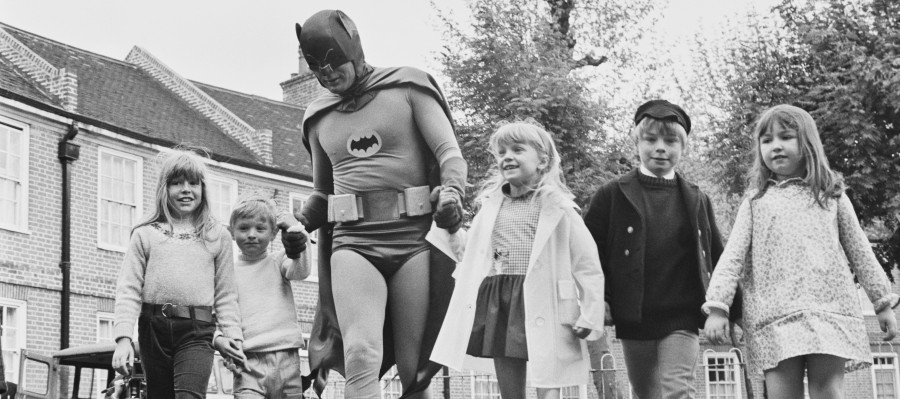 Ever wonder what it's like to be a superhero? Mark Edlitz certainly has. Edlitz's new book, How To Be A Superhero, is full of original and repurposed interviews with dozens of actors who have played superheroes or villains. Though they only donned the cape or suit for just a short moment in time, these actors have a lot to say about what it feels like to possess superhuman abilities.
"My goal was to speak to the actors when they were not promoting a specific project so that they would be more open to actually revealing something about their experience," Edlitz told The Huffington Post in a recent interview. His book, which has a foreword by Pulitzer Prize winner David Mamet, can be pre-ordered from BearManor Media.
Here are some of the things Edlitz learned from actors who have portrayed the Caped Crusader, both by conducting original interviews and researching those from the past.
Image: WikiCommons
Adam West played the character for 120 episodes of "Batman" from 1966-1968. Before the success of his hit show, low sales and waning interest actually threatened the "Batman" franchise's existence, which was at the brink of cancellation.
Without West, the Dark Knight may have been long forgotten before the other actors on this list had the opportunity to play the part.
The actor told Edlitz that he believes the success of his interpretation came from being sincere, not solely goofy. "In my case, I reasoned that if I played Batman with utter sincerity -- in that he doesn't think he is funny -- and occasionally with a little wink to the audience, then I could be absurdly big with the character." West said. "Those characters became almost Shakespearian."
Top Quote: Total Film, 2011. Image: "Batman & Robin"
Perhaps George Clooney, along with fans of the series, would rather forget this performance in 1997's "Batman & Robin." As Edlitz notes, it was so bad that afterwards, superhero movies went out of style for almost a decade.
Clooney explained how the disastrous role first came about in an interview with Total Film in 2011, saying, "The truth is, my phone rang, and the head of Warner Bros said, 'Come into my office, you are going to play Batman in a Batman film.' I said 'Yeah!'"
Even though Clooney felt his Batman wasn't all that great, he was still grateful for what the part did for his acting career. Telling Total Film in 2011, "Batman is still the biggest break I've ever had and it completely changed my career, even if it was weak and I was weak in it." Though, the suit may have been a bit much ...
"They put nipples on the Batsuit," Clooney joked with James Lipton in 2012. "I didn't know why they would do that. If Batman had to wear the suit that [I] had to wear, everyone would die."
Image: "Batman: The Animated Series
Though often neglected when considering the famous Batmans (since he was a voice actor), Kevin Conroy has actually played the character the most. Conroy's work has shown up in over a couple dozen Batman titles including the various animated series from the '90s and the latest series of video games, such as the recently released "Batman: Arkham Knight."
As Edlitz writes, Conroy has become "Warner Bros. Animation's 'go-to guy' to play Batman."
Like West, Conroy also thought his take on Batman was Shakespearian, likening it to "the Hamlet story."
Coincidentally, Conroy also almost shared an apartment with his school friend Christopher Reeve, who would eventually play Superman.
"Chris was at Julliard when I was there. I was seventeen, and he was a few years ahead of me in school," Conroy told Edlitz. "We considered sharing an apartment at the time. Chris wanted to rent this wonderful loft in SoHo, but I just didn't have the money. We were friends. I did end up rooming with Robin Williams because we were in the same financial shape."
Top Quote: BBC, 1992. Image: "Batman"
Michael Keaton famously alluded to his past as the Caped Crusader in last year's Oscar-winning "Birdman," harping on the hard time fans had in telling him apart from Batman. Though, Keaton only played Batman in two movies: "Batman" (1989) and "Batman Returns" (1992), both making over $675 million worldwide.
Keaton explained his take on the role to Playboy in 1992, saying, "He's essentially depressed and a little nuts, real dark, and a couple of steps off. Yet, at the same time, he's not off at all ... and he's focused. Bruce Wayne gets real focused when he sees a woman he's interested in."
The Batsuit was extremely hard to move around in, with Keaton telling the BBC in 1992, "It's very constricting from actually the top of your head to the tip of your toes." Even so, Keaton fondly recalled his hero, The Joker Jack Nicholson, telling him to let the suit do the acting.
Top Quote: BlackFilm, 2005. Image: "Batman Begins"
Christian Bale's much celebrated take on Batman played out over three films, "Batman Begins" (2005), "The Dark Knight" (2008) and "The Dark Knight Rises' (2012). Batman had never been more demonic than when the former "American Psycho" star took on the role.
As Bale told BlackFilm in 2005, he felt he had to take the character to a darker place than ever before. "To me, like just standing there in the Batsuit, I felt like an idiot on his way to a Halloween party, and that's the way he's often been portrayed ... It just wasn't savage enough for what to me that Batsuit felt like it had to be."
Bale continued, saying: "It was his demonic incarnation and the way that he channeled all of his negative emotions and rage so that he was able to function in regular society as Bruce Wayne."
He also told IGN in 2005, "I think because he channels his rage so much into the Batman character and reacting that as a creature and a kind of monster, that in a way it's demonic therapy."
Calling all HuffPost superfans!
Sign up for membership to become a founding member and help shape HuffPost's next chapter
BEFORE YOU GO
PHOTO GALLERY
Who Played Batman The Best?