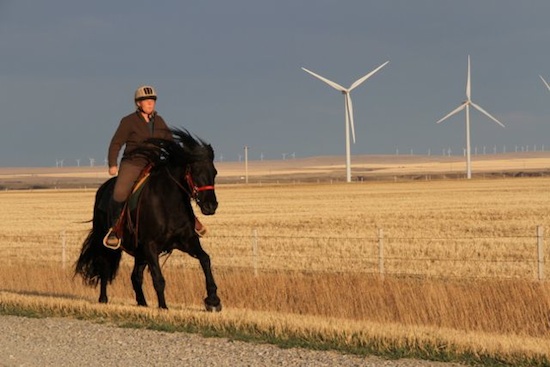 Heidi Eijgel (pronounced eye-gel) is an Alberta horse farmer who lives in the last house at the end of a gravel road surrounded by one of the largest wind farms in Alberta - and she's ok with that.
She moved to the windy prairie of Pincher Creek from the intensely developed Fraser Valley in British Columbia, attracted to the beauty of the fescue prairie landscape and to be close to her husband's family.
Their property is called Windy Coulee Canadian Horses and they raise well-trained and tough riding and driving horses. Only an hour away from rugged Waterton National Park they're built to handle the rough backcountry and Eijgel prides herself on the fact that a 20-mile mountain ride is a cakewalk for her stout, muscular horses.
Heidi trains horses, but she is also passionate about the environment. Her and her husband put a conservation easement on their land to protect the natural fescue prairie and riparian habitats and she can wax lyrical about the health benefits that horses get when eating native grasses.
They even approached a wind energy developer to see if they could have project on their land. Unfortunately, its location ruled it out. Being in a coulee, a deep prairie valley, means the wind is too turbulent for wind energy development. That doesn't mean it isn't windy though, it's enough to knock you over on a windy day.
In 2003, the 70 megawatt Summerview wind farm was built adjacent to Eijgel's property. She has been peacefully co-existing with that wind farm since 2003. In 2010 an additional 66 megawatts of wind energy was installed. We went to Eijgel's horse farm northeast of Pincher Creek to find what that it was like to have a wind farm developed next door.
Your Friendly Neighborhood Industrial Wind Turbine
When the Summerview wind farm was proposed Heidi had some concerns.
"I was worried about a lot of things, the fescue grassland, which is the native grassland around here is one of the most invaluable remnants of nature left. It's unbelievably beautiful and it hosts many birds," said Eijgel.
Concerned about the wildlife impacts Eijgel did her homework. When the time came for a meeting with the developer she was ready.
"The nice thing about it is that the questions were answered right away," said Eijgel. "We met with someone who knew everything about wind farms and they brought up some things that we weren't really aware of."
"I did have a concern about noise and they related the noise that we might expect to hear to be comparable to the refrigerator in the house," said Eijgel.
Since then about a dozen wind large Vestas wind turbines were constructed within 1.5 km of her home, the closest being 700 metres.
By sheer chance at the same time an oil and gas company wanted to drill for sour gas on their property. After multiple meetings she still wasn't happy due to an inadequate plan to deal with her horses in case of an emergency.
"I was stressed and in tears many times talking to that company afraid that I might have to leave my farm because I didn't want to live in an emergency evacuation zone. The wind company was almost a relief to talk to. One meeting at our convenience and it was great."
If an oil and gas company has the mineral rights to a piece of land, property owners are obligated to negotiate with and accommodate the development. It's a far cry from wind energy where developers have to be invited onto the land in order to develop the resource.
Lawnmowers, traffic, blenders and wind turbines
It might seem obvious to say but the wind is a rather loud weather phenomenon. It's no rolling thunder, but when the wind is blowing it's easy to underestimate just how loud the wind it can be.
When the wind is really blowing all Eijgel can hear is the wind in her ears or if she's inside, the wind hitting the house. During low winds she can hear the turbines and she likens them to a train off in the distance. Like the wind though, they've become background noise for the area.
The design of their house ended up working to their advantage as well.
"Once the wind farm was here we realized that we had built our house very well. Not that we planned it but with our windows facing east and the wind farm upwind of it we really do not ever hear wind turbines in our house."
Eijgel says they'd run into the researchers along the road at night and "they invited us in - you could see little blips of the bats flying."
By not allowing the wind turbines to turn in low winds the researchers were able to reduce bat fatalities by 57 to 60 per cent.
So is Eijgel comforted that the birds and bats are ok?
"I think people need to keep watching and people need to keep monitoring," says Eijgel.
Alberta horse farmer tours Ontario
With nearly a decade of experience living next to a wind Eijgel was invited by Tim Weis of the Pembina Institute to head to Ontario on a speaking tour. .
At a series of three presentations in London, Grand Bend and Chatham-Kent a vociferous group of anti-wind protestors traveled from meeting to meeting to protest, heckle and disrupt the presentations.
A reporter at the Lakeshore Advance wrote: "One (audience member) told QMI Agency he has never been so embarrassed by a group of adults who could not control their tempers. At one point the OPP (Ontario Provincial Police) was called to control the irate crowd.
The reporter continued: "During the chaos, a former educator from Exeter said he attended so he could hear what was being said and if people wanted to behave in this manner they should leave. He said the average person is 'not radical and wants to hear the information.' The loud objections to the meeting did not stop so the man left."
In this environment Eijgel managed to complete her presentations and was still positive about the whole experience.
"Personally this was a pretty amazing experience to be able to share my personal thoughts on one of the most important topics that I can ever share my thoughts on."
In a Massachusetts study (page 27) on wind and health effects people who were financially benefiting from wind turbines experienced "virtually no annoyance regardless of whether those people could see or hear a turbine." By democratizing and spreading around the financial benefits of wind energy development you end up with far less community opposition.
This is why he highlighted the work of groups like TREC and the Peace Energy Cooperative and continually talk about the individual and community ownership levels of renewable energy in Germany and Denmark.
After her London talk I asked Eijgel why she did it. She said "There's only a few things that I think you really need to stand your ground on and speak out on and for me ... the most important is protecting the natural environment."
As for her support of renewable energy, the horse farmer from Pincher Creek says it well.
"It makes business sense, it makes environmental sense, but really these are air molecules that are flying by here and they are going to fly by whether we use them or not... With a wind farm or a wind turbine, if anything goes wrong with it, it's not going to be an environmental disaster, we're not going to have radiation here for a hundred thousand years in the future. We're not going to die in our sleep if there's a sour gas problem - wind turbines are very safe for us and for our communities"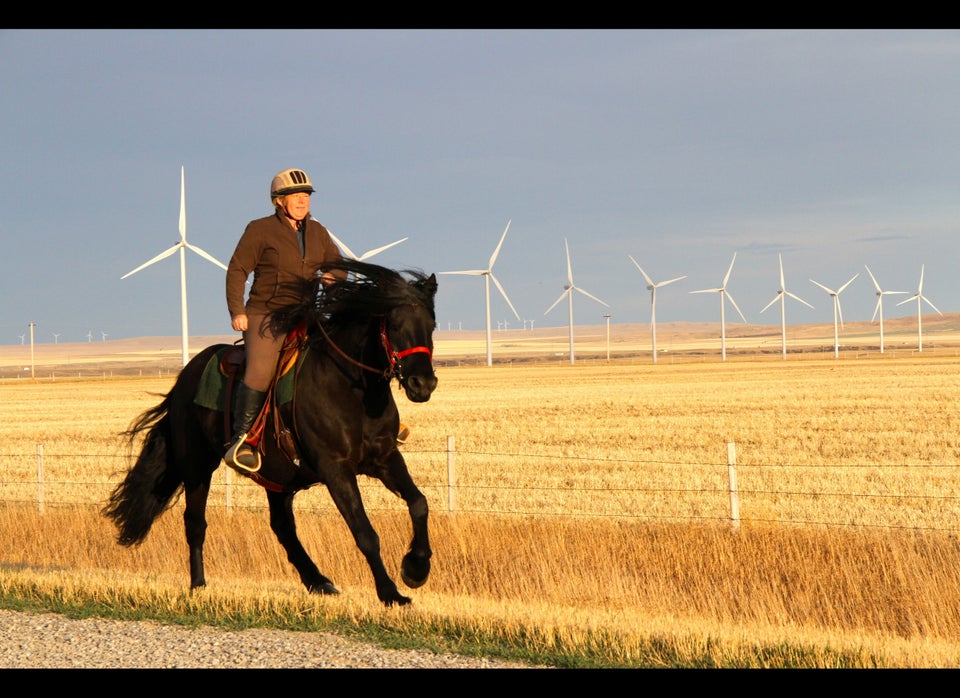 Living Near a Wind Farm
Related
Popular in the Community