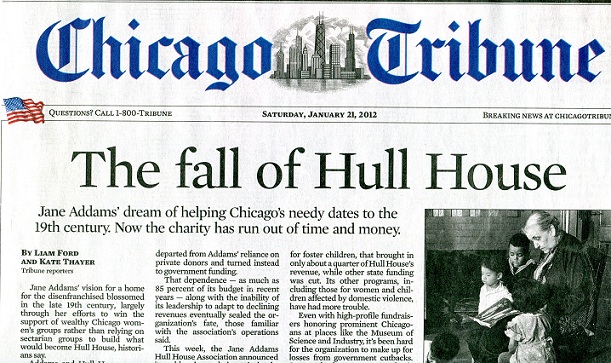 On Friday, January 20 I heard over the radio that Hull House is closing.
If you care about social justice, child welfare, prison reform, public health, fighting corruption and standing for transparent government, immigrant's rights -- if you think that grassroots economic development is smart and sustainable -- if you think that average people can and should call the shots on how they are governed -- then Jane was there first.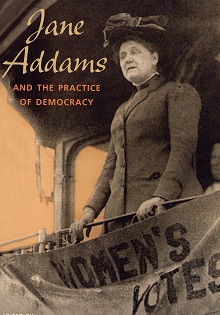 As reported in the Chicago Tribune, the organization is shuttering because it has fallen on hard financial times and relies too heavily on government contracts to provide services.
That dependence -- as much as 85 percent of its budget in recent years -- along with the inability of its leadership to adapt to declining revenues eventually sealed the organization's fate, those familiar with the association's operations said. This week, the Jane Addams Hull House Association announced it could no longer balance its books and planned to shut down this spring.

Although its largest mission in recent years was to provide services for foster children, that brought in only about a quarter of Hull House's revenue, while other state funding was cut. Its other programs, including those for women and children affected by domestic violence, have had more trouble.
I was shocked and amazed. I consider myself up to date on nonprofit affairs in the city -- I've started or run 12 nonprofit enterprises in the arts, community development and civic engagement. I teach classes on nonprofit management and public policy for DePaul, Loyola and the University of Illinois at Chicago. In fact, just last week I started an online class for UIC on Public Policy Advocacy. Ironic.
How can this iconic and historic organization go belly up without putting up a HUGE fight? Over the weekend I tried to reach the Board President, Stephen Saunders, and left messages for him on Monday and the senior leaders of Hull House. http://www.esadesign.com No reply.
I'm not surprised. After all, I am not affiliated with Hull House in any way and have never used their services. I just identify with Jane Addams and support the work she did and the work Hull House has been doing over the decades.
Here is a list of the "firsts" from Hull House:
• First social settlement in Chicago
• First public kindergarten
• First public playground in Chicago
• First public gymnasium in Chicago
• First public kitchen in Chicago
• First little theatre in the United States
• First Boy Scout troop in Chicago
• First free art exhibits in Chicago
• First citizen preparation classes
• First college extension courses in Chicago
• First infant care facility in a Chicago high school
• First private venture capital fund in the United States targeted toward neighborhood
• business development
• First domestic violence court advocacy program in Chicago
• First on-site emergency medical care team in a Chicago public housing development
• First foster care program in the nation designed specifically to keep brothers and
• sisters in the same foster home
So when Frango Mints was going to leave Chicago after Marshall Field's was sold, a big noise was raised about what losing the famous candy would do to Chicago's image. Just a week ago headlines were made when Aon Insurance announced it was moving its global headquarters to London. Oh no! Chicago is in danger of not being a "world class" city anymore.
Jane Addams and Hull House are more iconic to Chicago than Aon Insurance. If Hull House is in financial trouble it's because they helped too many people. They didn't sell them homes they couldn't afford. They didn't create fantasmagorical financial instruments and sell them to hundreds of thousands of people. They didn't double deal their own customers and play both ends of complex financial transactions to the customer's detriment. They didn't pay themselves billions of dollars in bonuses.
America bailed out the financial services industries with trillions of dollars in public money. And in the end, who was helped?
In Illinois, we just lavished hundreds of millions of dollars on the Chicago Mercantile Exchange in tax breaks. This is the same greedy organization that took in about $3 billion in revenue and $14 million in tax increment finance funds -- that's our property taxes -- for renovating their headquarters. Oh yeah, AFTER they got the TIF money they threatened to leave Chicago unless they got their state tax relief. Illinois also gave Sears Holdings tens of millions of dollars in tax breaks, and that company is bleeding red ink and it'll be a miracle if it lasts another two years.
So -- why can't we rescue Hull House?
What is the heritage of Jane Addams "worth" to Chicago and America?
People are responding from all over the world and they are answering that question loud and clear. Here are a few responses:
My dad returned to Chicago in the mid forties and he remembers going to Hull House for English classes. It was a wonderful resource for people who immigrated to Chicago looking for a new life and new opportunities. When I graduated from college, I too became a social worker and worked in the inner city. I feel a kinship to Jane Adams. She left us with a legacy of caring for people, which has diminished in our society today. Jane Addams' contributions as an activist should live on and serve to remind us that our work is not done.

My grandmother was a Hull House child and my family's rise from poverty can be attributed directly to the salutatory influence of Jane Addams. How could anyone wipe this first settlement house in American off the map??? This is our national heritage.

In the 1980s I stayed at Hull House, it is an experience every social worker should have an opportunity to experience. You can feel the spirit of change! This is a beacon of hope we need at this time of discouragement. It reminds us we can make a difference.

It is disgraceful that we can bail out banks and the auto industry and let this gem fall. As a country and a city our priorities are all out of whack. It's not Hull House that has failed...

Jane Adams deserves a subsidy 100 times more than the corporate casino gamblers at CME! Bail out Jane Adams!

Hull House and its social service network should be one of Chicago's primary investments.

History should be preserved!

Jane Addams inspired me as a very young child when I read her biography. I am now a volunteer organizer helping people to speak out against the 1% control of our country. I owe my avocation and inspiration to Jane Addams. Save Hull House!

Hull House is a very significant part of our history ... it must be an even more significant part of our future!

I grew up next door to Frances Molinaro, a woman who grew up at Hull House as a child and went on to work there for 45 years. Dad used to send us over to play Chinese checkers with Frances (her favorite game) "to get educated." My dad was brilliant, and through all the stories that soft-spoken, tiny Italian woman shared with us, we learned more about the world and our responsibilities in it than any civics class could ever teach. We also got to hear first-hand an oral history of the Industrial Revolution; America as a melting pot; the Labor Movement; the Social Reform Movement; Chicago culture, society and politics ... you name it. (Frances poured tea for Eleanor Roosevelt, marched in the first Garment Workers' Strike next to Ellen Gates Starr and Harold L. Ickes, and was asked to run as the first female Chicago alderman, but opted for 1st Ward Committeeman instead - pretty cool!) The impact Hull House had on Chicago and our country, through advocacy and the millions it's served, is immeasurable. My Jane Addams! My Hull House! My Frances Molinaro who served over 50 YEARS at Hull House. This should be a National Monument like the Statue of Liberty who harbored the poor, the weak, the hungry. Save Hull House. Chicago....Help! My best friend, Frances Molinaro, served the Hull House community her whole life. Please do not let the lives of those who lived to serve have their work lived in vein. Jane Addams & those who served with her made a difference & that needs to be established as a permanent beacon to us all. The stories! My dear Frances Molinaro made Benny Goodman practice his clarinet! She sewed ALL the draperies at Hull House, organized community affairs, marched the Hart, Schafner & Marx strikes....got those girls to come down out of their jobs & march!, served tea to Eleanor Roosevelt. My Lord, My Lord...SAVE HULL HOUSE.

Jane Addams' work profoundly enriched and transformed the lives of untold numbers of Chicago's citizens, including my own mother-in-law who became a fine pianist, thanks to music lessons at Hull House in her youth. This organization is one of Chicago's most precious legacies and needs to be preserved for future generations. Current needs are as great as they were in Jane Addams time, and I would rather have my tax dollars serving real people rather than share-holder owned corporations and commercial enterprises.

This Chicago legacy cannot be allowed to die. Hull House is a landmark social services organization that continues to be of vital importance to Chicago
I call on the board of directors and the senior management of Hull House to halt its dismantlement and freeze and legal proceedings until the larger community can weigh in and offer solutions and resources.
REAL LIFE. REAL NEWS. REAL VOICES.
Help us tell more of the stories that matter from voices that too often remain unheard.