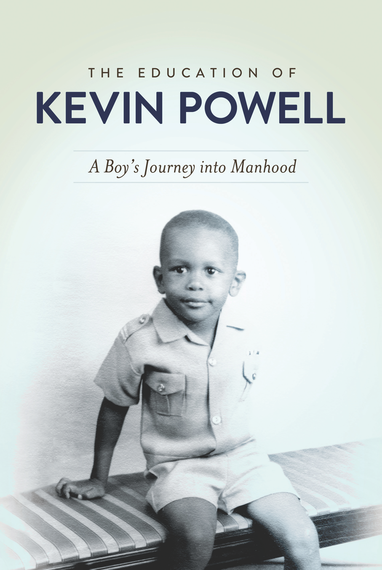 This post is an excerpt from the forthcoming book, The Education of Kevin Powell: A Boy's Journey into Manhood (Atria Books/Simon & Schuster) in which Kevin, writer and activist, vividly recounts the horrific poverty of his youth, his struggles to overcome a legacy of anger, violence, and self-hatred, and his journey to be a man and a voice for others. Available for pre-order now on www.kevinpowell.net

"The Education of Kevin Powell is a raw, deeply painful accounting of a life born of poverty, racism, abandonment, abuse, and complicated love. It is a memoir as much about a mother as it is about her son, a memoir born out of stunning writing and surprising vulnerability. A memoir of rage and insight, heartbreak and hunger. Powerful, brave, and unforgettable."
--EVE ENSLER, author of The Vagina Monologues
One rainy day when I was eight years old, my mother told me to put on my clothes; we were going around the corner to the drugstore to call my father. My heart pumped with excitement--in sharp contrast with my mother's somber and resolute demeanor. When we got to the phone booth, I hoped that she would put me on the phone with my father, but I just stood there at the open door as she fingered through her black plastic pocketbook for the coins to call him.
I heard my mother ask for my father. I heard my mother ask my father how he was doing. I heard my mother tell my father that she really needed help raising me, and that she needed money to support me. I heard my mother's voice grow angry and tremble as my father said something that she did not like. I heard my mother's voice become sorrowful as she begged my father for help, her desperation a ball of vinegary saliva wedged at the back of her throat. I heard my mother curse at my father. I heard my mother plead with my father once more, her bloodshot eyes tearing up. I heard my mother's defeated, child-like whimpers, her last gasps of defeat. Finally, my mother slammed down the phone.
She grabbed me by the arm and faced me directly as she spoke: "That damn Cunningham ain't no good. He told me I lied to him--that you ain't his son, that he ain't your father--and here you is just as red as that no-good red nigga. He said he ain't never going to give me a 'near nickel' for you ever again. Whatever you do, Kevin, do not ever be like your father!"
I held my mother's hand tightly as we walked out of the drugstore into the rain that poured down on the ashen asphalt of Jersey City. My mother's hurt became my hurt. There was finality to the conversation my mother had had with my father. As quickly as he had come into my life he was gone . . . forever.